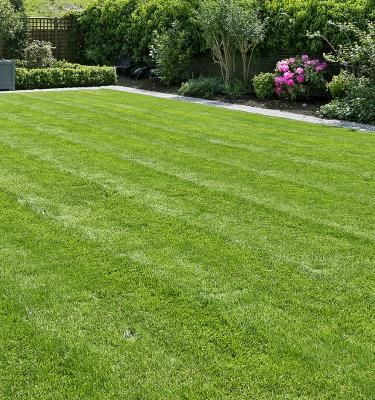 Here's our 7 tips for great lawn care
Having a great lawn can be the heart of your garden when the good weather comes. However, it also means taking a bit of time throughout the year to keep it looking good. To prevent your lawn from losing its lush looks during the summer, follow our top tips to get the most out of your efforts.
1. Remove weeds, thatch and moss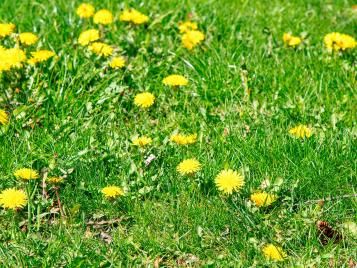 Lawn weeds
Many weeds are opportunistic and will pop up anywhere in the garden, including your lawn. If you don't want your grass to be spoilt by weeds then you have options:
You can remove them by hand - but make sure you get all the root out, especially on weeds like dandelions and don't let them flower.
You can also spray weeds with a special selective lawn weedkiller that won't harm the grass if used correctly.
Establish a good mowing and feeding routine to help the grass grow thicker and outcompete the weeds.
You could also think about leaving a corner with some weeds to provide food for pollinators.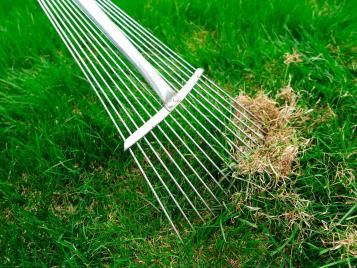 Thatch
This is a layer of dead organic matter that builds up on the lawn such as dead leaves, grass and root stems. This build-up prevents water and nutrients from getting through to the soil and down to the roots and also prevents good air circulation, often leading to fungal disease.
The best way to remove thatch is by 'scarification', which is the process of raking the dead thatch off the lawn. This is best done roughly in the autumn and then again but more gently in the spring. There are a variety of tools available, including a dedicated lawn scarifier, which will assist with this process.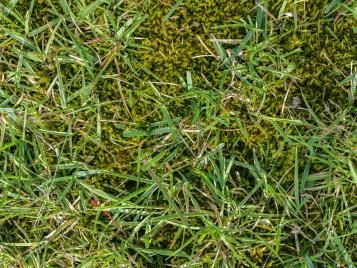 Moss
Mosses are ground-hugging non-flowering plants that thrive in lawn areas that have poor drainage, lots of shade, compaction and are thin and patchy with weak grass growth. If left untreated, the level of moss will increase, reducing the grass's ability to grow. It's always a good idea to try to identify the cause and take measures to remedy that.
This might mean regular scarifying, aerating and feeding to improve the lawns chances of outcompeting the moss. Try to look into the drainage, too. Can that be improved, or is it best not to have a lawn in that area, but instead a flowerbed or similar?
Don't scalp when you mow (cut the grass extremely short with very low blades) as this damage can encourage moss. You can also apply a moss killer but wait for it to turn black and die before raking it out.
2. Scarify
As mentioned above, scarifying helps get rid of thatch and if you do it using a rake, it provides you with a great work out! Scarifying is an essential part of lawn TLC and is great used before aerating.
3. Aerate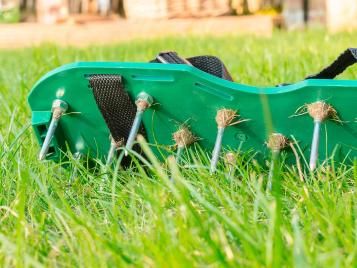 This process allows better penetration of air, water and nutrients to the root zone of the grass. It's also a good way to help relieve compaction in the lawns especially on well used areas like a pathway.
Aeration is performed by creating small holes in the soil at certain intervals and depths and can be done using a garden fork or specially made tools and machines - even aerating shoes are available!
It's best to aerate after scarifying in the autumn and spring every couple of years but for really compacted areas where the soil is very hard it's best to do it every year.
4. Over-seeding
Overseeding helps to improve the appearance of thin and patchy lawns rather than completely starting from scratch.
Before applying seed, mow your lawn and then rake out all the clippings and any debris. It's a good idea to add a lawn dressing at this stage to even out any lumps or bumps and provide good anchorage for the new seed.
Sow the whole area you want overseeded at a rate of 25g per metre square. For larger areas, I always recommend using a spreader. Lightly rake the seed into the soil and then water well if no rain is forecast.
Keep the new seedlings moist whilst germinating and don't mow until the new grass is between 5-8cm high.
5. Mowing and edging
One of the easiest ways of making a lawn look loved and cared for is to mow and edge. There are a few useful rules to follow with mowing to ensure you aren't further damaging the grass.
Make sure your blades are sharp
Mow regularly on a higher setting rather than scalping the lawn after it's got too long. Scalped grass leads to bare patches that encourages weeds and moss.
Mow depending on the weather. Spring to early summer will require more regular mowing whilst winter will require little or no mowing.
Never mow when the ground is waterlogged, frozen or in drought conditions.
Edging the lawn gives a lovely crisp finish and is a quick and easy fix to an untidy garden. Ideally use an edging half moon iron or a sharp spade to straighten edges and shear to trim the grass. Make sure you remove the cut grass from any beds though and be careful not to scalp here either as again you will encourage weeds and moss.