Regular feeding of your lawn will help it look great by encouraging the grass to become thicker and greener as well as healthier. This means there is less chance of weeds and moss being able to take over as it will be harder for weeds and moss to get through thick healthy grass.
Different feeds contain different nutrients, which your lawn needs at different times of the year. A nitrogen-based fertiliser is essential in spring and early summer as the nitrogen encourages lush green growth whereas one with less nitrogen but containing phosphates and potassium should be used in autumn as these nutrients help strengthen the grass roots and help the lawn make it through the winter.
Which lawn feed should I use?
As mentioned above, make sure you use a lawn feed with nitrogen in the spring and early summer. This is essential to help green up your lawn and to encourage strong, healthy growth.
If you need your lawn to be as green as possible in as short a time as possible, then choose a feed with high levels of nitrogen such as Miracle-Gro Fast Green Spray & Feed. This gets to work in just 24 hours and is perfect for occasional uses such as an outdoor party. Some lawn treatments just feed your lawn and are ideal if your lawn is weed and moss free, but others have added ingredients such as weed killers and/or moss killers.
Spring and summer lawn feeding
Miracle-Gro EverGreen Complete 4 in 1 is a complete lawn treatment. Not only does it feed your lawn but it also kills weeds and moss at the same time. This is a great product to use in Spring and early summer as it contains fairly high nitrogen and starts to tackle weeds before they become a problem as well as killing any moss that might have invaded the lawn over winter. For the best and most accurate application of this product, I would always recommend using a spreader rather than applying by hand and never over apply.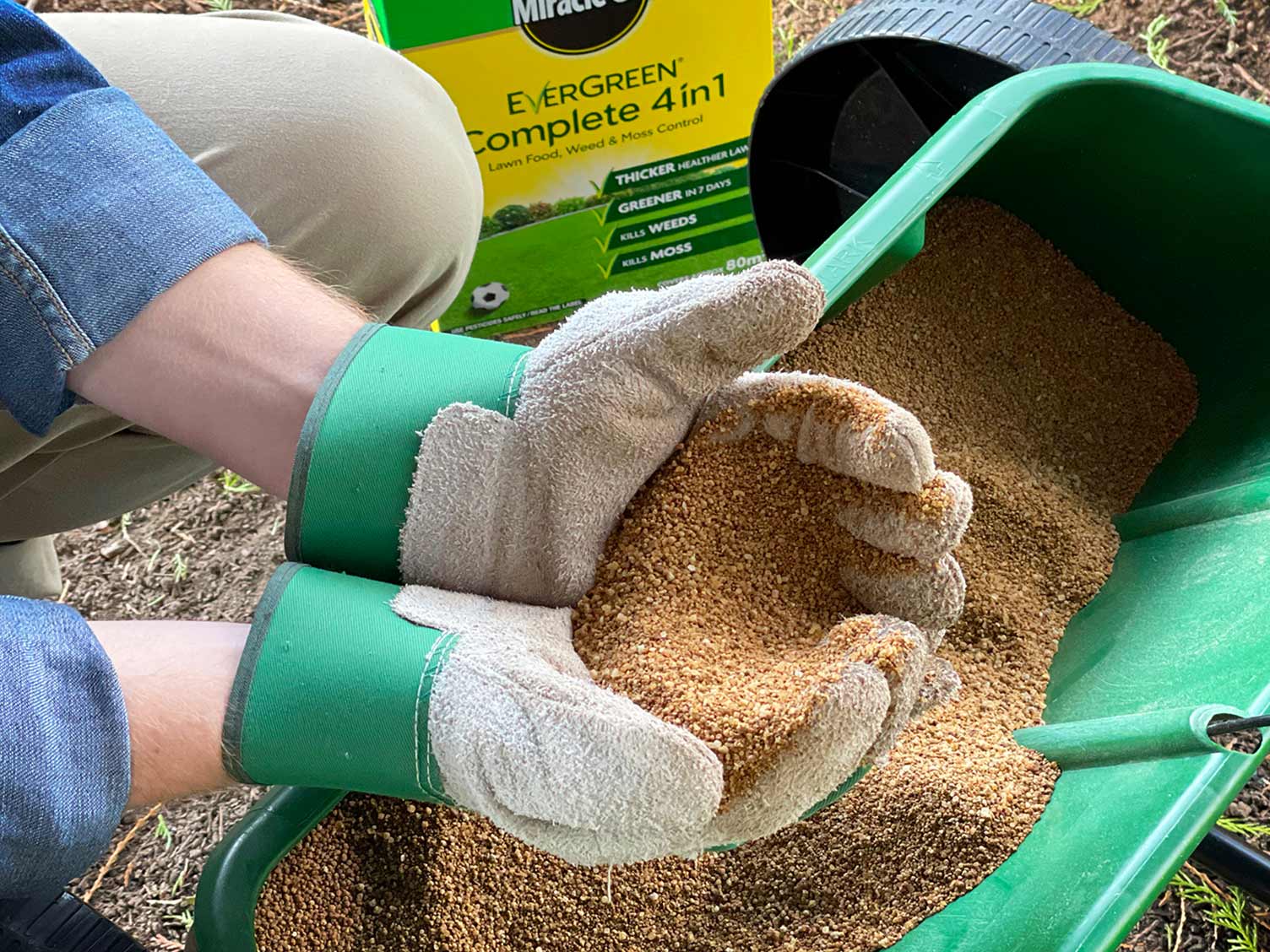 Later in the spring once the weeds and moss are under control, move over to just a lawn feed to keep the grass looking thick and green. Liquid lawn feeds via a hose end feeder are ideal for using in late spring into summer as they water the lawn as well in dry periods.
If the weather turns very hot and there's a prolonged dry spell, grass stops growing and your lawn can become stressed. This makes it more susceptible to damage by lawn feeds and treatments, so during these conditions it's best to pause your feeding and wait until it has rained to let the water soak in for a few days, then start feeding again. Lawns are quick to recover once it starts to rain again and often there is no need to waste water on them.
Autumn lawn feeding
In autumn, your lawn needs another type of feed which will keep the grass growing at a slower rate, not so lush but still green. It also prepares your lawn for the winter by building up the roots and health of the grass to withstand the cold.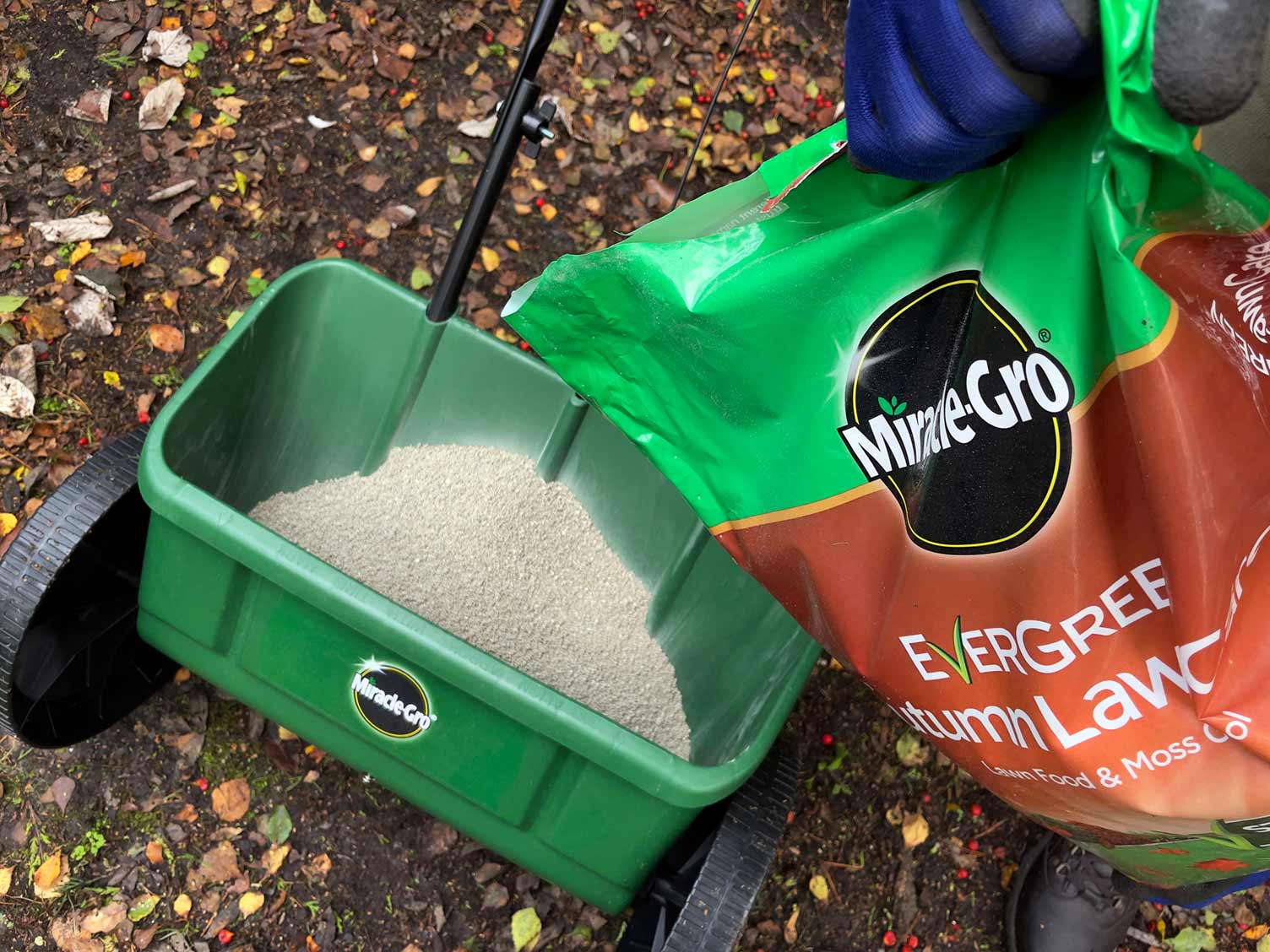 Additionally, some autumn feeds have moss control added to combat any moss present. It's important to feed with a specific autumn lawn food, such as Miracle-Gro Autumn Lawn Care, to get the grass ready for the colder, wetter weather of winter and strengthen the lawn ready for spring. Autumn lawn feeds are low in nitrogen so as not to encourage any soft top growth that can be easily damaged by frost.
Feeding in autumn helps encourage strong root growth so your lawn will recover quickly from a harsh winter and put on lush green growth in spring. Autumn feeding is one of the most crucial times to feed your lawn and is a key secret to the perfect spring lawns!
Whichever product you are using, always carefully read the label before use and apply according to the instructions.