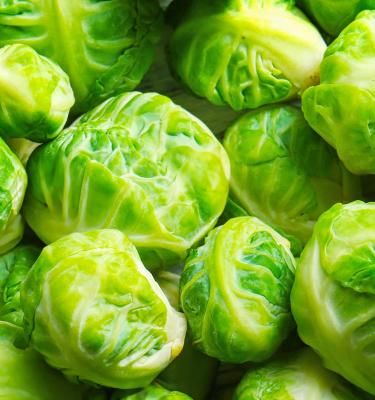 Brussels sprouts (Brassica oleracea)
When Brussels sprouts are grown well and, more importantly, cooked well, they taste delicious. They are certainly a crop well worth having as they provide valuable winter vegetables when little else may be available. By choosing different varieties it's possible to have sprouts from early autumn well into spring.
The key to success to producing great Brussels sprouts – sometimes referred to as 'buttons' – is to plant in a soil that has been enriched with organic matter and has been firmed well.
---
How to grow Brussels sprouts
Cultivation
Brussels sprouts prefer to be grown in an open, sunny position, but will tolerate light shade. Protection from strong winds is desirable, as large, heavy-cropping plants may otherwise get blown over.
They need a soil with lots of added organic matter that is preferably alkaline. If your soil is acidic, add garden lime before sowing or planting out. Rake a good dressing of a general granular feed into the soil before planting out, and then firm the soil by shuffling your feet back and fore over the surface.
Brussels sprouts varieties
Standard varieties, such as Bedford Fillbasket (early cropping) will produce a bumper crop of large sprouts that can be picked over many weeks. More modern F1 hybrid varieties tend to mature all at one time, meaning you have to pick them more-or-less in 1 go.
For an early crop before Christmas, try Maximus or Breeze. For a late maturing variety, try Wellington. Trafalgar is said to be great for a child-friendly taste as the sprouts are sweeter and less bitter.
For something a bit different, try Red Bull or Rubine, which produce attractive purple-red buttons that retain their colour when steamed and also have a mild flavour.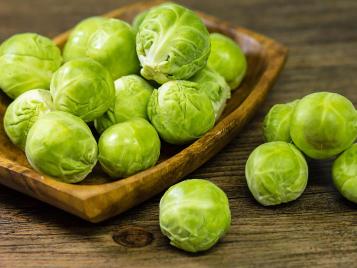 Sowing Brussels sprouts
The main sowing period is March and April. You can sow earlier in mild regions under cloches. For a very early crop in late summer or early autumn, sow indoors in cell trays in a heated propagator or on a windowsill in February.
For best results, sow seeds very thinly in a separate seed bed in a shallow drill about 13mm (½in) deep. Cover with soil and water in well.
---
How to care for Brussels sprouts
When the young plants have 5 or 6 leaves, carefully lift and transplant them to their final growing position, spacing them 75cm (30in) apart. Improve the soil first with a general granular plant feed. Firm the soil around each plant afterwards and water in well.
Water plants well in dry weather and cover the soil with a mulch to conserve soil moisture. Occasional feeds with a liquid feed through summer will improve the crop. Tall, heavy-cropping plants may need supporting with strong stakes in windy situations.
Harvesting
Pick Brussels sprouts for immediate use when they are large enough for cooking, and still firm and tightly closed. Start picking the lowest sprouts and work your way up the stem. Carefully break them off with a sharp downward tug.
Sprouts don't store well, but they can be blanched and frozen, so leave them on the plant and pick as you need them.
The flavour is usually better when they have had a touch of frost.
Pests
Brussels sprouts may be susceptible to the following pests and diseases: pigeons, clubroot.
| | |
| --- | --- |
| Foliage season(s) | Spring, Summer, Autumn, Winter |
| Sunlight | Full sun |
| Soil type | Chalky, Clay, Loamy, Sandy |
| Soil pH | Alkaline |
| Soil moisture | Moist but well-drained |
| Ultimate height | Up to 90cm (3ft) |
| Ultimate spread | Up to 45cm (18in) |
| Time to ultimate height | 6 months |