Dahlias are fabulous summer plants for growing in flower beds, borders, containers and for producing cut flowers. They have a long flowering period – usually flowering their heads off until the first hard autumn frost.
---
Types of dahlias
There are a lot of different types varieties of dahlias, in a wide range of flower types, shapes and sizes, and a kaleidoscope of flower colours. And now dahlias are enjoying a much-deserved peak in popularity.
Dahlias are easy to grow for general garden culture – as opposed to growing for exhibition purposes, which takes a lot of time, care and attention. Shorter varieties with smaller flowers, such as pompons, balls and some semi-cactus types, are the easiest to grow and provide the most garden colour.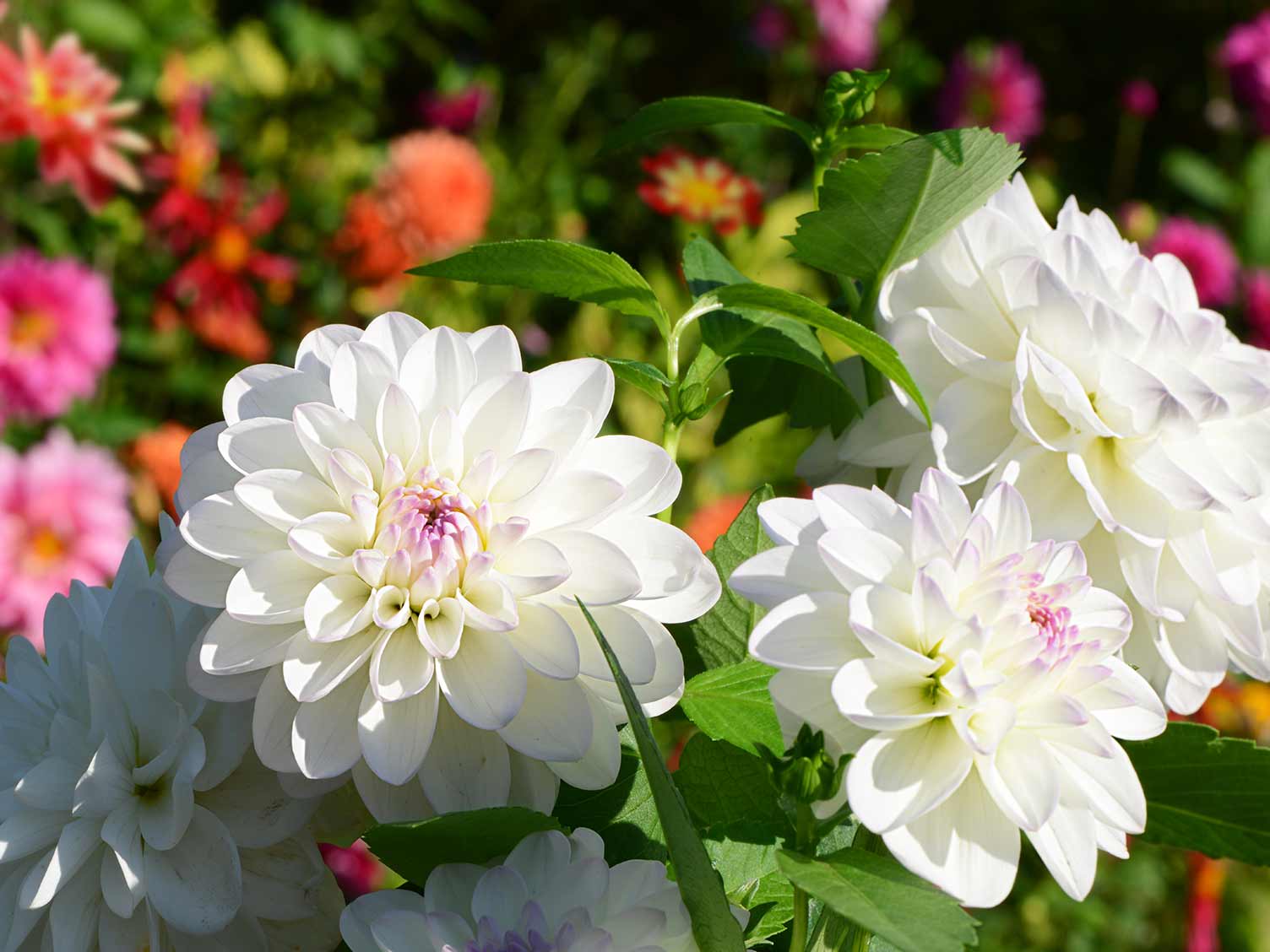 ---
How to grow dahlias
Cultivation
Dahlias are best planted in warm, sunny positions. They are tolerant of a wide range of soils, but are best grown in fertile, well-drained soil.
Planting dahlias
Plants can be grown from cuttings taken in spring from sprouting tubers, young plants available from garden centres, nurseries and mail order suppliers or from tubers, planted directly in the soil. The tubers are planted 10-15cm (4-6in) deep.
Plant outdoors in beds, borders and containers when the danger of frost has passed – usually May to early June. Planting can be carried out earlier if you can provide some protection from cold winds and frosts. Or you can pot up the tubers in pots of compost and grow them on in a warm greenhouse or conservatory for planting out later.
Dahlias need a good, rich soil, so before planting out, improve the soil with bulky organic matter, soil conditioner or compost to hold plenty of moisture, which they need for a continuous supply of blooms.
Then lightly fork in a general plant food, or use a controlled- or continuous-release plant food to encourage healthy growth.
Suggested planting locations and garden types
City and courtyard gardens, cottage and informal gardens, patios, containers.
---
How to care for dahlias
Tall plants, and any grown in a windy position, will need staking at planting time. You can tie the individual stems of large-flowered varieties individually to bamboo canes. For smaller and more bushy varieties, use a plastic or metal support ring to help hold the whole plant together.
Dwarf bedding dahlias don't need staking, simply pinch out the growing tip to encourage bushiness.
Apply a 7.5-10cm (3-4in) thick mulch of bark or similar material to conserve moisture and keep down weeds. To produce bushier plants with more flowers, when they are 25-30cm (10-12in) high in late May to mid-June, pinch out the top 5cm (2in) of the main shoot.
Keep plants well watered during dry periods. When the flower buds develop, feed with a high potash plant food every 2 weeks from July to early September.
Regularly deadhead the plants, removing the complete faded flower, to ensure continuous flowering and a long-lasting display.
Growing in containers
Short, dwarf and bedding dahlias make perfect container plants – providing masses of colour to brighten up patios and other areas.
Just ensure you use a good quality potting compost and keep the plants well fed throughout summer. Feed fortnightly with a high potash plant food.
Overwintering
Dahlias are generally not very frost hardy. After the first autumn frosts have blackened the foliage, cut back the stems to around 10-15cm (4-6in) from the ground.
In mild regions and on well-drained soils, you can usually leave the tubers in the ground and cover with a 7.5-15cm (3-6in) deep layer of bark to protect the tubers from frost. In colder areas or on heavy soils, it is far safer to lift and store the tubers for replanting the following spring.
Carefully lift the tubers out of the ground with a garden fork.
Allow them to dry for a few days, so you can clean away any soil clinging to them, preferably upside down in a cool place to allow any moisture in the stems to drain out.
Trim off any fine and damaged roots.
Place the tubers in shallow boxes or trays and pack around them with a peat-free compost or dry sand, just covering the tubers but leaving the crown (where the stems join the tubers) exposed.
Store in a cool, dry, frost-free place over winter.
Inspect the tubers regularly for rotting and discard any that are unhealthy or damaged.
| | |
| --- | --- |
| Flowering season(s) | Summer, Autumn |
| Foliage season(s) | Spring, Summer, Autumn |
| Sunlight | Full sun |
| Soil type | Chalky, Clay, Loamy, Sandy |
| Soil pH | Neutral |
| Soil moisture | Moist but well-drained |
| Ultimate height | From 30cm (1ft) to 1.5m (5ft) |
| Ultimate spread | From 30cm (1ft) to 90cm (3ft) |
| Time to ultimate height | 6 months |