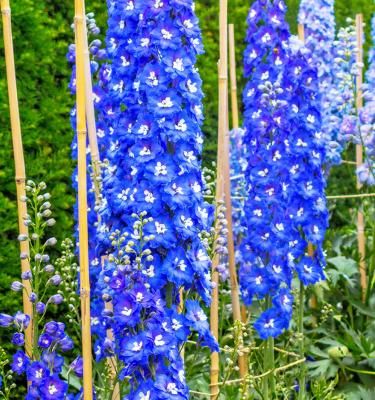 Delphinium, Larkspur (Delphinium)
Delphiniums are elegant, stately plants that are stalwarts of cottage gardens. Most are perennial, but annual varieties are also available. Delphiniums are grown for their huge spikes of showy flowers in summer above mounds of dark green foliage.
The common name of 'larkspur' is usually used to refer to annual varieties.
There is a wide range of flower colours – not just the blues they are commonly associated with, including pink, lavender, red, white and yellow. The flowers can be either single or double with multiple petals.
If you really get the delphinium growing bug, you may want to join the Delphinium Society.
---
How to grow delphiniums
Cultivation
Delphiniums grow best in positions in full sun. Although they often benefit from some shelter from strong, burning sunlight in mid-summer.
They need a fertile soil enriched with lots of organic matter, which holds plenty of moisture in spring and summer, doesn't dry out or become waterlogged.
Choose an area protected from strong winds to keep tall, top-heavy varieties from blowing over and being damaged.
Delphinium varieties
There are numerous varieties in a wide range of colours. These include:
Atholl: White flowers with a black centre
Blue Dawn: Pale blue flowers, tinged with light purple, with dark brown centre
Blue Nile: White-eyed, mid-blue flowers
Bruce: Violet-purple flowers, paler towards the centre
Cherub: Flowers pale pink and mauve with a cream centre
Faust: Dark-eyed, deep blue-purple flowers
Foxhill Nina: Pale pink flowers with a white eye
Min: Semi-double, white flowers, tinged violet at the edges
Rosemary Brock: Dusky purplish-pink flowers with a dark brown centre
Sungleam: Creamy-white flowers, strongly tinged yellow and with a yellow centre
Tiddles: Greyish-mauve, semi-double flowers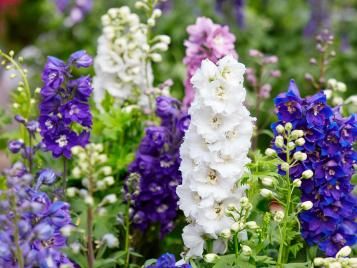 Sowing delphiniums
Although seeds can be sown directly into the ground in early spring, you'll get better results sowing them indoors.
Sow seeds from February to June or in September to October. Sow the seed in pots or seed trays of moist seed sowing compost. Keep at a temperature of 10-15°C (50-60°F).
When seedlings are large enough to handle, transplant individually into 7.5-9cm (3-3.5in) pots. Gradually harden off the plants before planting out after all fear of frost, 60-90cm (2-3ft) apart.
Planting delphiniums
You can buy young plants from garden centres, nurseries or mail order suppliers. These can be planted at any time of year, although autumn or spring are the best times.
Dig over the planting area, incorporating lots of organic matter – such as compost or planting compost – especially if the soil is heavy clay or light, well-drained sandy soil. Dig a good sized hole big enough to easily accommodate the rootball.
Place the rootball in the planting hole and adjust the planting depth so that the crown of leaves is at soil level.
Mix in more organic matter with the excavated soil and fill in the planting hole. Apply a general granular plant food over the soil around the plants and water in well.
Then add a 5-7.5cm (2-3in) thick mulch of organic matter over the soil around the plants.
Suggested planting locations and garden types
Flower borders and beds, patios, containers, focal point, city and courtyard gardens, cottage and informal gardens, cut flower garden.
---
How to care for delphiniums
Water plants whenever necessary to keep the soil or compost moist during spring and summer, as this will prolong flowering.
Apply a granular general plant food around the plants in spring, and top up the mulch of organic matter.
Applying a balanced liquid plant food every couple of weeks in the growing season will also encourage more, bigger and better flowers.
The flower stems of tall delphinium varieties will need staking with bamboo canes. These should be put in place by mid-spring to ensure the plants are adequately supported throughout the growing season.
Deadhead plants by cutting back faded flower spikes to small flowering sideshoots to encourage a second flush of flowers.
In autumn, cut down all growth to ground level after it has died back.
Divide overcrowded plants every 3 to 4 years as new growth begins in spring, lifting the plants and dividing them into smaller clumps.
| | |
| --- | --- |
| Flowering season(s) | Summer, Autumn |
| Foliage season(s) | Spring, Summer, Autumn |
| Sunlight | Full sun |
| Soil type | Chalky, Clay, Loamy, Sandy |
| Soil pH | Neutral |
| Soil moisture | Moist but well-drained |
| Ultimate height | Up to 1.8m (6ft) depending on variety |
| Ultimate spread | Up to 90cm (3ft) depending on variety |
| Time to ultimate height | 2-3 years |