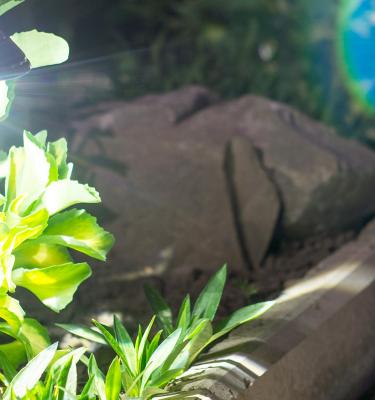 Enhance your garden with lighting
Just because the sun has gone in doesn't mean you have to! Brighten up your garden with lights to suit your style, be it subtle mood lighting, or turn the night into day with a bright and powerful display.
What Are Our Choices?
There is a huge variety of outdoor garden lights available, though the first choice you need to make is whether you are going to have mains powered, candlelight or solar-powered ones.
Mains Powered Lights
For safety reasons, we advise that you get a suitably certified person to carry out any mains powered electrical installations, as there are certain rules and regulations that must be adhered to when providing garden lighting with a power source.
Mains powered lights tend to be brighter than the solar-powered lights and obviously don't require a sunny day to give them a full charge. This is the best option if you intend to read, work or use for security purposes all year round. There are also a wide variety of power options, some using as little as 3 watts of power per light. LED lights will be the most energy-efficient with a 4 Watt LED light giving out roughly the same brightness as a standard 25 Watt bulb.
Solar Powered Lights
For a more subtle display, you could opt for a solar-powered light. Although not as bright or powerful as many of the mains powered lights, solar lights have the ability to give a very effective and relaxing ambience to a garden once natural light levels are low.
Without the hassle of cables and power sources, solar lights can be far easier to install and can be placed anywhere you like around your garden. Some even have solar panels on an extension cord so you can have the light
situated in shady areas and have the panel out in the sun gathering power.
From lighting pathways to lighting up ponds, the possibilities are endless, and a well-lit garden can look stunning.
Candle Light
The true romantic in the garden, you just can't beat the mesmerising glow given off by a flickering candle. Tea-lights are good but tend to only last for around 4-6 hours, so for longer-lasting light use a pillar or 'church' candle in a windproof lantern. Even a light breeze will make your candle burn quicker, so to prolong the life of your light treats yourself to a specially designed garden candle holder.
Unlike electric lights, candles can also give off a lovely scent and specific garden scents are available. If you need to keep away those pesky biting insects Citronella candles are very useful.
Did you know? - Citronella oil is made from distilled oils found in different grass varieties and works by masking scents such as Carbon Dioxide and Lactic Acid which the insects can detect and are attracted to.
---
Which Garden Lighting Should I Choose?
With such a huge range available the choice of lighting is purely down to personal preference, though we do have some top tips for you to give you the best display.
Avoid heavy strings of light in delicate shrubs, the weight can damage the plant and look unsightly during the day.
Use your garden design - You have carefully designed your garden, so enhance the edges of lawns, beds and pathways with brighter lights so even in low light the shape of your garden can still be seen, plus it should stop people walking where they shouldn't!
Up-light - use up-lighters under trees and shrubs or in front of garden buildings. The effect can be stunning and you are not distracted by lights in your eyes.
Don't go over the top! You can have too much of a good thing, try to keep decorative lighting subtle and in the same colour or style. Unless you are celebrating a festive season or having a party!
Use your features. Specimen trees, ponds, furniture etc can be beautifully highlighted to draw attention to them.
Be creative! Not all garden lights have to have a purpose, have some fun with some novelty lights. An ornament by day and night.