Finish your garden with decorative bark
Decorative bark can be used all around your garden and has a multiple benefits, here you can find out, where you can use it, how to use it and what are the benefits of using it are.
---
Where to use decorative bark
Decorative bark is mostly used to cover bare soil areas in flower beds and borders, this provides a clean visual background, that will make your plants and flowers shine through, finishing off your garden in style.
It is also great to use in a childrens' play area, not only does it provide a softer landing it protects the garden from wear and tear. It can also easily be scooped up and removed when the play area is no longer needed and transferred to the flower beds or you can use it to create a path!
---
How to use decorative bark
The best time to apply decorative bark such as Levington Water Saving Decorative Bark is when the soil is thoroughly moist. Most often this is in late winter or early spring, but bark can be applied at any time of year so long as the soil is moist.
A minimum layer should be 5cm (2in) thick, so that it reduces unnecessary evaporation from the soil surface.
You'll need a pair of scissors to open the top of the bag, once opened you can either tip the bag up and pour on to the designated area, or use your hands a trowel to scatter (remember to wear suitable gardening gloves if spreading by hand). To make sure the bark is even and to move it under plants and shrubs, use the flat edge of a soil rake.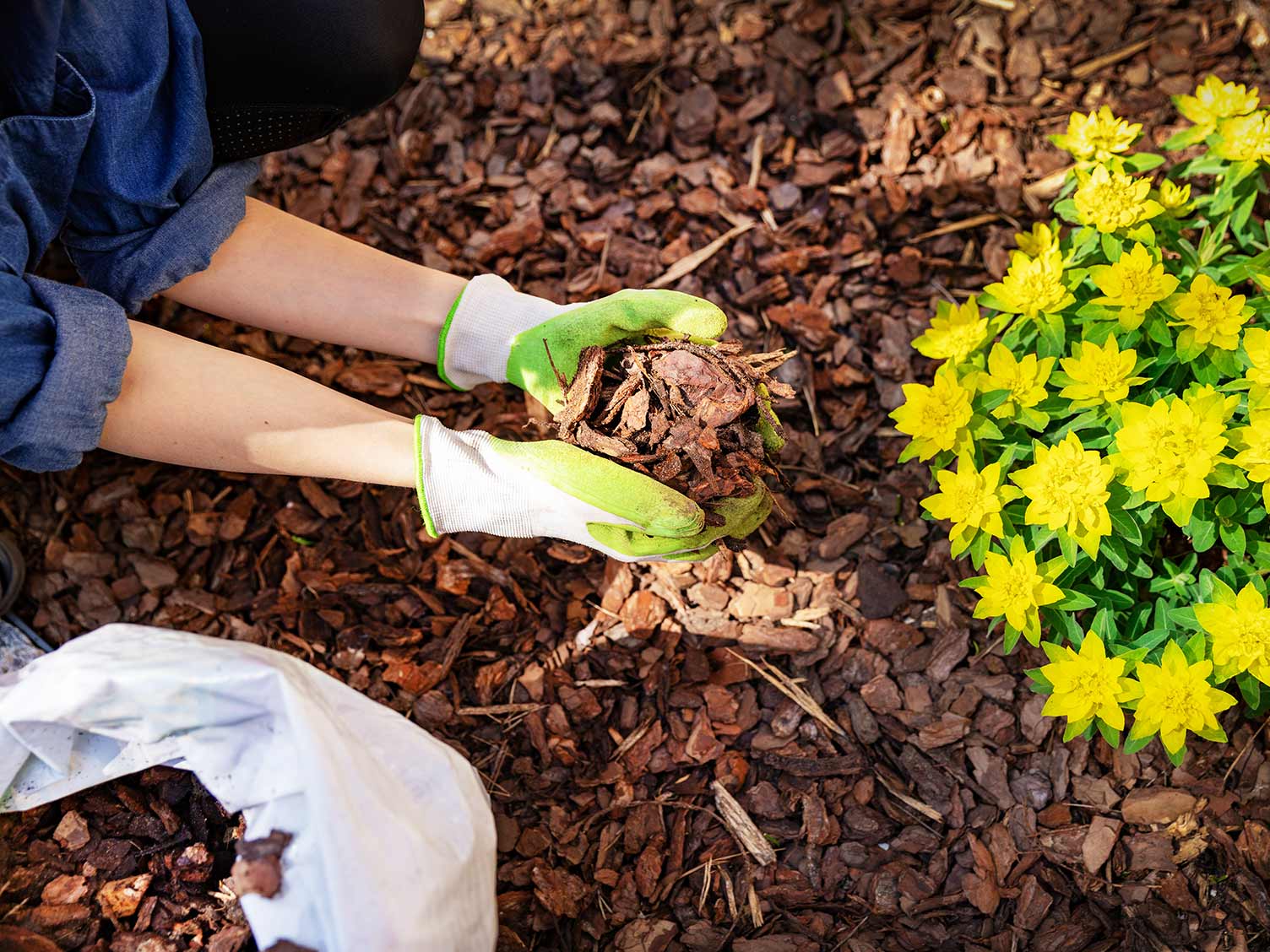 ---
The benefits
Applying a thick layer of decorative bark to your soil surfaces (called a mulch) does much more than just make your garden look attractive. It helps to retain soil moisture, suppresses weed growth and will gradually improve the structure of your soil. The bark will also help insulate the soil and protect your plant roots from cold, freezing weather in winter and hot, dry conditions in summer.
Decorative bark comes in various colours, sizes and types of bark, so you can add colour to plainer areas where you may have shrubs growing or to a childrens' play area.
---
Decorative bark ideas for use
Apply as a fantastic contrast to other materials used in your garden, bringing back the feel of nature in modern designs.
A Colourful contrasting path, also safer than many hard surfaces as it doesn't get slippery in the winter.
A natural pathway where gravel, slabs or other materials just wouldn't fit in.
Also great for our feathered friends giving a safe and natural flooring for them to scratch about in.