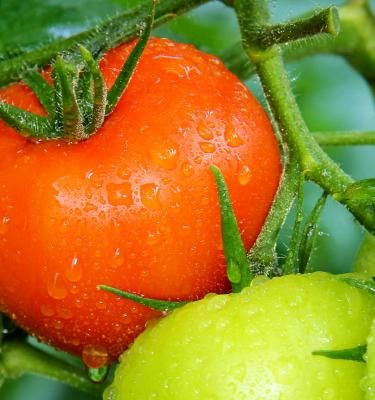 Keeping tomatoes fed and watered
When growing vegetables in containers, it's important to keep them well-watered, so the compost remains evenly moist, and fed to ensure good quality crops. This is particularly true of growing bags, which can dry out when the plants are cropping well during hot summer weather.
I have found the new Hozelock Growbag Waterer (which we offered as a competition prize recently) overcomes the problem. It has a large reservoir of water, which is gradually drawn up by capillary wicks into the compost, so watering is automatic and continues for many days depending on the size of the plants.
During the hot, sunny weather recently the full reservoir only lasted about 4 days, but, nonetheless, that's a great benefit when you are growing 3 large plants in full sun. Filling the reservoir is such an easy job, as you can connect it directly to a hosepipe with the right Hozelock connector. It saves time and grows better plants – now that's what I call a real winner!
---
Giant planters
I am supplementing the watering with Levington Tomorite feed every 10 days. The 3 sweet pepper plants in a  Levington Tomorite Giant Planter are thriving in the hot conditions, producing great red fruits, as are the 3 Alicante tomatoes in a Levington Original Gro-sac.
Giant planters contain more compost than a standard growing bag, so are less prone to drying out and so the plants grow better and are less likely to suffer 2 of the main physiological disorders that hit tomatoes and some other fruiting vegetables that experience irregular or erratic watering – blossom end rot and fruit splitting.
---
Physiological disorders
None of the tomatoes shows any signs of developing blossom end rot or splitting. Blossom end rot causes the bottom of the fruit to turn black. Splitting is obvious - and is caused when the skin hardens when the compost is dry and then the skin splits open when the compost is watered.
You should pick tomatoes as soon as they ripen, especially from those plants that produce cherry-sized fruit. At this time of the year tomato skins on small fruit can split easily, especially if the compost switches from wet to dry on a regular basis.