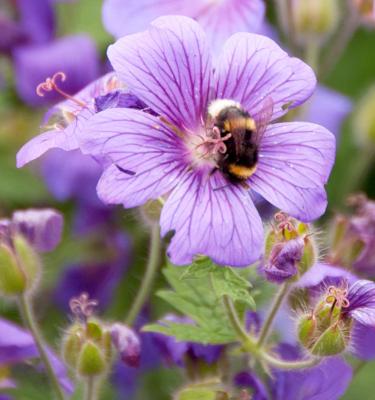 Hardy geranium, cranesbill (Geranium)
Hardy geraniums – sometimes referred to as cranesbills – are among the most popular garden perennials. And it's easy to see why. They're easy to grow, take a wide range of conditions, are tough and need little in the way of care and attention.
The flower colour ranges through strong or subtle shades of violets, blues, pinks, magenta and white, and many have attractive veining in a contrasting stronger colour. Many varieties flower for months on end throughout summer and well into autumn, and some start flowering as early as late spring. The flowers are generally quite small, but produced in huge abundance to almost cover the plants when in full bloom.
The hand-like foliage of many varieties is also highly attractive in its own right, producing various quilting, veining, and colour blotching. And, as many of the commonly grown varieties are low growing, their dense carpet-like foliage makes them good ground cover plants.
They are cold and frost hardy, so shouldn't be confused with the very closely related pelargoniums, which aren't and are used mainly as summer bedding plants.
---
How to grow hardy geraniums
Cultivation
There are varieties that will grow in full sun, partial shade and even quite dense shade. As a general rule, they tend to do best in early morning and afternoon sun, although some, such as Geranium sanguineum and Geranium pratense and their varieties thrive in full sun, providing there is adequate moisture in the soil.
Geraniums need a well-drained, fertile, and moist soil.
Hardy geranium varieties
There are around 70 species and 700 varieties of hardy geraniums, so there's at least one for every garden, every gardener and every situation!
This is the top 10 as recommended by the Royal Horticultural Society:
Geranium Ann Folkard
Geranium (Cinereum Group) Ballerina
Geranium clarkei Kashmir White
Geranium Dilys
Geranium Mavis Simpson
Geranium Orion
Geranium pratense Mrs Kendall Clark
Geranium x oxonianum Wageningen
Geranium renardii
Geranium Rozanne (Gerwat)/Jolly Bee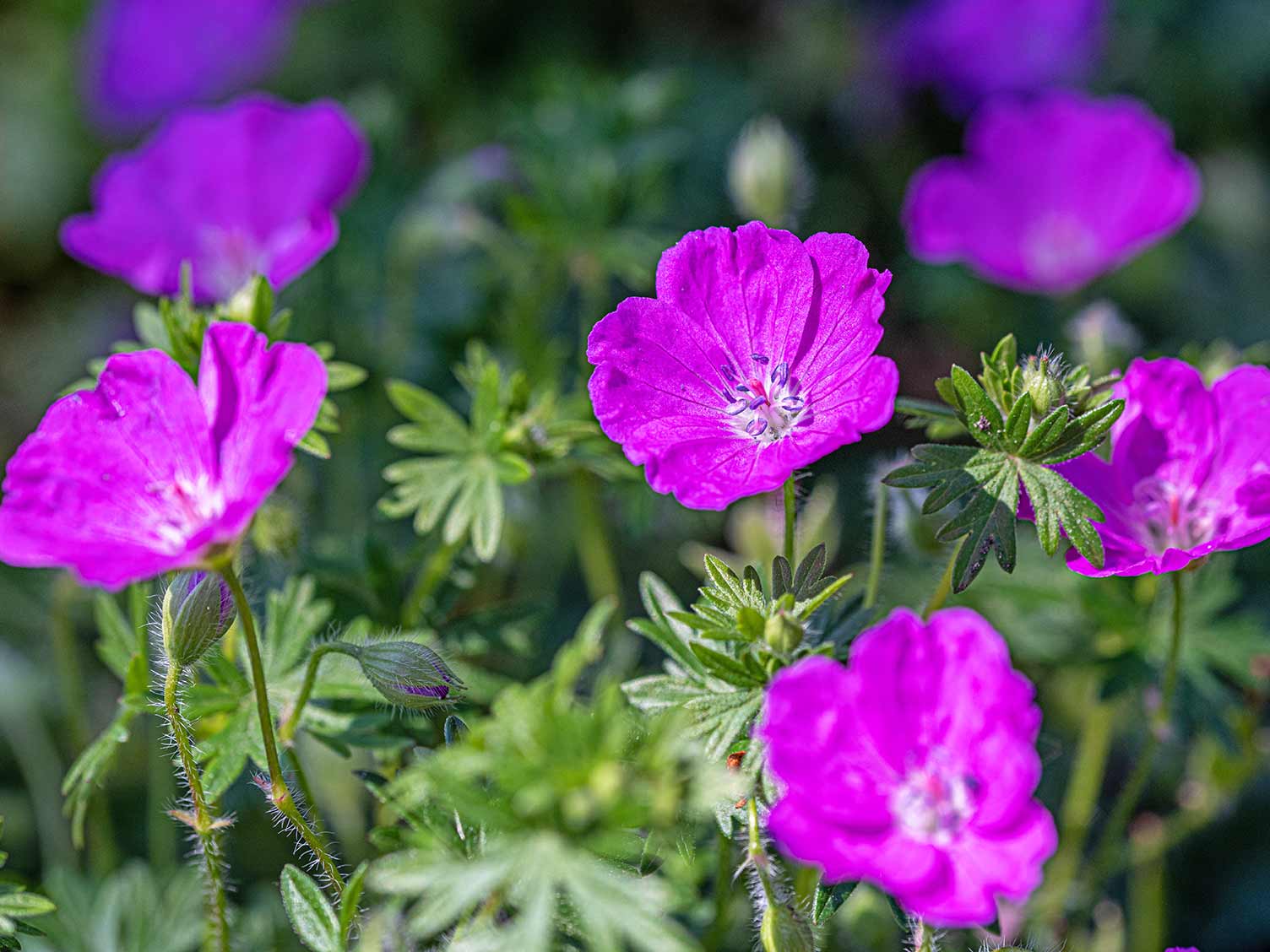 Planting hardy geraniums
Hardy geraniums can be planted at any time of year, although planting from autumn to late winter will ensure the plants establish well and will flower prolifically in their first year. Bare-rooted plants are also available from mail order suppliers for planting from late autumn to late winter.
Dig a good sized hole, big enough to easily accommodate the rootball. Add a layer of organic matter – such as compost or planting compost – to the base of the hole and fork it in.
Place the rootball in the planting hole and adjust the planting depth so that it is planted at the same depth as it was originally growing and the top of the rootball is level with the soil surface.
Mix in more organic matter with the excavated soil and fill in the planting hole. Water in well, apply a granular general feed over the soil around the tree and add a 5-7.5cm (2-3in) deep mulch of well-rotted garden compost or bark chippings around the root area to conserve soil moisture and help keep down weeds.
Suggested planting locations and garden types
Flower borders and beds, patios, containers, city and courtyard gardens, cottage and informal gardens.
---
How to care for hardy geraniums
Most hardy geraniums are easy-going plants that don't need much in the way of attention.
Water well during the first year whenever the weather is dry. In subsequent years, watering during prolonged dry periods may be needed to keep plants growing well.
Mulching around the plants in late spring will help to conserve soil moisture and help keep down weeds.
For the best displays, feed in early March with a controlled-release feed.
After the first early flush of blooms has faded, plants may start to look untidy with scrappy growth. Most benefit from a trim after the first flush of flowers, which freshens up the foliage and also encourages further flowers. Simply go over the plants with a pair of shears or secateurs to remove the old, untidy growth, or harder if necessary to 5-7.5cm (2-3in) above ground level.
Then give them a feed with a liquid plant food to encourage new growth and further flushes of flowers. Trimming back and feeding can be repeated after every flowering to extend the flowering period of many varieties well into autumn.
In late autumn, the foliage of most geraniums will fade with the onset of colder weather. Cut off any remaining stems and leaves to tidy up the plants, and they'll produce fresh new growth the following spring.
Hardy geranium plants grow larger over time, spreading and developing into big clumps. These can be divided by cutting them in half or quarters with a sharp spade. This can be done in autumn, or in spring as they start into growth. Divide them every 3 to 5 years to keep them growing and flowering strongly.
| | |
| --- | --- |
| Flowering season(s) | Spring, Summer, Autumn |
| Foliage season(s) | Spring, Summer, Autumn |
| Sunlight | Full shade, Partial shade, Full sun |
| Soil type | Chalky, Clay, Loamy, Sandy |
| Soil pH | Neutral |
| Soil moisture | Moist but well-drained |
| Ultimate height | Between 13-90cm (5-36in) depending on variety |
| Ultimate spread | Up to 90cm (3ft) depending on variety |
| Time to ultimate height | 2-3 years |