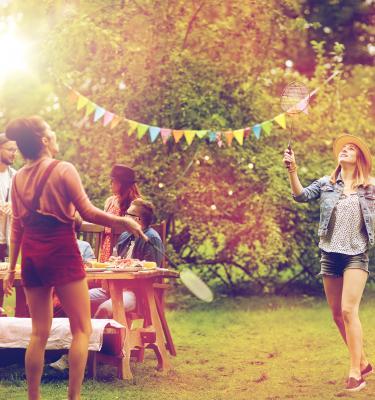 Get the most out of your garden
Transform your garden into a tropical haven that's fit for a staycation this summer with plants that will make you feel like you're holidaying in the Mediterranean. Just imagine lounging on your patio, surrounded by fresh fragrances, with a cold, fruity drink in hand.
You don't need to do much to get your garden ready for holidays at home, but with these tips, your space will be well on its way to being the hotspot of the season.
Social spaces
Comfy chairs and cosy alcoves are perfect for socialising with friends and family or escaping for an evening, joined by the cool evening breeze. And what better way to complement your relaxation than with delightful aromas to transform your social spot into a sensory haven. Surround the patio with bright planters that are filled with scented plants like lavender, lemon balm, and rosemary. Not only will these smell divine, but pollinators will love them too, so you'll be encouraging plenty of fluttering and buzzing creatures to enjoy your garden alongside you.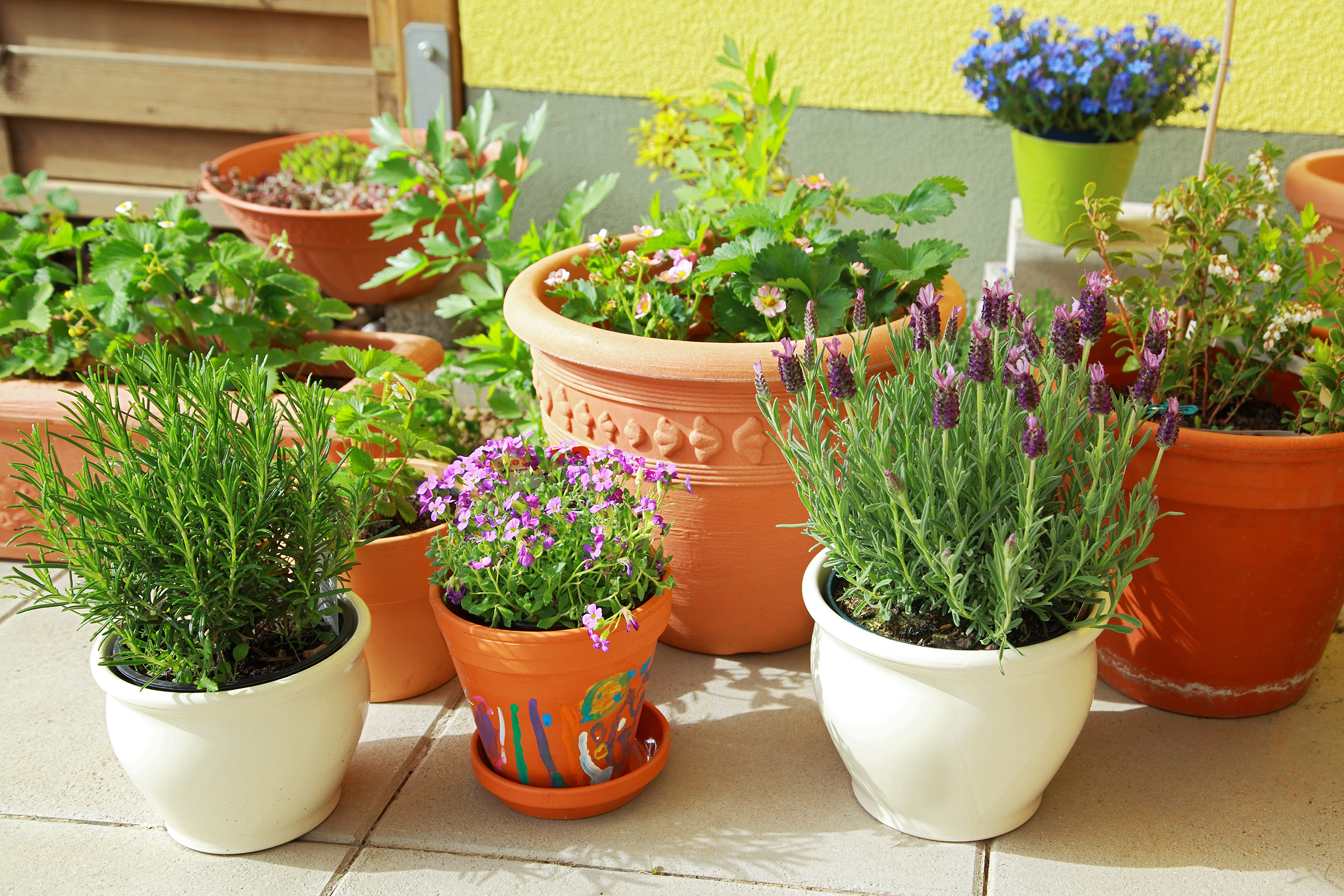 Remember that these plants in containers only have access to the nutrients and the moisture that you give to them, so give them a great head start by using Miracle-Gro Peat Free Premium All Purpose Compost which has a Smart Release System which releases nutrients when the conditions are suitable which provides nutrition for 6 months. Perfect for use in hanging baskets too, this convenient all-purpose compost also has Waterlock Technology that allows it to absorb up to 25% more water than ordinary compost. So, it really does take all the hard work out of it.
Take care
If you'd rather spend the time enjoying your garden to relax and socialise, instead of keeping up with caring for your beautiful garden, there's no need to compromise. Opt for low-maintenance plants that will give you colour, structure and beauty in your garden without the need for constant upkeep.
Evergreens are a great place to start because they will keep your garden looking full of constant structure. Salvia officinalis (sage) is a marvellous starting point, growing well in a sheltered spot with full sun where the shrub will grow up to 1 metre tall, joined by purple-blue flowers from June to November.
They don't demand much and are fairly drought tolerant, but they'll still like a water to keep the soil moist whilst they're establishing. Each spring have a quick prune to cut back any growth that's making it a bit leggy which will also encourage plenty of new growth. Although sage is grown for its fragrant foliage that smells divine and is used in the kitchen, the flowers are beautiful, so encourage them to grow by using Levington Natural Sulphate of Potash which is simply added and worked into the soil around the plant to boost growth of bigger and healthier fruit and flowers.
Go for grass
More and more people are choosing patios over lawns as a low-maintenance alternative, but even if you've opted for a patio garden, you can still benefit from the wonders of ornamental grasses. They add so much texture and structure to your garden, and the sound of the sweeping of the grasses is a lovely, tranquil soundtrack to your garden.
Carex oshimensis 'Evergold' is a compact, evergreen grass with dark green leaves with a central stripe of cream, bringing a lightness to the foliage. Low growing to 30cm, this hardy grass will grow in full sun or partial shade, perfect for next to a pathway or in a border where they can sweep and sway in the breeze. They don't ask for much either, one feed in spring is enough for them, which makes Miracle-Gro All Purpose Continuous Release Plant Food perfect for the job. Simply work the granules into the top of the soil which will provide a unique mix of 10 essential nutrients for optimum growth.
Add some cool colour with blue fescue 'Elijah Blue' that has icy leaves all year round, turning greener in wintertime. The interesting foliage bears plumes of bristles that are blue-green in spring and summer, to soften your borders or add some more height to containers. In winter, simply comb out any dead parts of the plant and trim any dead, damaged, or diseased growth in spring and you're good to go.
Sun protection
Whilst having fun in the sun and making the most of your low-maintenance garden, be sure to stay safe. Even if the British weather doesn't guarantee a sunny summer, it's important to keep a good SPF cream on to keep you protected from the sun rays, because they can still travel through clouds, so don't let the clouds or the breeze fool you.
Sunscreen is usually effective for around 2 hours, so keep tabs on how often you're reapplying to keep covered. Keep a jug of cool water nearby or treat yourself by adding strawberries, raspberries, and blueberries to your lemonade, let the flavours blend and colours pop for a fruity summer drink.
There's really no need to compromise, you can have a bustling garden full of bees and butterflies, for such little effort. With these tips you'll be set for a summer at home, with fruity drinks and scented sensations to complement your time spent in the garden socialising and relaxing.