Wake up and water
Nice and early in the morning is the best time to water your plants, when the weather is still a bit cooler. Watering earlier in the day means the water can reach the soil more effectively rather than the majority evaporating due to the heat from the sun. It will also set your plants up for the day as they will have more water available when the sun hits.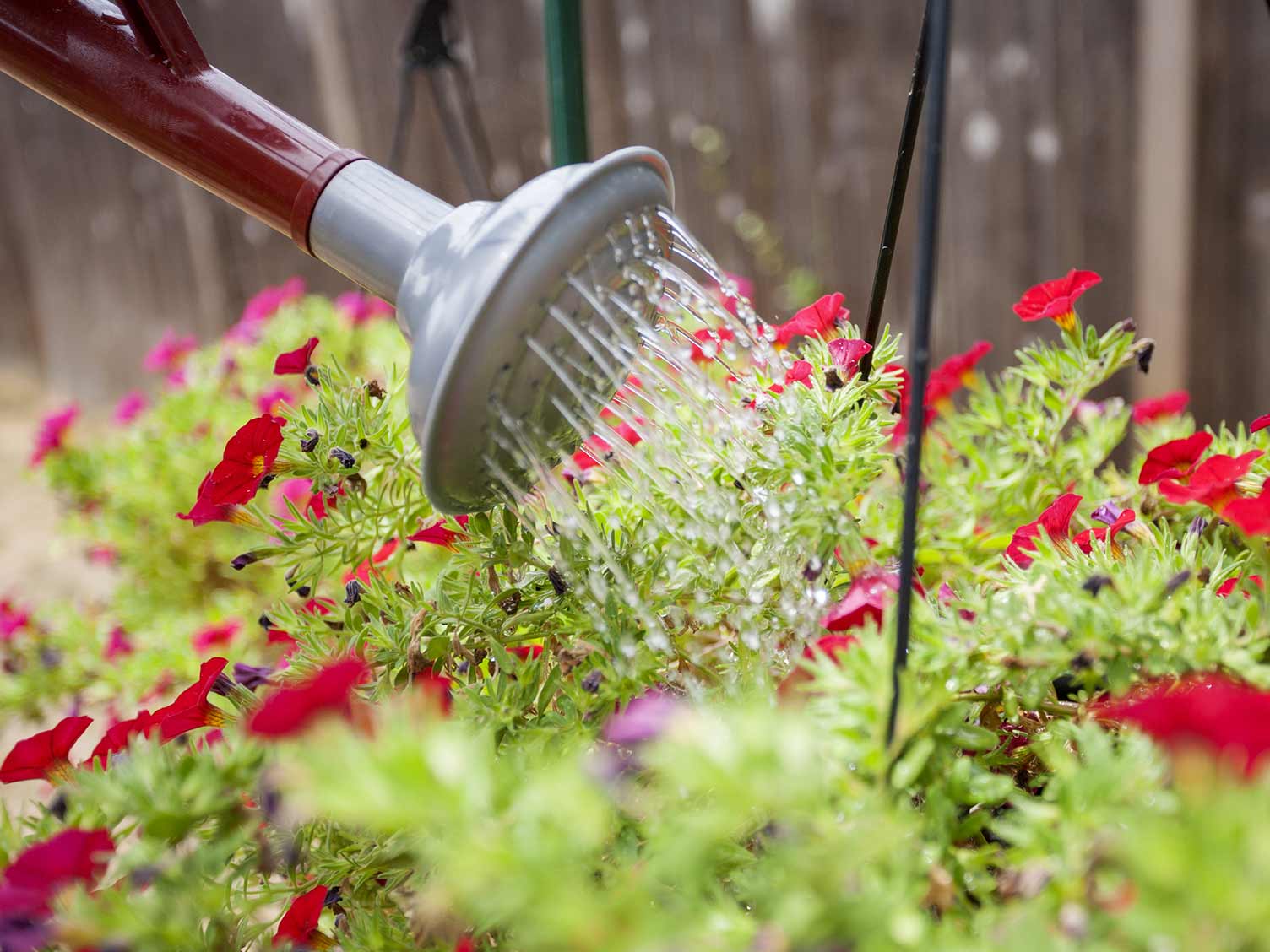 If morning watering doesn't fit in with your daily routine, giving your garden a water in the early evening is the next option as the peak of sunlight has passed but there will still be sufficient time for the evening sun to dry off the plants, but beware, you may be making the ideal damp conditions for night-time slugs.
Collect and conserve
One of the best things to do is collect rainwater using containers like water butts which become a reservoir that can be used to fill up the watering can and do the rounds in the garden. In my garden, I have a water butt under every short roof of my home, shed and greenhouse so I've got a good supply.
A top tip is to cover the end of the gutter or downpipe with the end of a pair of tights which will catch any debris like leaves which can then be emptied straight onto the compost heap.
Your plants will appreciate being watered using rainwater because it is free of any salts, minerals or chemicals found in tap water which can build up in your soil over time. Especially in potted plants, when there is a concentrated area, the build up of excess materials isn't ideal. Another huge bonus is that you'll be saving money on your water bill by using rainwater, so you're bank account will thank you too.
Don't hang about
Plants in pots may need more frequent watering than ones planted in beds and borders because those that are in pots only have the water and nutrition that you supply, meaning they can dry out quicker. Therefore, in summer you may need to water your container plants daily.
It may seem obvious how to water your garden, but sometimes having a checklist could be helpful to ensure that no plants are being left out. For example, hanging baskets may be easy to forget if they aren't in the main beds and borders, however you could give them a good head start by planting them up with Miracle-Gro® Premium Peat Free Moisture Control Compost for Pots & Baskets which contains 6 months feed. It also has Aquacoir® technology, meaning the compost absorbs twice as much water, stores it, and gradually releases it when the plants need it most.
Luscious lawns
Lawns take up a lot of space in many gardens, so they really need a bit of loving care through spring and summer to make sure they stay hydrated in the sun. In dry periods, a top tip is to not mow the lawn too closely, because the longer the blades, the more moisture that the lawn can retain.
This means you won't be continuously watering the garden, especially if resources are scare and there is a hosepipe ban. However, when you do water it, you can use Miracle-Gro EverGreen Fast Green Spray & Feed which will make your lawn look greener in just 24 hours! The Spray & Feed is so handy as it conveniently attaches to your hose, so your lawn is watered and fed at the same time, making the job so simple.
Alternatively, if you are conserving water and using a watering can, simply dilute Miracle-Gro EverGreen Fast Green Liquid Concentrate into the can and apply to your lawn for greener grass. It's perfect for homes with smaller lawns as well as being safe for children and pets.
Water for wildlife
It's not just the plants in the garden that will appreciate a drink, but local wildlife will happily visit your garden if you supply some fresh water in a bowl. For hedgehogs, leaves some water alongside some tinned cat food made from turkey or chicken in jelly or specialist hedgehog food.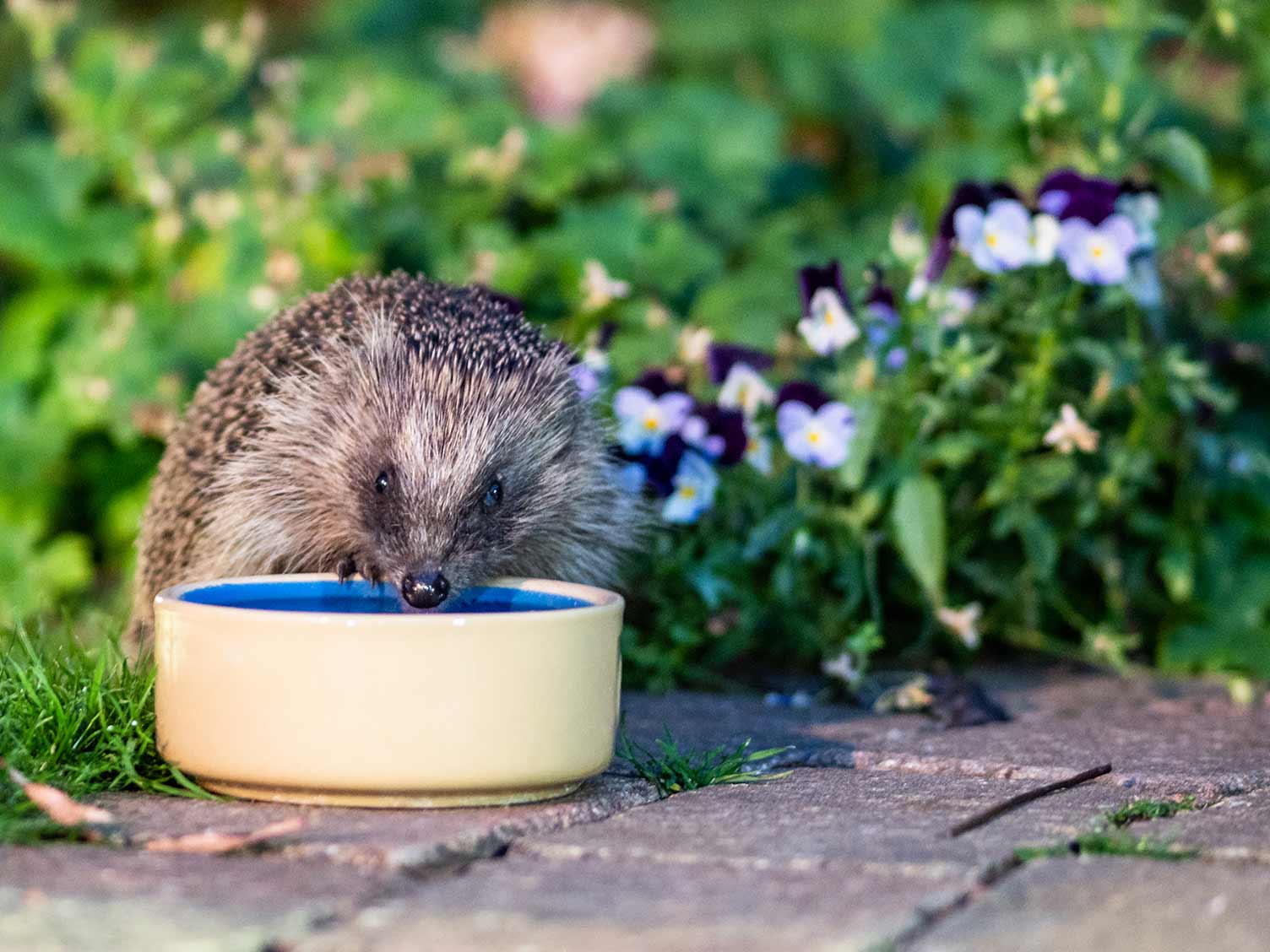 For birds, a bird bath is a great option as it provides a place for our flying friends to drink as well as bathe on a warm day. You could even transform items such as an old sink into unique water features for birds, butterflies, and other insects.
Whilst watering the garden is a great mini-work out and very therapeutic, it is also an essential garden task that will keep the garden looking glorious. Through the spring and summer, the plants and wildlife will need that extra bit of hydration to keep them growing to produce the flowers and the fruits that we love to see.