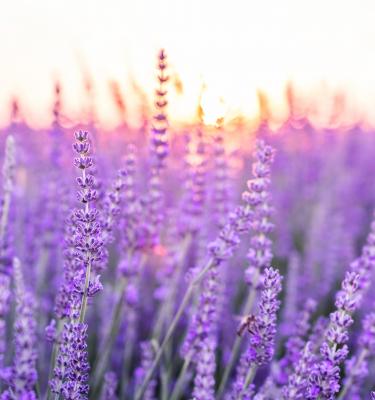 Lavender in full flower is one of the most beautiful sights of summer. The fragrant flowers are a magnet for butterflies and bees, and lavender doesn't only look and smell lovely – it's also great at repelling unwanted insects and pests like clothes moths.
Growing lavender requires only two things: plenty of sunshine and a well-draining soil. Lavender is very drought-tolerant once established, copes well on poor soil and doesn't need regular feeding, so it's an ideal choice for low-maintenance gardens. 
Types of lavender
The most common types of lavender are English lavender (Lavandula angustifolia), French or Spanish lavender (Lavandula stoechas) and hybrid lavender (Lavandula x intermedia). The common names can be misleading, as lavender actually comes from the Middle East and Asia as well as southern Europe.
English lavender has grey-green scented leaves and compact flowerheads on slender stems in summer. The flowers are usually purple, although a few white and pink varieties are also available. English lavender is hardy and can withstand cold winters, provided it is grown in well-draining soil.
Hybrid lavender looks similar to English lavender, but with longer flower stems.
French lavender is showier than English lavender, with shorter stems bearing plump flowerheads with a feathery tuft of bracts on top of each flower. It flowers earlier than English lavender, in late spring and early summer, and is not as hardy, so is best grown in pots and moved into a frost-free place in winter. Most lavenders prefer an alkaline soil, but French lavender will also grow on acid soils.
Other less common lavender types include:
Lavandula x chaytoriae – a hardy lavender very similar to English lavender, with silvery-grey foliage.
Green lavender (Lavandula viridis) – hardy, with lemon-scented foliage and greenish-white flowers topped with tuft of pale yellow bracts.
When to plant lavender
The best time to plant lavender is in mid-to late spring as the soil warms up. Avoid planting lavender in winter when the soil is cold and wet, as the roots are likely to rot before they have a chance to get established. 
Tips on planting lavender:
Choose a site that gets at least six hours of sunlight, with a well-drained soil. Even hardy lavenders are likely to die over winter if they have to sit with their roots in cold, wet soil.
If growing lavender in heavy clay soil, dig in lots of grit to improve drainage. Place each plant on a slight mound, so that water can drain away from the roots. Alternatively, plant lavender in raised beds or pots filled with free-draining compost.
When planting lavender, add some bonemeal into the planting hole. Once the plant is established, there's no need to feed regularly. 
Water lavender regularly in the first year after planting. Once established, it is drought tolerant and shouldn't need regular watering.
Move pot-grown lavenders into a bright, dry, frost-free place in winter.
Pruning lavender
It's essential to prune lavender to keep it looking compact and bushy. Lavender doesn't respond well to hard pruning, so old, leggy lavender plants are best replaced with new ones.
Prune English and hybrid lavender in mid to late summer once the flowers have faded. Whilst you should avoid cutting hard back into old wood, you still need to cut back reasonably far to stop the plants growing leggy and straggly. Look for the new grey-green leaf shoots that should be visible on the lower half of each stem and cut just above these, making sure to leave several new shoots on each stem for next year's growth. 
French lavender can flower more than once in a season, so prune it after the first flowering is over in the same way as English lavender, and then deadhead as needed for the rest of the summer. Don't prune French lavender after early September, as it won't have time to recover before winter.
Good lavender varieties to grow
Lavandula angustifolia 'Hidcote' AGM – one of the most popular and reliable English lavenders, with grey-green foliage and deep purple flowers. 
Lavandula angustifolia 'Imperial Gem' AGM – a dwarf variety with deep purple flowers, good for small spaces. 
Lavandula angustifolia 'Munstead' – another dwarf variety with light purple flowers. 
Lavandula 'Fathead' – a vigorous French lavender with plump, deep purple flowerheads topped with mauve bracts.
Lavandula stoechas 'Willow Vale' AGM – a particularly lovely variety with dark purple flowerheads topped with crinkly-edged paler purple bracts.
Lavandula x intermedia 'Grosso' – said to be the best-scented lavender, with long flowerstems and purple-blue flowers.
Harvesting lavender
Lavender flowers have been harvested for centuries to add fragrance to our homes and repel moths and other pests. English and hybrid lavenders are the best to use for harvesting and drying.
For the best scent, harvest flowerheads when the buds have formed but not yet opened into individual flowerlets.
Harvest early in the morning, before the fragrant oils in the flowers disperse in the sun.
Using sharp secateurs, cut the flowerstems low down, but leave at least two sets of leaves on the plant for the following year's growth.
Gather the cut flowerstems into bundles and tie each bundle with string
Hang the bundles somewhere warm and dry, out of direct sunlight, with the flowers pointing downwards
After three to four weeks, the lavender flowers should be fully dried. Gently rub the buds off the stalks into a bowl.
Fill small cloth bags with dried lavender flowers and place them in cupboards to repel moths.
There's so much to love about lavender. It looks beautiful, it's easy to grow, bees love it and it's useful too! Plant some in your garden today.