1. Gladiolus murielae (Abyssinian gladiolus)
The white flowers of this gladioli have deep maroon centres that add elegance to a border where they not only look stunning when moving in the summer breeze, but their fragrance can be enjoyed too. Growing up to 1 metre in height, they are great for the middle of the border or next to a meandering pathway so their scent can be appreciated. Plant them in a spot with well-drained soil and plenty of sun and they will grow happily with flowers arching on stems.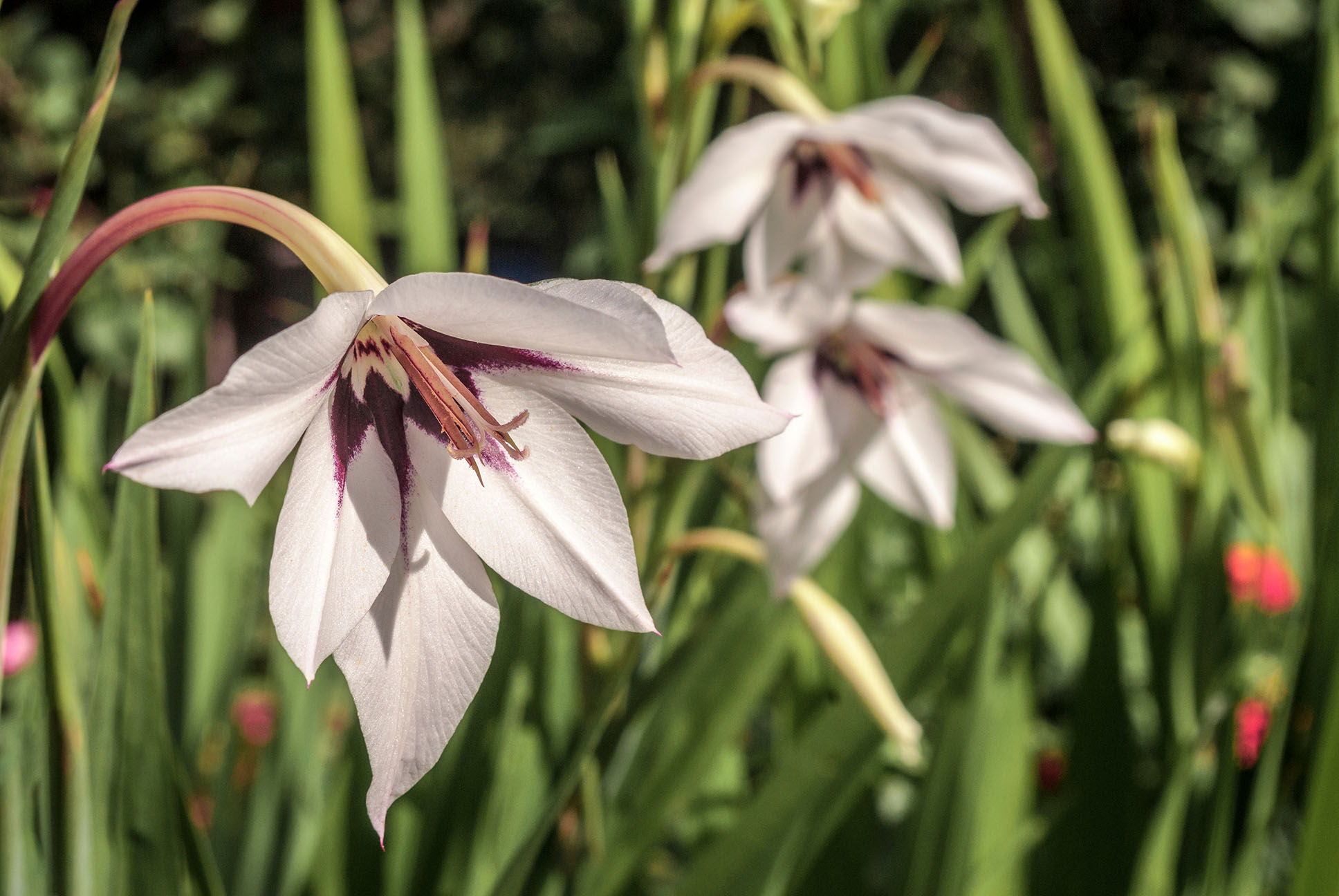 2. Begonia 'Million Kisses Elegance'
Flowering between July to October, this tuberous begonia is a perfect contender for your garden displays. Well suited to containers, hanging baskets, and window boxes, their vigorous trailing habit has a striking impact. The dainty looking flowers are white and orange-pink that contrast marvellously with the dark foliage. To get the best flowers, feed fortnightly with a fertiliser that's high in potash, or give a boost with Sulphate of Potash which helps to boost bigger and healthier flowers. In autumn, lift the tubers and store them in a frost-free environment, adding water occasionally to stop them from drying out.
3. Freesia 'Super Giant Mixed'
Say hello to summer with these cheery freesias in yellow, red, and white. The funnel shaped flowers bloom on wiry stems, bringing colour and a sweet aroma to the space too. They will thrive in Miracle-Gro Peat Free Premium Bulb Fibre Compost, where the unique texture will encourage strong root growth, helping the bulbs to replenish themselves the following year. Flowering from June to August, these summer-flowering bulbs grow up to 30cm tall when positioned in a sunny spot.
4. Crocosmia (monbretia) 'Citronella'
The sunny flowers of 'Citronella' are sure to make you smile when they bloom in sprays from August to October. Pick a sunny but sheltered location for these jolly plants to protect them from cold winds. They are hardy plants but prefer a well-drained soil that is light and sandy. When flowering, you can sit and enjoy the bright blooms and listen as bees pay the nectar and pollen-rich flowers a visit too.
5. Dahlia (waterlily dahlia) 'Gwyneth'
The apricot-coloured flowers of this waterlily-style dahlia are a marvellous addition to a mixed border where they can grow up to 1.5 metres tall. Its fluffy texture makes them a beautiful ornamental plant to grow, although they are also a classy cut flower if you want to bring their beauty indoors. For the best flowering results, use a high-potash fertiliser like Levington Tomorite Pour & Feed to prolong the flowering period. Remove spent flowers and once there has been the first frost, the tubers can be lifted and stored until March when they are potted up ready to be planted out again in May or June.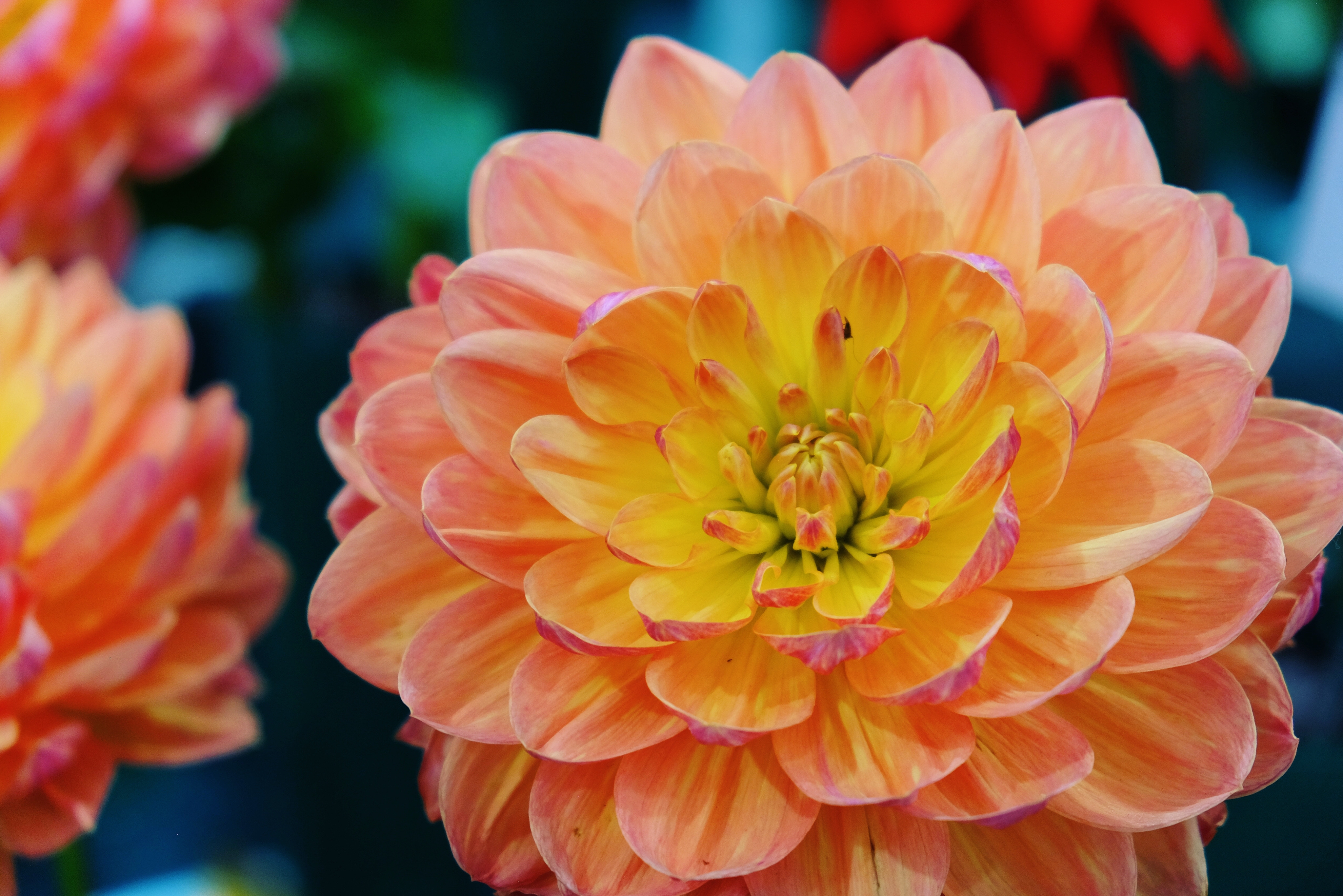 6. Gloriosa superba (glory lily) 'Rothschildiana'
With truly remarkable flowers, this bulbous perennial has a climbing habit making it a great choice for a trellis. In addition, it is a popular conservatory plant, so the beauty of summer-flowering bulbs can be brought indoors. The curved petals are cream with scarlet markings and stamens that protrude, creating a really exotic appearance. The tubers should be planted in spring in a pot at a depth of around 8cm deep. Water them well and feed every 2 weeks through the summer months.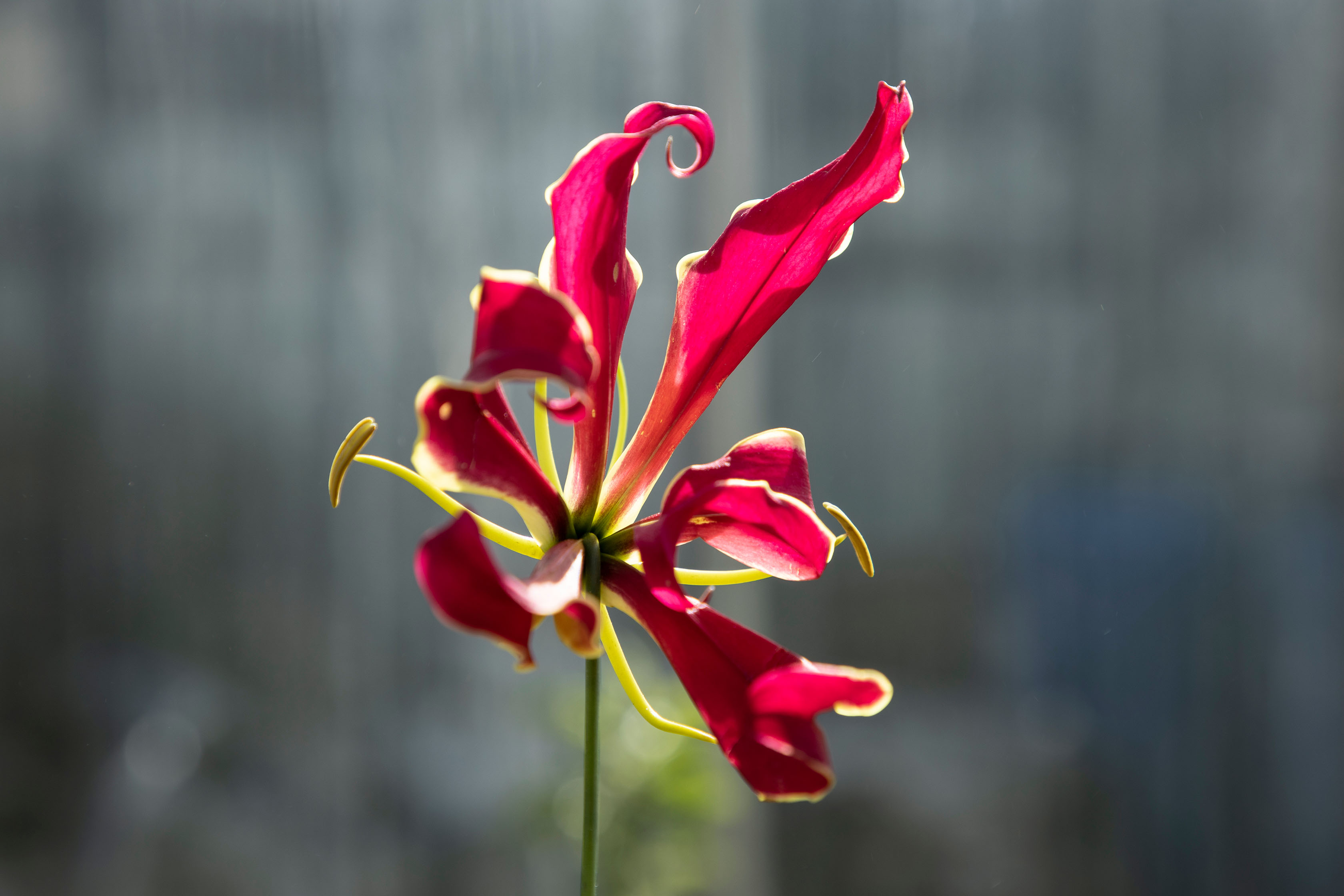 7. Dierama pulcherrimum (angel's fishing rod)
As the common name suggests, the grass-like spikes of foliage and arching flowers resemble a fishing rod. The pink bell-shaped flowers are bold and bright, looking great in many gardens from low-maintenance gravel gardens to cottage-style spaces. Grow in a moist but well-drained soil with plenty of sun and shelter and these half hardy beauties will thrive.
8. Galtonia candicans (summer hyacinth)
The upright stems are joined by waxy white flowers that have a soft fragrance, bringing elegance to the space. They are tender plants, so growing them in containers is ideal to be moved indoors when temperatures drop in autumn. Although, they have a stunning impact when planted in clusters in a sunny border where the white flowers contrast with the green foliage and other flowers in the scheme. Ensure they get plenty of sun and a well-drained soil and they will flourish and be enjoyed by bees too.
9. Allium (ornamental onion) 'Red Mohican'
Choosing the best bulbs wouldn't be possible without mentioning alliums. They bring colour, height, texture, and architectural interest to the garden, they are all-round winners. The drumstick-style flowerhead of 'Red Mohican' has an extra tuft at the top, giving it an extra bit of texture. Plant the bulbs in autumn in a spot with full sun and well-drained soil at a depth of three times their diameter and they will grow to 90cm tall with flowers from May to July.
10. Lilium 'Tigrinum splendens'
The tiger-like markings on the orange flowers of this luscious lily are sure to add some 'wow' to your borders. Not only are they beautiful, but hardy too. Plant the bulbs 15cm deep in well-drained soil and the flowers will bloom in August to September, growing up to 1.2 metres tall.
Get your garden ready for summer with these stunning summer-flowering bulbs. Ensure you make the most of your blooms by giving them the care and aftercare they need for brilliant blooms the following year.