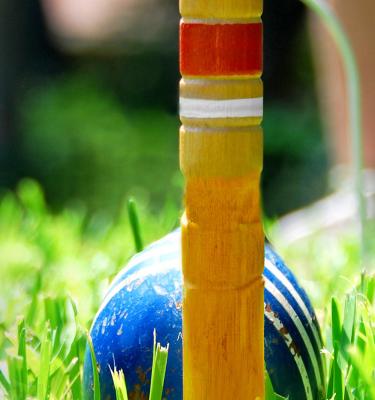 Lawn games for the summer
Get ready for hours of fun with these traditional lawn games to play with both friends and family. Need to improve your lawn first? Check out these handy lawn tips for a great looking lawn!
The majority of these games can be homemade for even more enjoyment, or for quick and easy access can be bought as a set from many retailers.
---
Bowling
The trickiest part of playing this game is the level of your lawn! If the surface is very uneven, a makeshift bowling alley may need to be constructed out of wood.
The pins can be recycled plastic bottles and can even be painted to match the look of standard bowling pins. Very environmentally friendly!
---
Throwing games
There are an array of competitive throwing games, where whoever has the most accurate aim, wins!
---
Ring toss
It really is as simple as it sounds, rings or hoops are thrown in an attempt to get them to land over a vertical peg. Successfully get the most rings on the peg and win.
A peg can be made using a stick wedged into the ground, a box of bottles or even using an upright kitchen roll holder. A bigger scale ring toss can be made using hula hoops.
---
Bean bag to toss
For this players take it in turns to throw a small bean bag at a raised platform with a hole in the far end. Getting a bean bag in the hole earns 3 points, whilst one landing on the platform earns 1 point. The first to reach 21 points wins.
---
Lawn pong
Similar to beer pong, but on a larger scale. This can be made in any size, all you need are enough containers of the same size, such as buckets or bins for each team, and balls to throw that will fit in the containers easily.
To make it more interesting, dares or forfeits can be placed in each.
---
Tin can alley
Just like at the old fashioned fairs, you can stack up tin cans into a pyramid and take turns trying to knock the most down with a ball.
---
Lawn darts
There are a few different versions of lawn darts available to buy depending on the age of those playing, but most will contain 4 coloured darts with weighted tips.
The aim of the game is to get the darts to land within one of two ground-level circular targets to score a point.
---
Frisbee
Frisbees are a classic toy that needs no explanation! I'm sure everyone has heard of them or used them at least once.
These flying discs are great for throwing and catching, but to add a little competition why not make it into a game of disc golf.
Empty hanging baskets or buckets can be used to make goals to aim for.
---
Miniature golf
A miniature golf course in your garden can be made with almost anything. Household objects can be used as obstacles, as well as natural materials such as logs, stones, pinecones and even garden ornaments.
For those that are avid miniature golfers, a wooden frame can be made for each hole and lined with faux, or even real grass. These can be made in sections for easy dismantling and storage.
---
Lawn Twister
If you already have the original twister, then get it out on the lawn and get started!
However, for those that haven't, all you need is a cardboard box, ground marking spray paint in red, yellow, blue and green, and a spirit level.
Start by using a dinner plate to trace a circle in the bottom of the box, and carefully cut it out. Place the spirit level as a guide for creating straight lines of circles.
Position the box and spray within the template, filling the entire circle. Repeat this process until you have a line of each colour, making sure you leave enough space between each one.
As it is not a standard twister board, you can keep expanding it until you can fit your whole party in!
Selection cards can be made with coloured paper and picked at random.
---
Ball games
There are many ball games that can be played in all sizes of the garden including badminton, rounders, volleyball, cricket, football and tennis.
---
Water balloon dodgeball
Not quite as painful as standard dodgeball, water balloon dodgeball can be fun for anyone and is a great way to cool down on those hot summer days.
---
Glow in the dark fun
A few of the above ideas can be modified to glow in the dark, to give everyone that bit more of a challenge and make the game even more interesting. This can be done using glowsticks and glow in the dark paint.
There are many more games for small or large groups to play, the list is endless! Some additional ideas to keep you going include:
- Croquet
- Bowls
- Homemade obstacle courses
- Sports Day events
- Tug of War
You can even have kite-flying competitions or take an alternative twist on lawn darts and use styrofoam aeroplane gliders instead.
A large chalkboard attached to a wall or fence can be great at keeping track of team scores or alternatively can be used to play Pictionary and Hangman.
There are also plenty of other traditional board games that have been enlarged for outdoor playing such as giant chess, checkers and scrabble.