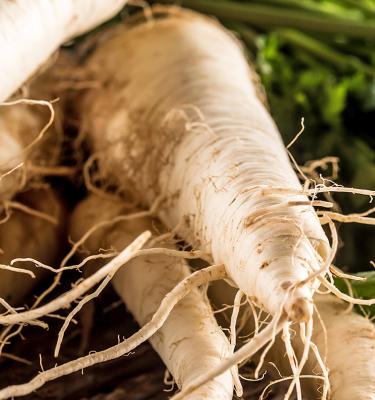 Parsnips (Pastinaca sativa)
Parsnips are an easy to grow root vegetable that no roast dinner can do without! They need little care and attention while they're growing and can be left in the ground until you're ready to use them. The flavour is improved by a touch of frost.
---
How to grow parsnips
Cultivation
For the best results, parsnips need a sunny position and fine, crumbly soil that has not been freshly manured and without too many stones. Otherwise the single root may split into many smaller ones when it hits a large object or fresh manure, causing forking and misshapen roots.
Dig over the soil and remove perennial weed roots and all stones and other large debris. Add some well-rotted compost or similar material to improve the soil structure, plus a light sprinkling of a general plant food. Rake the soil to give a level, friable surface. If your soil is stoney, prepare a long V-shaped trench at least 20cm (8in) deep and fill this with sieved soil mixed with about 50% of compost.
If your soil isn't really suitable for growing parsnips, you can grow them in large, deep pots of multi-purpose compost or compost recommended for growing vegetables. Or grow the variety Avonresister, which tolerates poor soils and produces shorter roots.
Parsnip varieties
The following are all good, reliable varieties:
Albion
Avonresistor
Gladiator
Javelin
Tender and True
White Gem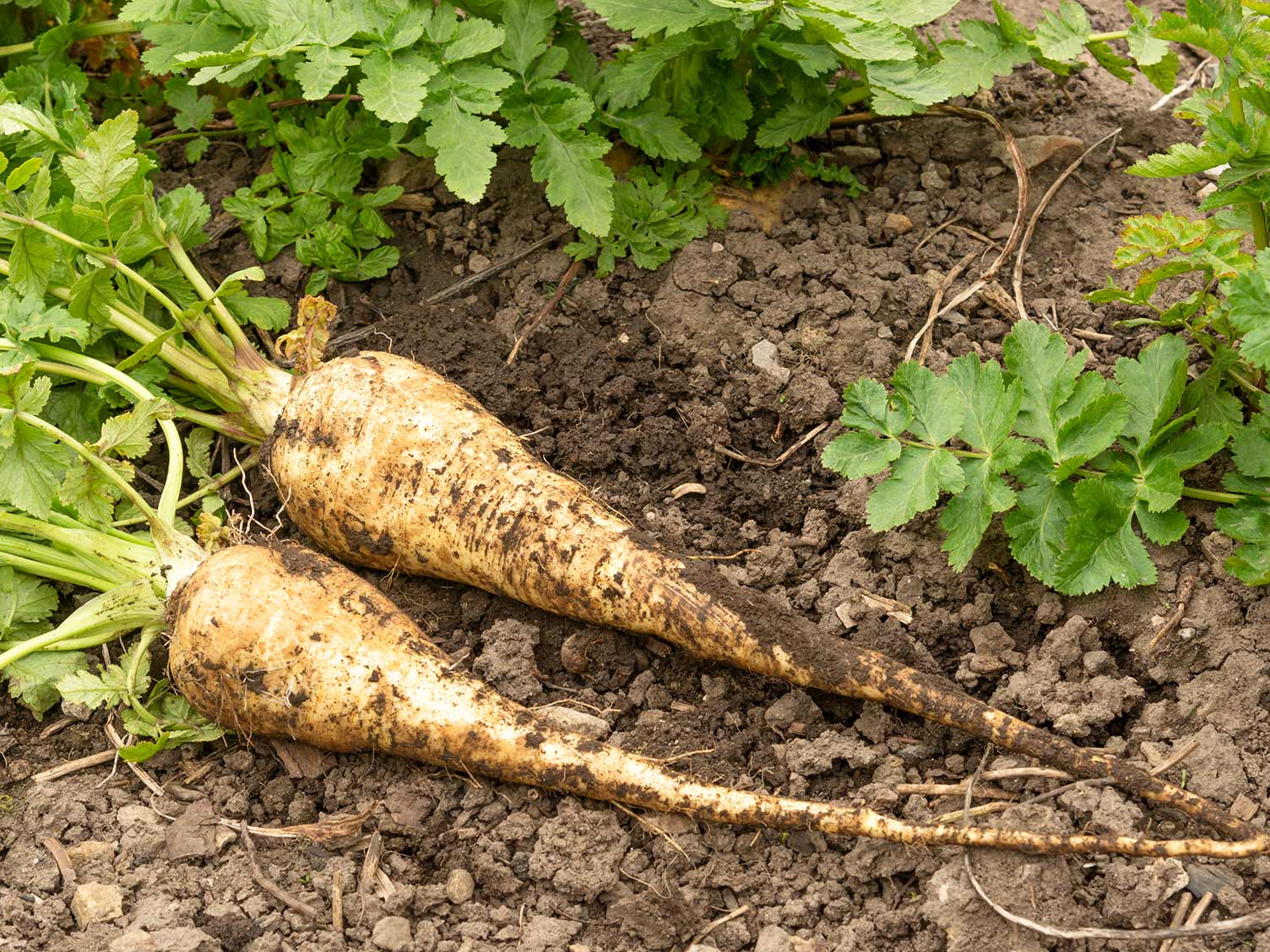 Sowing parsnips
The seeds need to be sown where they are going to mature. Although it is often recommended to start sowing in February, it is far better to wait until the soil is warmer in March, April or even May. This way you can also help prevent parsnip canker disease.
Either take out a shallow drill 13mm (½in) deep and sow the seed thinly along it, or sow 3 seeds at 15cm (6in) intervals (stations), in rows 30cm (12in) apart. After sowing the seeds cover with fine soil and water in.
---
How to care for parsnips
When the seedlings are about 2.5cm (1in) high, thin them out to 15cm (6in) apart or thin to leave the strongest plant at each of the 15cm (6in) station.
Keep your parsnip crop well watered in dry weather - aim to keep the soil evenly moist without cycles of drying out and flooded, as this can lead to the roots cracking.
Harvesting
Parsnips are ready to lift when the foliage starts to turn yellow and die down in autumn. Carefully lift them with a garden fork without damaging them. They can be left in the ground and harvested as and when needed.
Lightly frosted roots tend to have the best flavour.
Pests
Parsnips may be susceptible to the following diseases and problems: Parsnip canker, Forking, Cracking.
| | |
| --- | --- |
| Foliage season(s) | Summer, Autumn |
| Sunlight | Partial shade, Full sun |
| Soil type | Clay, Loamy, Sandy |
| Soil pH | Slightly acidic to neutral |
| Soil moisture | Moist but well-drained |
| Ultimate height | Up to 15cm (6in) |
| Ultimate spread | 5cm (2in) |
| Time to ultimate height | 4 months |