Standard roses and patio roses
Growing roses in the traditional sense is a little different to growing roses or patio roses in containers.
A patio rose is a miniature floribunda rose that can come in a variety of styles. These types of roses can also be good for slopes as they help with erosion control. Like all roses they are beautiful and tend to have very showy blooms if a bit smaller than others. Many are highly fragrant.
There are different types of patio rose, including Nice Day (patio climber), Sweet Dream and Laura Ford to name a few.
Patio roses are usually grafted onto short compact bushes and can be grown in tubs/containers, small flower beds and borders.
A patio rose grown in a container can last for a number of years with a bit of TLC. Roses can be grown in containers due to their long slender roots that can find nutrients and moisture. Patio roses can grow between 18 and 24 inches high so the pots must cater for this and ideally should be around 36 inches deep. With your patio roses, if planting in a bed or border, you should look to plant them 18 inches apart. They can also be paired with miniature roses due to their similarity in size.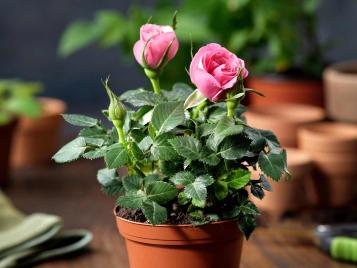 Caring for patio roses
Look to use compost that caters for roses, trees and shrubs. A multi-purpose compost peat would be the best suggestion with added John Innes This will make the pot heavier and prevent it from toppling over in windy conditions.
Before filling the container, make sure it is in the final position you would like it to be in as the container will get very heavy! Ensure your roses are in a position to receive at least half the day in sunlight. Roses in containers can dry out quickly so ideally position the pot where it will get some shade and don't just bake in full sun all day long.
You should water your roses every other day during the growing season, especially if you have prolonged periods of hot weather. Water them in the morning at the base, not the foliage so the heat of the sun doesn't scorch the plants or cause the water to evaporate. This should also help prevent powdery mildew – the ideal growing conditions for this fungal disease is when the soil is dry but the overhead conditions are humid, which can often happen in summer.
Read our guide to know more about how to care for patio roses. 
Pruning your patio roses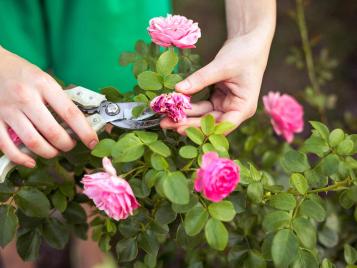 The best way to maintain your patio roses is through pruning and regular feeding and watering.! If you are someone who has never 'pruned' their roses before, you'll likely have some concerns including: 'what if I damage them?' or 'where do I even start?'.
Don't worry though, it's a little simpler than you think.
There are two key reasons for pruning your patio roses:
To take out old and diseased wood allowing good air circulation through the plant.
To encourage more flowering.
You should aim to prune your roses when the plant is 'dormant' (not in active growth) depending on the weather. If it is a mild winter then aim to prune around November, however, if the weather is frosty and cold, then look to prune your roses around springtime (March/April). Always try to prune your roses before any green shoots start appearing.
Here are some tips for cutting a shoot:
Always cut just above the bud. You will be able to see the bud on a stem. You will be able to determine lines on the stem to see where the leaf has grown. Above this there will be a little nobble which is the new bud, waiting to grow.
Choose the bud that is facing outwards, which is ideal for growth as you do not want a plant that is growing into the centre.
Cut at a slant so that rainfall doesn't pool on the cut.
Make a clean cut around 1cm above the bud.
You should prune patio roses in the same way you would prune floribunda or cluster-flowered roses:
Patio roses usually produce a lot of 'twiggy growth'. Remove this and the main stems should be reduced by around a third to a healthy bud. 
Take out any shoots that upset the overall shape of the bush. 
Remove any shoot that is weak, damaged or diseased .
There are also shoots that will look nothing like your other stems. These are 'suckers', and should be removed from your bush below the graft line as they will not flower and eventually take over. 
Suckers can be quite easily determined, as they have 7 leaflets making up the leaf, are very thorny and tend to have light green and slightly ribbed foliage. The best way to deal with a sucker is to pull and twist them off rather than cutting them.
Feeding and watering patio roses
It is important to feed your flowers for better growth and also for disease prevention as well.
You should look to feed your plants after pruning them in the spring and then once again in the summertime after the first wave of flowering with a granular rose fertiliser. You can also use a liquid plant food instead once a week during the growing season. Do not feed your roses after August as soft growth may get damaged by a cold winter.
Water your container patio roses in the summertime every few days (unless there is rainfall). Some will say that you should water your plants every day, but we would say every few days should be fine.
Always remove fading flowers during the summer as this will encourage more blooms to come through.
Frequently asked questions about growing patio roses in pots
Can patio roses grow in the ground?
Yes, patio roses can grow in the ground. As well as growing in pots or containers, they can grow in small flower beds and borders. Just as you would with a patio rose grown in a container, make sure you choose a sunny spot that adequately shelters your rose from the wind.
How do you take care of a patio rose in the winter?
In the winter your patio rose will go into dormancy. This means it will be unaffected by frosts or snow as it is in hibernation. If it is a mild winter you can prune your roses in November. But if it is frosty and snowy, pruning should wait until the spring (around March/April).
How long do patio roses last?
A patio rose won't live quite as long as other types of rose. If you properly care for your patio rose it will live for between 5 and 7 years.
Do patio roses need full sun?
As with other types of rose, patio roses love the sun. You should try and make sure your patio roses get sun for at least half the day. But when growing in a container, you'll need to be mindful that the soil doesn't dry out, as your roses can become susceptible to powdery mildew. Try and position the container so that it is shaded whilst the plant itself is in the sun.
To know more about how to care for your houseplants, sign up to our monthly newsletter and get your copy of our Essential Guide to Houseplants.