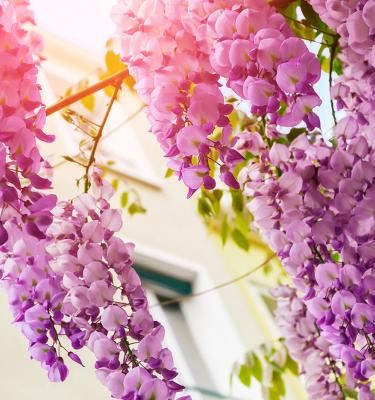 Wisterias are gorgeous climbing plants, perfect for covering walls and fences or grown over pergolas and arches where their flowers can be appreciated cascading overhead. They flower from mid-spring into early summer, producing delightfully scented flowers in shades of purple, white or pink.
---
How to grow wisteria
Cultivation
Wisterias need a sunny, sheltered position to flower well. They can be grown in very lightly shaded positions, but won't flower as well.
They also need a soil that retains plenty of moisture in summer, but doesn't become overly wet or waterlogged. If grown up against walls, the soil can become very dry, as can light, sandy soils, so may need watering during prolonged, dry periods – and certainly while plants are establishing. Give the soil a 7.5-10cm (3-4in) thick mulch to conserve soil moisture.
Types of wisteria
There are two main species of wisteria commonly grown in gardens:
Wisteria sinensis is vigorous and only really suitable for covering large areas. It produces its flowers before the leaves appear.
Wisteria floribunda is more compact and more suited to growing in smaller areas. It produces its flowers and leaves at more-or-less the same time.
Interestingly, the stems of Wisteria sinensis twine anticlockwise, whereas those of Wisteria floribunda grow clockwise – useful to know if you want to distinguish between the two.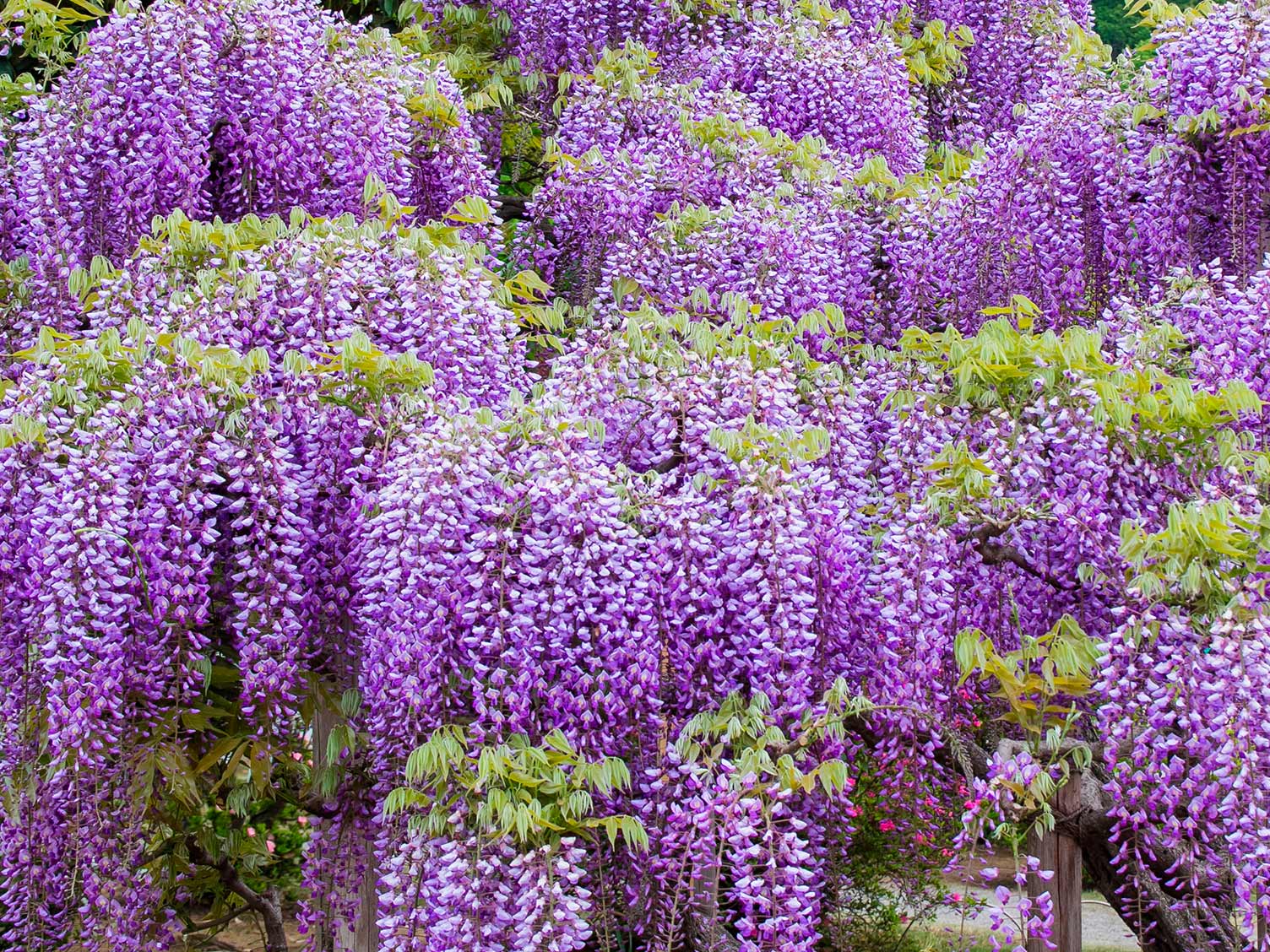 Buying wisteria
Be wary when buying wisteria plants! Cheap, seed-raised plants can take many, many years to start flowering and the flowers are often a disappointing size and colour.
Grafted plants on the other hand, will reliably flower at even a young age. You can tell if the plant is grafted by looking for the graft union (a visible bulge) near the base of the main stem. Named varieties are nearly always grafted. Grafted plants are also much more expensive.
Wisterias are one plant that it is a good idea to buy in flower if at all possible, so you know it will flower early and you can see the size and colour of the flowers.
Suggested planting locations and garden types
Walls and fences, pergolas and arches, patios, containers, city and courtyard gardens, cottage and informal gardens.
---
How to care for wisteria
For best results, feed wisteria plants every spring. You can use Miracle-Gro Growmore Garden Plant Food or Miracle-Gro® Fish, Blood & Bone All Purpose Plant Food, but a rose or flowering shrub feed will generally give better results. In very well-drained soil, also feed with sulphate of potash in summer.
Pruning wisteria
Wisterias don't need pruning – but they can grow out of control and and the flowers hidden by the foliage, and they will flower much more profusely if you do. The aim is to build up lots of short flowering spurs.
Initially, it is more important to train the plants to produce a main framework of main branches, and tie them in to their support to ensure they fully cover the support evenly, than worry too much about flowering.
Once the framework has been produced, you can start pruning for flowers – which needs to be done twice a year. In summer (July or August) shorten the current year's shoots to around 30cm (12in) long, or 5-7 leaflets from the main stem/framework. Then in winter (December - February) cut back the shoots that were pruned in summer to around 2.5-5cm (1-2in) or a couple of buds.
Pests
Wisteria may be susceptible to the following pests, diseases and problems: Birds, frost damage and graft failure.
| | |
| --- | --- |
| Flowering season(s) | Spring, Summer |
| Foliage season(s) | Spring, Summer, Autumn |
| Sunlight | Full sun |
| Soil type | Chalky, Loamy, Sandy |
| Soil pH | Alkaline |
| Soil moisture | Moist but well-drained |
| Ultimate height | Up to 10m (33ft) |
| Ultimate spread | Up to 10m (33ft) |
| Time to ultimate height | 10-15 years |