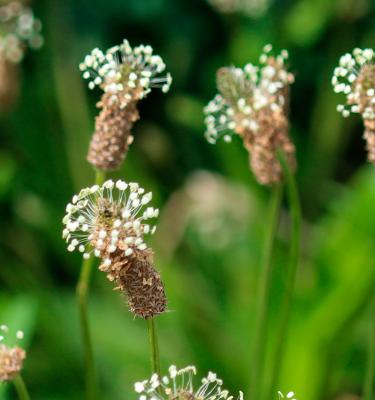 What are plantains?
Greater plantain (Plantago major) and ribwort plantain (Plantain lanceolata) are perennial weeds that appear in borders and lawns. They are more of a problem in lawns, as they are low-growing and are not affected by mowing.
Plantains have a very short growing period and can take as little as six weeks from germination to setting seed. They spread by self-seeding.
How to identify plantains?
Greater plantains produce low-growing rosettes of rounded leaves (typically measuring 5-20cm long and 5-10cm across) and thin upright stems with cone shaped flowerheads bearing numerous small greenish-white flowers between May and September. These then eventually turn into small seedpods (containing up to 20 seeds) – when mature they break, scattering the seeds on the ground.
The leaves themselves are generally smooth, with prominent veins running from the base along the length of the leaves. Sometimes they have small, fine hairs on the surface.
Ribwort plantains have long, narrow leaves (between 10-30cm long) and stems bearing 'bobble' flowerheads of small greenish-white flowers. These also turn into seedpods which each produce around 10 to 20 seeds.
Both greater and ribwort plantains have shallow, fibrous roots.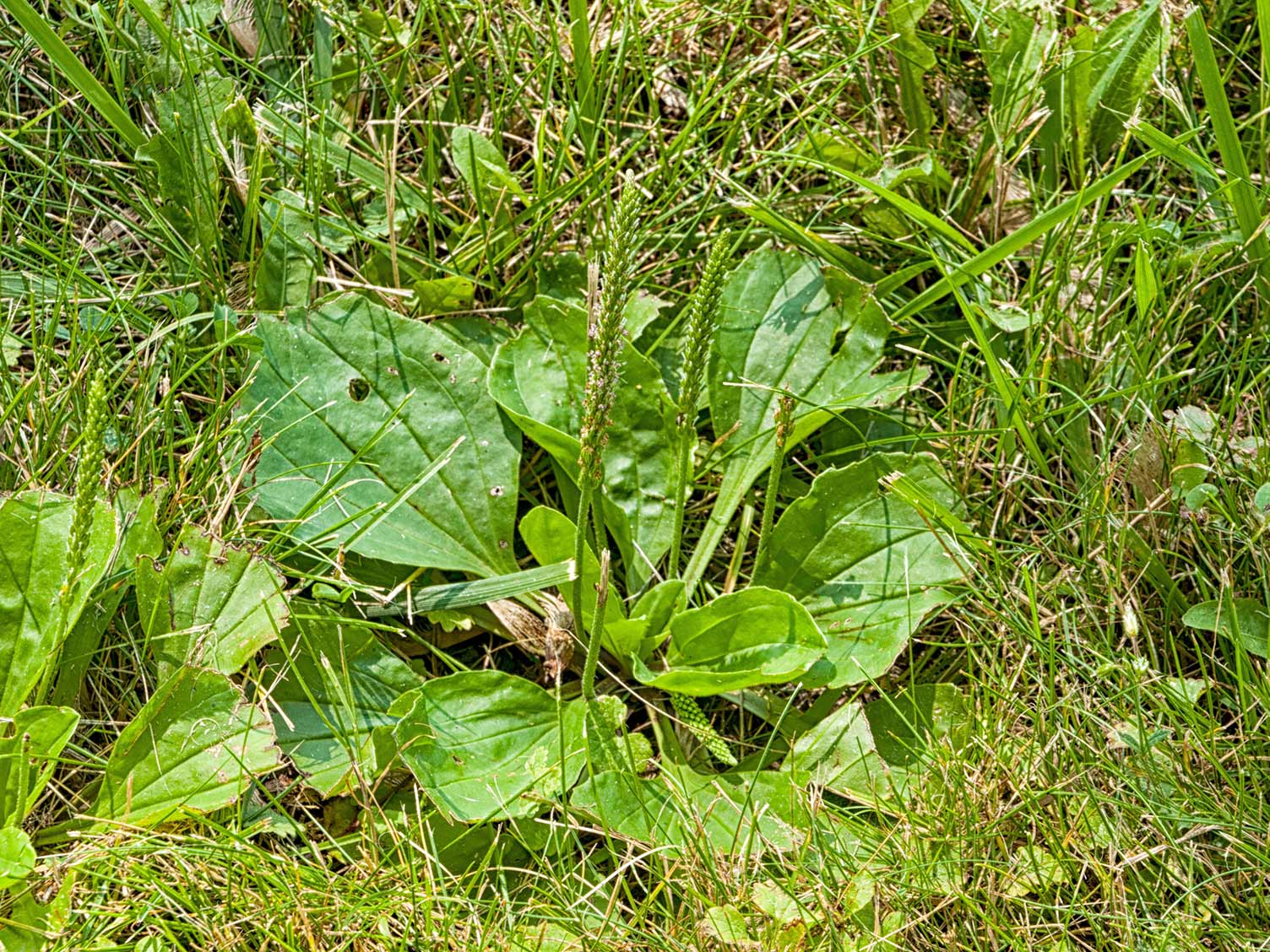 Plantains damage
In lawns, plantains out-compete and smother the grass, spoiling the look of the lawn. They adapt to mowing by producing flat rosettes of leaves that grow below the level of the lawnmower blades.
In borders, they compete with other plants for water and nutrients. Plantains can spread quickly by self-seeding.
Plantains control
Plantains have shallow roots and are relatively easy to dig up by hand. In lawns heavily infested with plantain it may be more effective to use weedkiller.
How to get rid of plantains without the use of chemicals
In borders, use a hoe to cut plantains off at the roots, just below ground level.
Dig individual plantains out of lawns and borders by hand, using a knife or daisy grubber.
How to get rid of plantains in lawns using weedkiller
How to prevent plantains?
Regular lawn maintenance will help prevent plantains in lawns by promoting the growth of strong healthy turf.
Aerate lawns annually to improve drainage, making holes in the lawn surface with a garden fork or hollow tine aerator.
Feed lawns in spring and autumn to promote the growth of healthy turf, which will crowd out plantains and other lawn weeds.