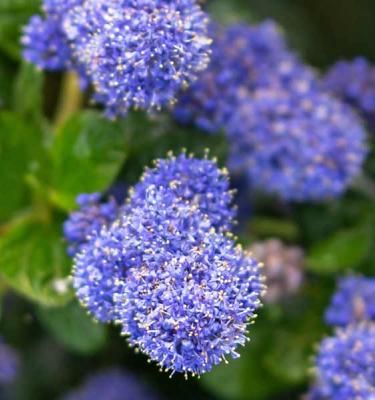 How to grow Ceanothus
Ceanothus, or 'California Lilac', is a beautiful and eye-catching perennial shrub. The vivid and prolific blooms are usually blue, but white and pink varieties are available too. This large bush is easy to grow in the UK – read on for everything you need to know about growing this captivating plant.
Types of Ceanothus to grow
There are over 50 different species of Ceanothus, and many more cultivars. Most are evergreen, all have shiny, slightly sticky leaves, and many have a strong scent too. It's also widely known as buckbrush and soap bush.
Some of the most interesting Ceanothus plants which we like are:
Ceanothus americanus, or New Jersey tea. A compact variety which will thrive in dry conditions.
Ceanothus arboreus. A small tree species which can grow to 11m (36') tall with multiple stems. The cultivar 'Trewithen Blue' is widely grown for its dark, shiny large leaves and strongly scented flowers.
Ceanothus 'Autumnal blue'. A late summer flowering variety which grows very well trained against a wall.
Ceanothus 'Blue Mound'. A compact bush variety with vivid blue flowers appearing in early spring.
Ceanothus 'Blue Sapphire'. Slightly bronzed foliage which arches to make it wider than it is tall.
Ceanothus 'Burkwoodii'. A summer blooming variety which can carry on flowering well into the autumn.
Ceanothus 'Cascade'. As the name suggests, the branches of this species really do cascade, creating a lovely arching shape which bears long arrangements of flowers.
Ceanothus 'Concha'. An evergreen species which produces a dense thicket of growth.
Ceanothus 'Dark star'. A spreading variety which is great for providing ground-cover.
Ceanothus foliosus, or wavy leaf Ceanothus. A sprawling species with minimal foliage.
Ceanothus griseus, or Carmel creeper. Notable for its width, which is often greater than its height. The cultivar 'Yankee Point' is especially well regarded for its low growth of just 1m (3') high, but reaching a width of 4m (12'). The cultivar 'Silver Surprise' has stunning, variegated leaves with cream coloured edges.
Ceanothus impressus. An early-summer flowering variety with highly textured foliage. The cultivar 'Victoria' is particularly notable for its densely arranged dark blue flowers.
Ceanothus 'Italian skies'. A small species growing to just 1.5m (5') high, but spreading more widely.
Ceanothus 'Pershore Zanzibar'. Usually grown for its unusual variegated foliage.
Ceanothus 'Puget blue'. Dark green leaves and about 2m (6') tall at full maturity.
Ceanothus 'Southmead'. Dark blue flowers on a compact bush, with evergreen foliage.
Ceanothus thyrsiflorus and Ceanothus thyrsiflorus var. repens. A vigorous, sprawling multi-stemmed species which can grow to 7m (23') tall and nearly as wide. The cultivar 'Snow Flurry' has stunning blooms of bright white flowers.
This wide variety of Ceanothus can be bought from most garden centres and online.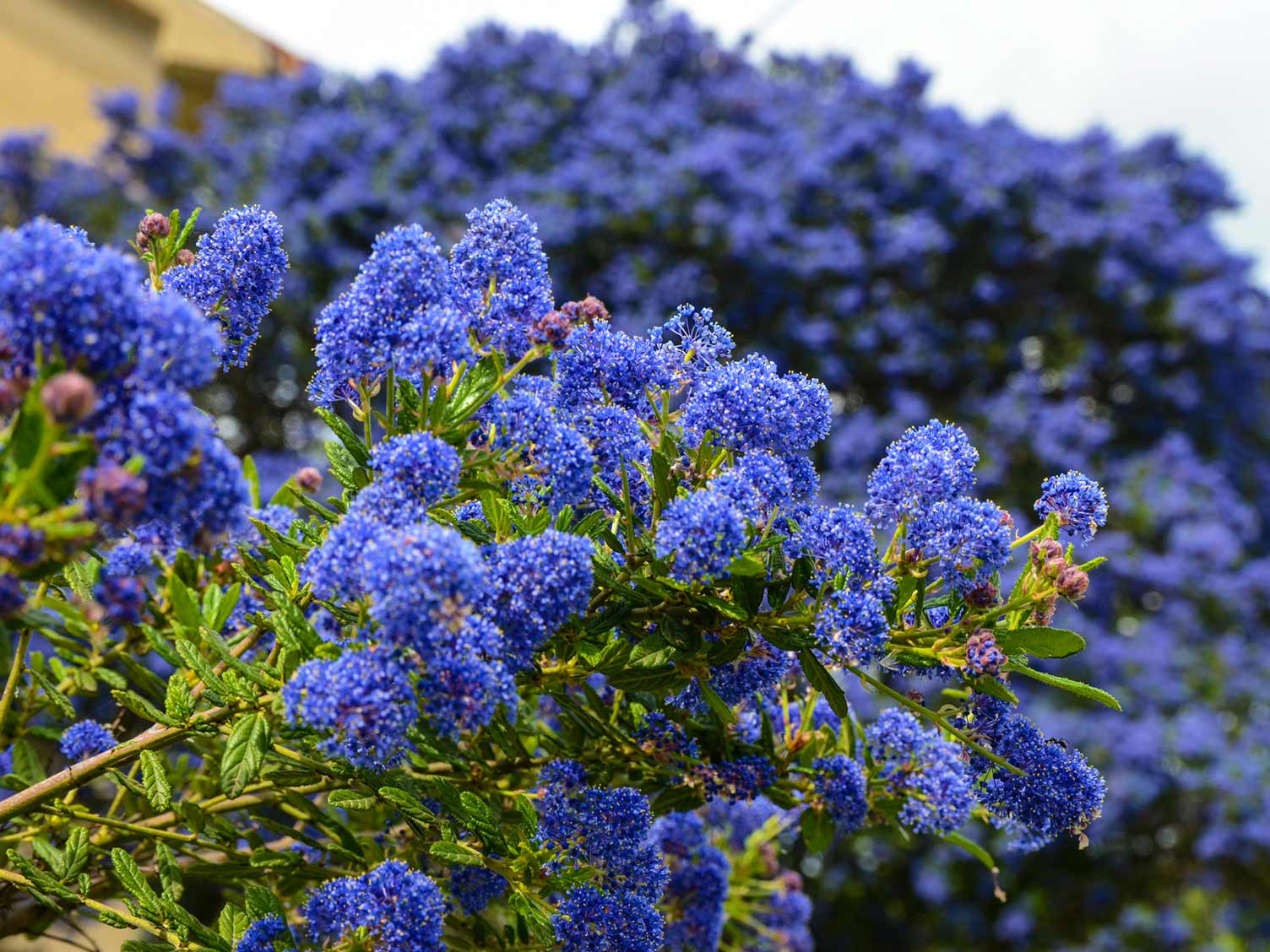 What you'll need to grow Ceanothus
To grow Ceanothus successfully, you will need:
A spade.
A garden fork.
Gloves.
Manure or other well rotted compost.
Wait until the spring to plant out, when the soil is beginning to dry out from the wetter winter months:
Using the spade, dig a hole in the ground that is twice the width of the rootball of the Ceanothus. It should be slightly deeper than the rootball.
Disturb the soil in the bottom of the hole, using the fork.
Wearing gloves, dig in plenty of Levington® Peat Free Organic Blend Farmyard Manure. This will improve drainage and provide a boost of nutrients to help the Ceanothus to get established.
Place Ceanothus in the middle of the hole, backfill with soil and gently firm in so that there is good contact between the roots and the soil.
Water well and leave to establish.
Where to plant and place your Ceanothus
Ceanothus can be grown in a variety of styles and locations. Identify a sunny spot in the garden where there is plenty of space for the plant to grow to its full maturity.
Smaller varieties can be grown in a large pot, but they really prefer to grow in the ground. They can be free-standing, grown as a bush in a border, as low-growing ground cover, or are good as an informal hedge. They can also be trained against a south facing wall, or as a climber when tied into supports.
Ceanothus can be propagated from seed, but will need a little perseverance. The seeds need to be soaked in water overnight, and then chilled at 1°C (34°F). They are more easily propagated from semi-ripe or softwood cuttings - see our expert article on how to do this.
Caring and nurturing your Ceanothus
Ceanothus are versatile, being able to survive in a wide range of climates. It is very important that they receive lots of light - full sun will encourage flowering. They enjoy dry conditions, sheltered from strong winds and frost.
Soil should be enriched with manure when planting, and fed annually in the spring, by sprinkling the soil surface with a well balanced slow release fertiliser such as Miracle-Gro® Premium All Purpose Continuous Release Plant Food Tablets.
Water new plants regularly until established. Mature plants should not need watering except in the driest of British summers.
Deadheading is not necessary, but you should prune annually, particularly when trained or used as hedging, to maintain the desired shape. Tie in plants which are being trained or allowed to climb up supports.
Ceanothus which flower in the spring and early summer should be pruned straight after flowering. Late summer flowering Ceanothus should be pruned in the spring. Pruning ceanothus can be done fairly hard, taking back shoots by half their length. These prunings are perfect for using to propagate new plants.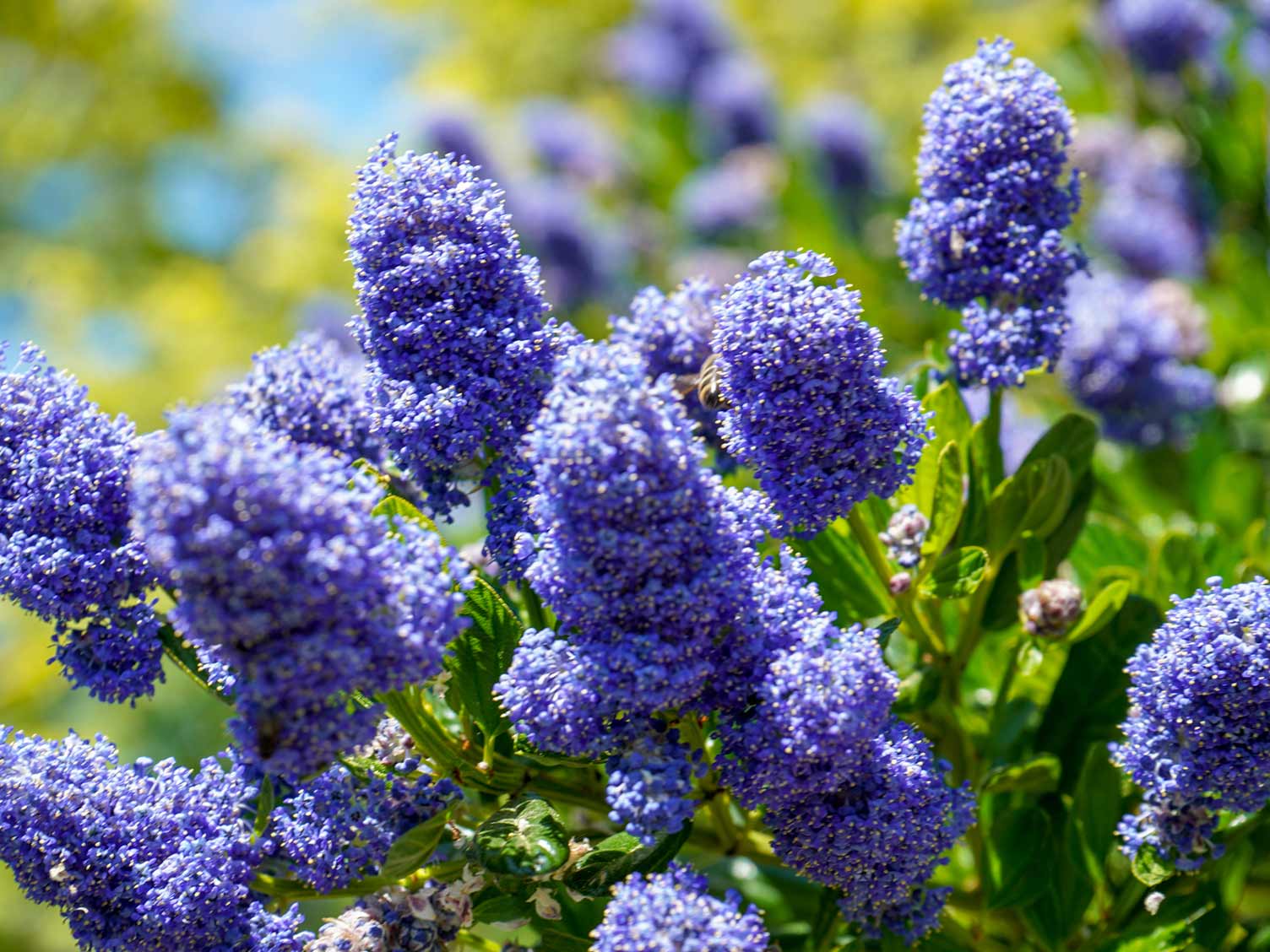 Common pests and diseases with Ceanothus
Ceanothus are largely unaffected by pests and diseases, but there are a couple of troublesome problems to look out for.
What are the shiny brown lumps on the leaves of my Ceanothus?
Scale insects can attack Ceanothus, clinging on to the underside of leaves as they suck sap from the plant. Mature plants will be able to withstand a small number of scale insects, and the population will be controlled by natural predators, such as ladybirds and birds. Encourage these into your garden. Larger infestations of scale insects can be treated with BugClear™ Ultra Gun!
What are the honey coloured fungi growing on the trunk of my Ceanothus?
Honey fungus is a devastating disease which can kill many perennial plants, including Ceanothus. If there is fungus on the woody parts of the plant, and you are sure it is honey fungus, then unfortunately the only treatment is removal and destruction of the affected material. Do not compost any part of the plant. It is hard to prevent and spreads from plant to plant, so be vigilant and act quickly.
Frequently asked questions about Ceanothus
Does Ceanothus grow in shade?
Ceanothus can grow in shade, but will not flower as well as those grown in a sunnier spot. In a sunny location the Ceanothus will flower every year.
Is Ceanothus a climbing plant?
It can be - choose a species which does not spread as much as it grows upwards. Provide supports, and prune and tie-in shoots annually to encourage it to climb.
Why is my Ceanothus going yellow?
This is likely to be due to a lack of nutrients. Feed with Miracle-Gro® Premium All Purpose Continuous Release Plant Food Tablets.
Key features of Ceanothus
| | |
| --- | --- |
| Botanical Name | Ceanothus spp. |
| Plant Type | Perennial shrub |
| Family | Rhamnaceae |
| Light Exposure | Full sun |
| Soil pH | Neutral to slightly alkaline |
| Flowering Time | May to June |
| Flower Colour | Blue, pink or white |