EverGreen® Wizz Year-Round Spreader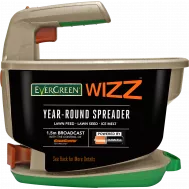 EverGreen® Wizz Year-Round Spreader
EverGreen Wizz Year-Round Spreader is an easy to use, battery operated spreader. It delivers superior accuracy through it's 23 settings.  EdgeGuard directs the product only where needed minimsing wastage. This spreader can be used all year round for spreading grass seed, fertiliser and salt. 
HOW TO USE
Know the size of your lawn before you begin, be sure not to overapply.
Read and follow all Directions for Use on the label of the product that you are applying.  
Fill - designed to hold enough product to cover upto 170m²

Set - turn the orange dial to the correct setting, see settings on back of pack

Go - begin walking and pull trigger to apply product.  Be sure to walk at a steady pace (1.5 metres per second)
WHERE TO USE
For use on lawns or spreading salt on paths and driveways.
HOW OFTEN TO APPLY
As required.
Always read the label and product information before use.
How does the EverGreen Wizz Year-Round Spreader operate?
There is a battery operated motor to spin the granules out at the correct speed. The trigger starts the motor and opens the hopper at the same time.
How many batteries does the EverGreen Wizz Year-Round Spreader take?
It takes 4 x AA batteries which are included.
How far will the EverGreen Wizz Year-Round Spreader spread the granules?
It spreads granules 1.5m, grass seed 0.8m and snow melt 1.5m.
What speed do I walk at?
Have a steady walking pace of 1.5m/sec.
Are there settings on the EverGreen Wizz Year-Round Spreader?
Yes, the dial on the front can be set to apply all our lawn treatments.
What does the 'year-round' bit mean?
The spreader can be used on the lawn during the growing season and in the winter to spread snow melt (salt) on icy paths and drives.
How do I stop the granules landing on the flower beds?
The spreader has an EdgeGuard device that you slide out to prevent the granules landing on the flower beds when walking alongside borders.
What do I do when I have finished using the EverGreen Wizz Year-Round Spreader?
Pour any remaining granules back into the bag/box and seal well, thoroughly wash out the spreader to remove all dust/particles of feed then allow to thoroughly dry before storage.
Health and Safety
Always read the pack label and product instructions carefully before use. For further information relating to product safety please review the product data safety sheet link below.