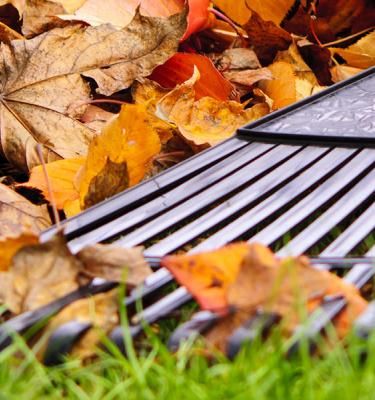 Your Monthly Planting Guide
Gardening in October
October can be a glorious month in the garden, with clear blue skies and crisp days.  Everywhere you look, the autumn leaves are a blaze of rich warm reds, oranges and yellows, a last extravagant explosion of colour before winter arrives. The days are getting shorter, so make the most of good gardening weather whenever you get the chance this month. Wrap up warm, get outdoors and enjoy your garden's autumn display this year.
What to plant and do in October?
There are plenty of jobs to do in the garden in October. It's time to tidy up after summer, get ready for winter and start planting for next spring. Whether you're sowing vegetables, harvesting fruit or planting bulbs, choose your favourite category below and read our top gardening tips.
Vegetables
What vegetables to plant in October
Although October is mainly a month for harvesting, once you've cleared the beds of the last of the summer crops, it's also time to plant for winter and spring crops. Some winter-hardy seeds can still be sown outdoors, while others are best under glass or in a cold greenhouse. Here's a list of vegetables to sow and plant in October:
Sow under cloches or in a greenhouse for winter crops:
Winter lettuce
Pak choi
Mizuna
Sow outdoors for spring crops:
Pea 'Meteor' and 'Pilot'
Broad bean 'Aquadulce Claudia' and 'Imperial Green Longpod'
Plant out:
Autumn onion sets e.g. Onion 'Radar' and 'Electric Red'
Spring cabbages
Asparagus crowns
What Vegetables to harvest in October
Most vegetables are almost finished producing crops by now, so make the most of this final harvest. These vegetables should be ready to harvest in October:
Peas
Runner beans
French beans
Pumpkins
Squash
Autumn cabbages
Tomatoes (ripe and unripe)
Peppers
Broccoli
Leeks
Beetroot
Vegetable plant maintenance in October
Once the last of the beans have been harvested, cut the plants down to ground level and leave the roots in the ground to release their stored nitrogen into the soil.
Ripen green tomatoes indoors by placing them in paper bags together with a banana or an apple (the fruit emits ethylene that helps to ripen the vegetables). Check regularly and remove tomatoes as they ripen, as well as any that are going mouldy.
Cut back asparagus foliage to 5cm (2in) above ground level.
Fruit
What fruit to plant in October
As well as harvesting the last of the fruit, October is a good month to plant fruit trees, bushes and plants while the soil is still warm from the summer, giving them time to settle in over winter ready to produce a bountiful crop next year. These fruits are all ready to plant in October:
Rhubarb crowns
Apple trees
Plum trees
Pear trees
Apricot trees
Fig trees
What fruit to harvest in October
These fruits should all be ready to harvest in October:
Apples
Pears
Grapes
Autumn-fruiting raspberries
Perpetual strawberries
Fruit plant maintenance in October
Cut back the fruited canes of summer fruiting raspberries to ground level. Tie in the new canes that have grown this year to supports ready to produce fruit next year.
Move citrus trees indoors to a bright, frost-free place and reduce watering, letting the compost just dry out between watering.
Cut back the old leaves from your strawberry plants. If you mulched your plants with straw earlier in the year, remove it now to improve ventilation around the plants.
Lift and divide overgrown rhubarb plants, using the blade of spade to split the clumps up. Replant the pieces, making sure each piece has a healthy bud or 'eye' that will produce shoots next year.
Wrap grease bands around apple trees to protect against winter moths – these bands stop the wingless female moths climbing up the trunks to lay their eggs in the branches.
Pick up any damaged fallen fruit to stop fungal spores spreading.
Lawns
Lawn maintenance in October
October is an important time for autumn lawn maintenance, especially in colder areas of the country where this month may be the last opportunity to give your lawn some care before winter sets in. Scarifying, aerating and feeding your lawn will result in strong, healthy turf with fewer weeds next year.
Rake up fallen leaves regularly so that the autumn sunlight can reach the grass. Collect the leaves into a pile or put them in bags and leave them somewhere out of sight, and in a year or so they will decompose into leaf mould, an excellent soil conditioner.
Mow the lawn less frequently and on a higher blade setting. In cold areas of the country October may be your last mowing month until spring, but in milder areas you may still need to mow occasionally through winter to keep it looking tidy.
Scarify the lawn to get rid of moss and thatch (dead grass). You can either do this by raking vigorously with a spring tine rake or use a mechanical lawn scarifier.
Aerate the lawn to reduce compaction and improve drainage. For small lawns, this can be done manually by spiking holes at regular intervals in the lawn with a garden fork or hollow tine aerator. For large lawns, use a mechanical lawn aerator.
Give your lawn an autumn feed. Autumn lawn fertilizers are specifically formulated to be low in nitrogen, so they won't encourage a sudden spurt of lush growth that would be damaged by winter frosts, and some contain a moss killer as well.
Ornamental plants
What flowers and bulbs to plant in October
All hardy perennials can be planted in October, giving them time to settle in over winter ready for next year. October's also a good time to plant perennials and grasses that will give colour through winter. There are seeds to sow for next year, and most spring bulbs should be planted this month, apart from tulips which are better planted in November.
Sow in a greenhouse for planting out next year:
Hollyhocks
Sweet peas
Aquilegia
Sow directly outdoors to flower next year:
Wildflower seed mixes
Poppies
Nigella
Cornflowers
Plant spring bulbs outdoors at a depth of 2-3 times the length of the bulb:
Daffodils
Snowdrops
Bluebells
Fritillaries
Iris reticulata
Crocus
Cyclamen tubers
Plant perennials for next year, including:
Geraniums
Salvias
Daylilies
Japanese anemones
Plant for winter colour:
Violas
Heucheras
Festuca glauca
Carex
Brunnera
Hellebores
Primulas
What flowers to prune in October
Cut back perennials in October, removing faded flowerstems from evergreen perennials like heucheras and cutting back herbaceous perennials like geraniums to ground level. If possible, leave a small area un-cleared to provide a winter habitat for garden wildlife.
Plants to be cut back in October include:
Hardy geraniums
Daylilies
Hollyhocks
Verbascum
Lychnis coronaria
Shasta daisies
Flower maintenance in October
Lift dahlia, begonia and gladioli tubers. Cut off the stems and rinse the soil off the tubers. Once dry, cover the tubers in dry compost and store in a frost-free place over winter.
Lift and divide overgrown clumps of perennials.
Collect seeds for sowing next year.
Plants and shrubs
What trees and shrubs to plant in October
October is an ideal time to plant trees and shrubs while the soil is still warm from the summer, giving their roots time to establish well in the soil over winter before the plants come back into growth in spring. All deciduous and evergreen trees and shrubs can be planted in October, for example:
Beech
Hornbeam
Holly
Hawthorn
Yew
Japanese maple
Laurel
October is a good month to plant trees and shrubs for winter scent and colour, including:
Hamamelis (witch hazel)
Cornus sanguinea
Sarcococca
Viburnum tinus
Viburnum x bodnantense
How to plant a tree
Water the tree well in its pot before planting it.
Dig a square hole the same depth as the pot and three times its width. The tree's roots will spread out better in a square hole than a round one.
Remove the tree from its pot, place it in the hole and backfill with soil Don't enrich the soil in the hole with compost or manure, or the roots will have no incentive to spread out in search of nutrients.
Firm the soil gently around the base of the trunk with the heel of your boot.
Water well.
Stake tall trees after planting to stop them rocking in the wind and loosening the roots.
What plants and shrubs to prune in October
It's best to leave most pruning until later in the winter or early spring, but you can still trim yew hedges in October to keep them looking crisp through winter.
Tree and shrub maintenance in October
Move any existing shrubs and trees that are planted in the wrong place. Water them in well after moving them. Take hardwood cuttings of various shrubs, such as dogwoods, philadelphus, flowering currant and forsythia. Check tree ties and stakes are secure, especially on newly planted trees.
Things to do this month
Remove blinds and shade paint from greenhouses so that overwintering plants get as much light as possible.
Clean and disinfect greenhouses.
Clean and disinfect greenhouses.
Tidy up beds and borders, clearing away dead and dying leaves.
Rake up fallen leaves and collect them to make leafmould
Net ponds to stop leaves falling in.
Clear ponds of excess pond weed and blanket weed.
Put pots on pot feet to avoid them getting waterlogged in winter.
Put up a bird feeder to support your garden birds through the winter months.
Take cuttings from deciduous shrubs.
Prune climbing roses once they have finished flowering.
Cut tall bush roses back by a third to avoid windrock.
Clear up fallen rose leaves and dispose of them to stop the spread of black spot.
Clean garden furniture before you store it away for the winter.
Give the barbecue a thorough cleaning before putting it away for the winter.
Feed wild birds with high-energy bird foods to help them through the autumn and winter.
When water temperatures drop below 21°C (70F), feed fish with easier-to-digest, wheat germ foods.
Give tools a thorough clean before you put them away for winter.
Slugs and snails may become more active in cooler, damper weather – so protect plants with suitable controls.
As perennial weeds start to die back, this is a good time to give them a final application of weedkiller.
What to do in your garden in October