Levington® Original Gro-Bag®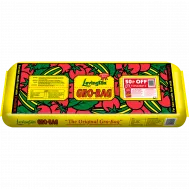 Levington® Original Gro-Bag®
Levington Original Gro-Bag is perfect for vegetable crops. It is ideal for growing tasty tomatoes, peppers, aubergines, cucumbers, green beans and melons.
HOW TO USE
PLANTING: Shake the bag to distribute the contents. When only planting two plants use the end panels. Delay planting tomatoes until the first flower opens
WATERING: After planting, water in using about 4.5 litres (approx. 1 gallon) and then water as necessary to keep the bag moist.
FEEDING: We recommend feeding 20ml of Tomorite in 4.5 litres (1 gallon) of diluted Tomorite for most crops, once a week for heavy feeders such as tomatoes under glass.
WHERE TO USE
For tomatoes, peppers, aubergines, cucumbers, green beans, and melons.
CAUTIONS
Use in a well ventilated place and avoid breathing in dust. Always wear gloves when gardening and then wash your hands after use.
Always read the label and product information before use.
Health and Safety
Always read the pack label and product instructions carefully before use. For further information relating to product safety please review the product data safety sheet link below.