Miracle-Gro® EverGreen® Autumn Lawn Care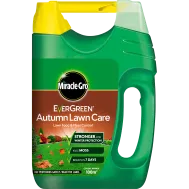 Miracle-Gro® EverGreen® Autumn Lawn Care
Miracle-Gro EverGreen Autumn Lawn Care kills autumn moss. It t oughens grass to help it withstand harsh winter weather and strengthens roots. It also contains seaweed for a healthy lawn to help protect against the harsh winter conditions.
HOW TO USE
Simply
Rake: remove dead grass, loosen soil and give a thorough soaking with water.
Shake: apply evening, ensure soil is still visible so seeds have enough space to germinate.  For thin areas apply half as much.
Water: water thoroughly until dark brown.  As the coir begins to turn a lighter brown, add more water.
APPLICATION BY SPREADER
Use our easy-to-use spreader settings table to set Scotts® and EverGreen® spreaders correctly when using our products. 
WHERE TO USE
Suitable for lawns. EverGreen® Autumn Lawn Care can be used around trees in the lawn, but avoid contact with the foliage. Can be applied where bulbs are growing in the lawn, provided it is applied after all the bulb foliage has died down naturally.
FERTILISER ANALYSIS
Contains iron sulphate. NPK 6-5-10.
CAUTIONS
Only apply to new lawns once the lawn is established (usually 3 months)
Use plant protection products safely. Always read the label and product information before use.
WHEN CAN CHILDREN AND PETS RETURN TO A LAWN TREATED WITH EVERGREEN AUTUMN LAWN CARE?
After applying this product in accordance with the label instructions keep children and pets away from treated areas until the granules have been watered in thoroughly and the area has dried.
WHEN WILL I SEE RESULTS?
Within 7 days the moss in the lawn will blacken as it dies.  After 2 weeks the moss will be dead and must be raked out.
WHEN CAN I RESEED MY LAWN?
You can overseed or reseed patches on your lawn 6 weeks after use.  However, it is important to ensure that weather conditions and soil temperature levels are still correct for seed germination.
SHOULD I MOW MY LAWN BEFORE APPLICATION?
Avoid mowing your lawn 2-3 days before and after treatment.  Do not use the first 4 mowings after treatment for mulching. They will be safe to use after being thoroughly composted for 6 months.
WHY DO I FEED MY LAWN IN AUTUMN?
Summer is a very stressful time for your lawn, hot temperatures, dry soils and heavy use all cause stress to the grass.  Autumn is the time for the grass to stop putting on topgrowth and concentrate on root development.  Strong roots are needed to withstand a harsh winter and put on fresh lush green growth in the spring.
Health and Safety
Always read the pack label and product instructions carefully before use. For further information relating to product safety please review the product data safety sheet link below.