Miracle-Gro® EverGreen® Mosskill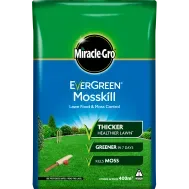 Miracle-Gro® EverGreen® Mosskill
Miracle-Gro EverGreen Mosskill feeds and greens the lawn. It kills moss and greens in 7 days.
HOW TO USE
By Hand: Miracle-Gro EverGreen Mosskil with Lawn Food needs to be applied at a maximum individual dose of 35g per square meter (1oz per square yard). To achieve the correct application rate, it's best to mark out the lawn into areas of 1 square meter (1m x 1m), and apply the 35g evenly.
By Spreader: Make sure the lawn is marked out in runs, and that the walking pace is at a rate of 1 meter per 1 second. Use our easy-to-use spreader settings table to set Scotts® and EverGreen® spreaders correctly when using our products. 
Results are quick, after 7 days the lawn will look richer in colour and the moss will start to blacken (any blackening of the grass is temporary). After 2 weeks, the lawn will need to be vigorously scarified (raked), to remove the dead moss, the grass will then re-establish.
Children and pets should be kept out of the area during application, Once the area has been watered and is 100% dry, then re-entry should be allowed.
Avoid mowing the lawn 2/3 days before or after application.
If there is no rain fall within 2 days after application, water the lawn thoroughly so that the lawn food starts to work.
The first 4 lawn clippings after application should be thoroughly composted for 6 months, before they can be applied as a mulch.
PLEASE NOTE: Do not walk on the lawn after application until it has been watered in (rain, hose etc.), as iron sulphate can cause stubborn brown stains on clothing, paving slabs, decking, sleepers, etc.  Any spillages should be immediately cleaned up and disposed of safely.  
WHERE TO USE
For use on lawns. Can be used around trees in the lawn, but avoid contact with foliage. Can be applied where bulbs are are growing in the lawn, provided it is applied when there is no bulb foliage above ground level.
HOW OFTEN TO APPLY
Maximum of 2 applications per year, with a 3 month interval between treatments. Any bare patches after application, can be reseeded 8 weeks later.
FERTILISER ANALYSIS
NPK 14-0-5.
CAUTIONS
Contains iron sulphate. Keep out of reach from children. Keep away from food, drink and animal feed stuffs.
Use plant protection products safely. Always read the label and product information before use.
Health and Safety
Always read the pack label and product instructions carefully before use. For further information relating to product safety please review the product data safety sheet link below.