Miracle-Gro® EverGreen® Super Seed Lawn Seed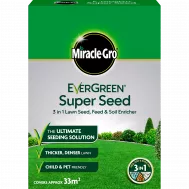 Miracle-Gro® EverGreen® Super Seed Lawn Seed
Miracle-Gro EverGreen Super Seed Lawn Seed is a triple action lawn seed product for all lawn care needs. It contains a controlled release fertiliser which helps establish the new seedlings and helps create a thick green lawn.
HOW TO USE
Create a new lawn or fill in a bare patch
Remove all weeds and stones and lightly turn the soil surface over.  Level and firm by treading the soil.

Shake the box to remix the seeds.  Apply one handful per square metre (overseeding: 30g/m², bare patches and new lawn: 52g/m²).

Create a criss-cross pattern by sowing half the seed from left to right and the rest from top to bottom.

Gently rake in and tread the seeds into the soil.  Unless it rains, soak with a fine spray and keep soil moist for the next few weeks.
WHERE TO USE
Perfect for sunny or shady lawns, thin lawns or bare patches.
APPLICATION BY SPREADER
Use our easy-to-use spreader settings table to set Scotts® and EverGreen® spreaders correctly when using our products. 
Use plant protection products safely. Always read the label and product information before use.
1. What is Super Seed?
The seed is coated with biostimulants to ensure efficient use of nutrients, enzymes to simulate growth of leaves and roots and seaweed with cytokinins to encourage cell division plus phosphorus and trace elements. The coating is evenly applied to the ryegrass/fescue mix to protect the whole seed. Included with the seed is a slow release feed and gypsum which helps neutralise dog urine. The seed is selected to germinate at a lower soil temperature.
2. When can children pets return to the treated area after application?
Children and pets can access the treated area after application, however, the seed will germinate and establish more quickly if they are excluded until it becomes established.
3. When can I cut my new grass?
When the new grass is about 5-8cm high cut off the top third with a sharp mower blade. A blunt one may tear out the young plants.
4. Is there a bird repellent on the seed?
No, when the seed is raked into the surface of the soil most seeds will not be visible therefore wildlife will not see them. Netting stretched over the seed will also deter birds.
5. Can I use my Scotts Evengreen Drop Spreader?
Use our easy-to-use spreader settings table to set Scotts® and EverGreen® spreaders correctly when using our products. 
Health and Safety
Always read the pack label and product instructions carefully before use. For further information relating to product safety please review the product data safety sheet link below.