Miracle-Gro® Lime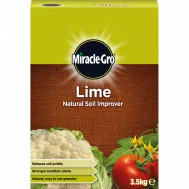 Miracle-Gro® Lime
Miracle-Gro Lime Natural Soil Improver is calcium rich to reduce soil acidity. It ensures stronger roots and healthier fruit and leaves and can be used on established lawns to help prevent moss. Use in winter for vegetable patches prior to digging.
How to use
During soil preparation/planting time: sprinkle evenly over the soil and mix in well. During dry weather, water well after sowing seeds and planting out.
During the growing season: sprinkle over the soil around established plants. Gently work it into the soil surface with a hand fork or hoe without disturbing the plant roots and water in thoroughly.
Do not use on ericaceous or lime-hating plants.
---
Where to use
Lime must not be used on ericaceous or lime-hating plants or at the same time as a fertiliser. Leave 3 weeks before applying fertiliser.
Ideal as a top dressing for lawns.
---
How often to apply
Use Miracle-Gro Lime Soil Preparer whenever it is necessary to reduce the acidity (pH) of soil and make it more alkaline. It can be used at any time of year, but autumn or winter application gives best results.
---
Cautions
Always wear gloves when gardening. Only use when there is a recognised need to feed plants. Do not use on ericaceous or lime-hating plants. Lime should not be used at the same time as a fertiliser. Do not exceed appropriate application.
Always read the label and product information before use.
Health and Safety
Always read the pack label and product instructions carefully before use. For further information relating to product safety please review the product data safety sheet link below.