Miracle-Gro® Peat Free Plant & Grow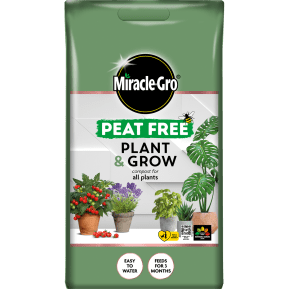 Perfect for pots, containers and hanging baskets - holds more water so less watering needed and feeds for 6 months.
Miracle-Gro® Peat Free Plant & Grow
No more backache from lifting heavy bags of compost with Miracle-Gro Plant & Grow lightweight compost. Light in weight but not in quality, this mighty compost will feed your plants for up to 6 months and help retain up to 25% more moisture!
How to use
Pour (⅓ of the compost into the pot).
Plant (carefully place the plant in the pot).
Water.
Enjoy!
Where to use
Use on any plant, indoor or outdoor straight on the soil.
Coverage
Fills 2 medium pots 22cm (9"), 1 large pot 25cm (10"), 1 hanging backet 30cm (12").
Cautions
Reseal after opening and store in a cool, dry place out of direct sunlight. Wash hands after use, we recommend you wear gloves when gardening.
Always read the label and product information before use.
Health and Safety
Always read the pack label and product instructions carefully before use. For further information relating to product safety please review the product data safety sheet link below.