RoseClear® Ultra Gun!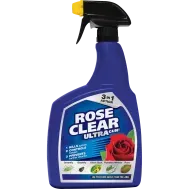 RoseClear® Ultra Gun!
RoseClear Ultra Gun! Is a systemic insecticide and fungicide with 3 in 1 action. It kills aphids, controls blackspot, powdery mildew and rust and protects for up to 21 days to prevent further attacks. Contains acetamiprid and triticonazole.
HOW TO USE
Shake well before use.
Press down firmly on top of trigger head immediately behind the yellow nozzle to depress the safety tab (1/4 turn either way).

At same time twist nozzle to 'SPRAY' position.  Spray plants thoroughly to wet upper and lower surfaces of leaves.  Turn nozzle to the 'Stop' position after use.

To minimise the risk to bees spray early morning 97-9am) or evening (6-8pm), when bees are less active.  
WHERE TO USE
RoseClear Ultra Gun! has been shown to be safe to many species and varieties of plants. However, it is always advisable to test a sample of plants, by treating them and leaving for a few weeks, before treating a large or valuable collection.
HOW OFTEN TO APPLY
Spray at first sign of disease / aphid attack and repeat at 21-28 day intervals. If disease / aphids are already established, spray at intervals of 14 days.
Use plant protection products safely. Always read the label and product information before use.
RECYCLING & HANDY HINTS
UK only - dispose of contents/container to a household waste recycling centre as hazardous waste except for empty containers which can be disposed of by recyling.  Contact your local council for details.
Health and Safety
Always read the pack label and product instructions carefully before use. For further information relating to product safety please review the product data safety sheet link below.