Scotts Pure Organic™ Fruit & Citrus Premium Plant Food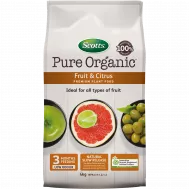 Scotts Pure Organic™ Fruit & Citrus Premium Plant Food
It's such a great feeling when you can pick your first home-grown fruit. Now it's easier than ever to grow large, healthy fruit and citrus. Certified 100% organic Scotts Pure Organic Fruit & Citrus Premium Plant Food' granules deliver nutrients for up to 3 months so your plants get just the right amount of nutrients and can flourish naturally. It's organic - and it works!
FEATURES
Premium organic alternative plant food is ideal for gardeners who want to grow larger and healthier fruits - naturally
Registered with Australian Certified Organic as a 100% organic plant food
An environment-friendly quality blend of natural materials encourages earthworms and beneficial soil microbes, creating healthy growing conditions
All ingredients in this plant food come from sustainable and renewable sources
Contains 2x plant-available nitrogen compared to chicken manure alone; also has low pH and phosphorus so it's suitable for natives
Includes chicken manure, blood & bone, fish meal, feather meal and biostimulants - all in a low odour formulation
The proven blend of effective natural ingredients releases nutrients at different rates after application to ensure constant feeding without sudden surges that could burn roots
SUITABLE FOR
All fruit and citrus trees, as well as roses and other trees and shrubs
NOT SUITABLE FOR 
Don't use in hydroponic growing systems or ponds
Don't use on lawns - use only lawn fertilisers on grassed areas
HOW TO USE
How much to use in the garden
Refer to the back of the pack for more detailed application rates
Fruit Trees

Apply 60g (1 handful) per 30cm of plant height in Spring and Summer

Citrus

Apply 60g (1 handful) per 30cm of plant height in Spring and Summer
One average handful = approx 60g
One average handful = approx 60g
How much to use for potted plants
Potted herbs and vegetables

20cm pot = 30g
30cm pot = 60g
50cm pot = 240g

Mix through potting mix at potting/repotting or apply evenly over the surface
For a complete guide on How to Use Scotts Pure Organic products, watch the video on this page and always check the packaging
WHEN TO USE
Re-apply every 3 months for greatest impact
As a minimum feeding program, apply in early Spring when growth appears and again in late Summer for best results
SAFETY INFORMATION
CAUTION: This product may cause staining of hard surfaces if wet. Avoid contact with hard surfaces and if contact does occur, hose off immediately
When using granular fertilisers, we recommend the use of garden gloves to protect your hands
SAFETY FIRST: Read the instructions on the product packaging before use and take particular note of any warnings or cautions on the label
See the Safety Data Sheet for this product 
TECHNICAL DETAILS
NPK 6.9 : 1.4 : 1.3
This product consists of naturally occurring ingredients and is therefore subject to natural variation in nutrient analysis
NATURAL AND ORGANIC INGREDIENTS
Blood & Bone: High in organic nitrogen and phosphorus for healthy leaf growth and root development. High in calcium for stronger stems
Fish Meal: High is slow-release nutrients and micronutrients that feed your plants and healthy biotics that improve soil structure
Seaweed: Improves overall health and increases resistance to drought, frost, diseases and insect attacks
Chicken manure: Rich in nitrogen, phosphorus and potash - supplies your plants with vital nutrients and amends your soil with a boost in organic materials
Feather meal: High in slow-release nitrogen - provides plants with slow-release feeding
Bio Stimulants: Act as soil and plant conditioners and maximise nutrient availability and uptake
Health and Safety
Always read the pack label and product instructions carefully before use. For further information relating to product safety please review the product data safety sheet link below.