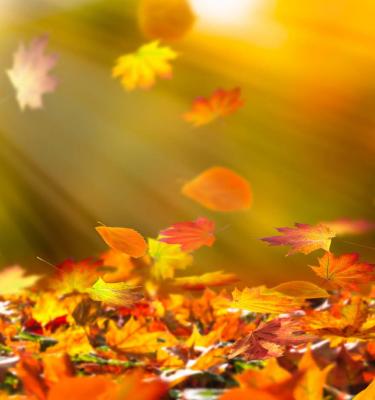 Explore things to do in your garden every month
Gardening in March
The start of autumn …
This month sees the beginning of autumn when the bounty of summer's flowers, fruits and veggies are slowing, however it's still a huge harvesting season with plenty to enjoy. 
Summer's seasonal flowers and veggies and the last of the fruit crops are coming to an end with the onset of cooler days and crisper nights. It's a great time to make jams, sauces, relishes and preserves with the abundance of produce available, to tide you over the less productive months ahead.
As flowers and veggies fade, pull the plants out, dig over the soil, add compost and fertiliser and start preparing to plant autumn and winter flowers, bulbs and edibles. 
What to plant now?
While the days and soil are still warm and plants will settle in quickly, it's the perfect time for planting. Check out what's available in-store at your local garden centre or plant supplier.
A few suggestions to get you started: 
Evergreen trees and shrubs: 
 Camellias, azaleas, rhododendrons, evergreen magnolias, pieris. 
Hostas, hellebores, dianthus, pin cushion (scabiosa), gaura. 
Daffodils, jonquils, ranunculus, anemones, freesias but not tulips yet even though bulbs will be in stock. Tulip bulbs should be placed into the vegetable crisper section (not the freezer!) of the refrigerator now in preparation for planting in early May. They need a period of cold before planting, to break their dormancy.
Sow sweet pea seeds on St Patrick's Day for best results. For small-space gardeners, there are now bushy sweet peas that don't need trellises. Seedlings of pansies, violas, bellis, calendulas, cinerarias, cornflowers, honesty, hollyhocks, Iceland poppies, nemesias, polyanthus and primulas for cool climates. Marigolds, impatiens, delphiniums will all do well in warmer areas.  
The vegetable patch
Harvest now:
As summer fades into memory, many vegetables will still have the last of their crops ready for picking. 
Leafy veggies like lettuce, rocket, silver beet, spinach and rhubarb should be picked/cut and either eaten while fresh or blanched/cooked for freezing. 
Beans, zucchinis, capsicums, chillies and cucumbers may be snap-frozen or pickled.
Ripe tomatoes may be turned into passata, sauce or chutney or simply peel, cut up and freeze in meal size portions (use within six months). They can also be bottled (preserved) for use over winter. 
Pumpkins should be left on the vine until the plants die, usually after the first frost of the season. Cut from the vine with a stub of stem attached and store on racking in a cool, dry spot with good air circulation. They will keep for several months.
Potatoes should be dug before the weather turns cold and wet. Leave them out in the sun for a day to dry then brush off loose soil and store them in a dark, cool place, again with good air circulation to minimise rotting.
What to sow or plant now:
Sowing seeds or planting out seedlings of winter veggies can begin from mid-month. Your crops will get a good start before colder weather slows down growth.
Sow or plant:
Bok choi
Beetroot
Brussels sprout
Broccoli
Carrot
Cabbage
Cauliflower
Coriander
Celery
Leek
Kale
Lettuce
Onions
Mesclun
Radish
Parsley 
Rocket
Rhubarb
Silverbeet
Spring onions 
Spinach
Veggie patch tips for March:
Before sowing or planting, dig the soil over to a depth of about 300mm to work in any remaining mulch, then add a generous handful of garden lime per square metre as well as a suitable fertiliser. 
Allow rainfall (or watering) to wash the lime and plant food into the soil before planting preparation. 
Keep new plantings growing strongly with applications of liquid fertiliser for vegetables and herbs every two to three weeks.
Water deeply at least once a week if the weather is dry – add a wetting agent to ensure moisture penetrates deep into the soil.
Hand pull or hoe out weeds as they appear – they compete for nutrients and moisture and may also harbour pests that could attack your crops.
Use snail and slug traps or baits to protect young seedlings.
Fruit & flower beds:
Fruits to harvest now:
Most of the summer fruits like apricots, peaches, plums and nectarines will have finished by now but there should still be good crops of mid to late season fruits maturing. These include:
Apples 
Pears 
Raspberries
Grapes
Figs
Melons (rock and honey dew)
Mandarins
Selected oranges
Passionfruit
Persimmons
Pomegranates
Quinces
What fruit to plant:
Evergreen fruiting plants may be put into the garden now while the soil is still warm – passionfruit vines and citrus among them. Deciduous fruit trees in pots should be left until they are dormant and have lost all their leaves before being transplanted into the garden. Together with new bare-root fruit trees, they are best planted in mid to late Winter.
What flowers to plant:
Forget-me-not
Lavender
Dianthus
Delphinium 
Daisy
Snapdragon 
Sweetpea
Pansy and viola
Poppy
Impatients
Marigold
Hyacinth
Tulip
Chrysanthemum
Calendula 
Daffodil
Sweet William 
Snapdragon 
Wildflowers
Flowering kale
Polyanthus
Primula
Lobelia 
Gerbera
Alyssum 
Garden jobs for the month:
Pick up and dispose of any fruit on the ground under fruit trees – they may be diseased or harbouring insect pests – don't put them in the compost bin!
Remove and dispose of diseased or "mummified" fruits clinging to branches to avoid diseases spreading or over-wintering on trees.
Tidy up the garden by removing spent flowers and flower spikes from perennials and annuals.
Dahlias and chrysanthemums may need staking and/or the ties checking to ensure they are not cutting into stems.
Lawns
Summer can be harsh on lawns, especially during drought and heatwave conditions. This month is a great time to repair the damages caused by the ravages of the season just passed.
De-thatch with a garden rake to remove build-up of dead grass, especially in buffalo, kikuyu and couch lawns.
Aerate the lawn with a garden fork or you can hire a coring machine suitable for home gardens.
Top dress with Scotts Lawn Builder Lawn Soil 
Water entire lawn area, if permitted, to settle topdress mix.
Fertilise with Lawn Builder All Purpose Slow Release Lawn Fertiliser or one of the Lawn Builder hose-on equivalents.
Worn and bare areas may be over-sown with lawn seed to match you existing grass type or patches of instant turf.
Pest Control
Keep an eye out for aphids, especially on roses, herbs and vegetable seedlings. Use a general garden insecticide like a pyrethrum spray to control them. Don't forget to spray the undersides of leaves too. 
Watch for the caterpillars of the White Cabbage Butterfly on cabbage, cauliflower, broccoli and other brassicas. Pyrethrum will assist or try a cabbage dust. 
Newly planted seedlings may be targeted by snails and slugs. Protect them with Garden Galore Quash Slug & Snail Stoppa.