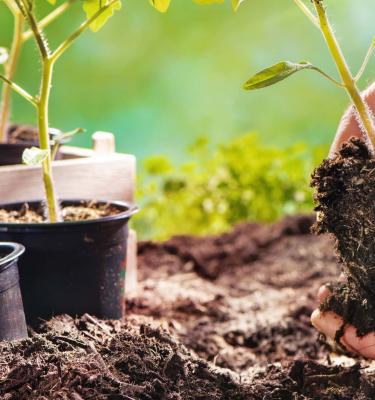 Explore things to do in your garden every month
Gardening in September
Spring is in the air …
It's that wonderful time of year when the garden comes to life again after Winter. Deciduous blossom and fruit trees are in full bloom, there are plenty of bulb and seasonal flowers and other trees and shrubs are sprouting bright green new leaves and shoots.
There's plenty of planting, harvesting and preparing for you to do in the garden this month. Also, start your disease control program on deciduous fruit trees this month.
What to plant now: 
Strawberries can be planted and an early sowing seeds of late spring/early summer vegetables may be made into seed trays under cover or indoors. Native plants, evergreen trees, shrubs and climbers can continue to be planted, as well as salad vegetables, herbs and seasonal flowering annuals. Check out what's in stock in your garden centre.
Bloomer pots of spring flowering annuals can still be planted out this month for patches of instant impact colour – pansies, violas, Iceland poppies, cinerarias, calendulas are just a few. In warm areas plant seedlings of bedding begonias, marigolds, impatiens and nasturtiums.
Avacado, pear, apple, raspberry, boysenberry,  blueberry, strawberry, blackberry, lemon, orange, mandarin, lime, feijoa.
Spring & summer vegetables: 
Keep planting beetroot, brassicas, peas, rhubarb, asparagus, salad greens (lettuce, rocket, mesclun) and Asian greens can also be sown. 
The Vegetable Patch:
Harvest now:
The last of the winter veggies, including cabbage, kale, cauliflower, brussels sprouts, broccoli, bok choi, beetroot, parsnip, onions, peas, rocket, lettuce, radish. New season's asparagus will be peaking now. Harvest spears when about 15cm tall. 
What to plant now:
Continue planting strawberry plants and runners for summer harvests and it's also time to plant potatoes! In warm areas you can start sowing and planting summer crops. 
Sow or plant:
Asparagus
Basil
Beetroot
Bok choi
Beans
Broccoli
Cabbage
Capsicum
Carrot
Cauliflower
Celery
Chilli
Coriander
Courgette
Cucumber
Eggplant
Kale
Leek
Lettuce
Mesclun
Parsley
Parsnip
Peas
Potatoes
Pumpkin and squash
Radish
Rhubarb
Rocket
Silverbeet
Spinach
Spring onions
Sweetcorn
Tomatoes.
Veggie patch tips for September:
Water in newly planted seedlings with a liquid fertiliser for vegetables and herbs or a certified organic fertiliser to give them a good start.
After sowing seeds, water well to moisten the soil, then wait until shoots appear before watering again. 
Hand pull or hoe out weeds as they appear – they compete for nutrients and moisture and may also harbour pests that could attack your crops.
Pull out the last of the winter crops and put them into the compost bin if they are disease-free.
Preparation for spring sowing and planting should be well underway. Keep the soil tilled, weed-free and moist. 
Fruit & Flower Beds:
Fruits to harvest now:
Fruit to harvest this month include avocados, persimmon, tamarillos and citrus including, limes, lemons, oranges, mandarins.
What fruit to plant:
Potted deciduous fruit trees and vines can be transplanted this month.
The range available may include:
Apple
Pear
Raspberry
Strawberry
Blueberry
Blackberry
Boysenberry
Feijoa
Lemon
Orange
Mandarin
Lime
What flowers to plant:
Ageratum
Alyssum
Anemones
Aster
Azaleas
Bougainvillea
Calendula
Camellias
Carnation
Chrysanthemum
Cosmos
Dahlia
Daphne
Delphinium
Dianthus
Daisy
Felicia
Forget-me-not
Fuchsia
Gazania
Geranium
Gerbera
Gladiolus
Godetia
Gypsophila
Honesty
Impatiens
Lavender
Lily
Marigold
Nasturtium
Nemesia
Pansy
Petunia
Penstemon
Phlox
Poppy
Queen Annes Lace
Roses
Rhododendrons
Salvia
Scabious
Snapdragon
Statice
Sunflower
Sweet pea
Verbena
Viola
Wallflower
Wisteria.
Garden jobs for the month:
Keep flowering annuals and bulbs growing and flowering well with regular applications of an all purpose fertiliser.
Give all established trees, shrubs and perennials an application of a long-term Osmocote Controlled Release Fertiliser or an organic slow release fertiliser that's suited to the type of plant – there's an extensive range to choose from. Follow instructions for applications rates and methods.
Spring blossom trees may be pruned as soon as they finish flowering. Follow the same principles used for deciduous fruiting trees.
Apply a copper-based spray to deciduous fruit trees immediately after petal fall to combat fungal diseases like brown rot and freckle. Repeat every 10 – 14 days until trees are fully leafed.  
It's peak flowering time for cool climate orchids like cymbidiums. Plants may be brought indoors so the beauty of their spikes of blooms may be admired, but don't keep them inside for prolonged periods.
Some spring flowering bulbs may be past their best now but don't cut the flowers or leaves off. Allow them to die down naturally. 
Indoor Plants:
Plants inside the home assist in purifying the air as well as lending a touch of greenery to your living areas. 
Natural light is important but don't stand pots on north or west-facing windowsills where they will be exposed to direct sun through the glass.
Place a saucer or bowl of water near your plants to humidify the air or regularly mist them with a water atomiser.
Wipe leaves occasionally with a damp cloth to keep them clean.
Feed every few weeks with ready to use Osmocote Pour+Feed Indoor Plants – no mixing required.
Lawns:
Mid-September is the ideal time to sow a new lawn. Prepare the area by removing all weeds, hoeing the soil to break up clumps and levelling it. Add a layer of Lawn Builder Lawn Soil and Lawn Builder Starter Slow Release Lawn Food as per bag instructions before sowing.
If you have not already fertilised the lawn this spring, you should do so now.
Lawn Builder All Purpose Slow Release Lawn Food, or Lawn Builder Extreme Green Slow Release Lawn Food (all granular fertilisers that will feed your lawn for up to three months and suitable for all types of grass) will suit most situations.
If you have a broadleaf weed problem, then choose Lawn Builder + Weedkill Slow Release Lawn Food but READ THE LABEL FIRST!  This fertiliser cannot be applied to buffalo grasses and some other lawn substitutes. 
Control moss in shady areas with a solution of iron sulfate (30 grams in 4.5L of water) applied as a spray or with the watering will help control it. Re-apply if necessary.
Pest Control:
Slugs and snails can be active whenever there are young plants around – Garden Galore Quash Slug & Snail Stoppa in a bait trap will protect your plants and keep your pets safe.
Watch for aphids and other sap-sucking pests on the tender young shoots of roses and other trees and shrubs.