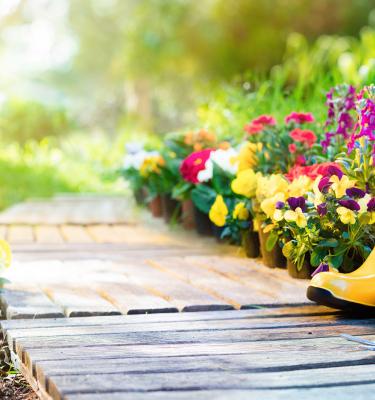 Autumn versus spring gardening - what you need to know
Whether it's a bit of weeding to keep on top of things or planning some new planting to revive a tired border, there are always gardening jobs to do. There are two seasons that seem to be busier than the others and that's spring and autumn, the bookends of the growing season.
So, what do you need to know about these times of the year to ensure that winter and especially summer, give you a chance to enjoy the fruits of your labours?
Autumn gardening jobs
Early autumn is all about harvesting fruit and vegetables, whether it's foraging for blackberries in the hedgerows (surely nothing can beat a homemade apple and blackberry crumble) or securing a perfect pumpkin ready for Halloween (bowl of warming soup on Bonfire Night anyone?).
As the leaves start turning their multi-faceted hues of orange, red, yellow and brown it is time to prepare the garden for winter. These are the autumn gardening jobs we would recommend, to ensure that you get your garden looking its best through those dark days and long nights.
Harvesting
Time to not only enjoy the fruits of your labour but also to plan for next spring. Now is the time for you to order seeds, do so in good time and this will help you to plan your growing calendar.
Gather seed-heads from existing plants and store the seeds in an airtight container until ready to plant in the spring. Alternatively, leave the seeds to attract birds to the garden.
If you have a vegetable patch apply a good covering of manure to the soil, not only will it help to suppress weeds but it will add vital nutrients through the winter months.
End of year tidy up
Autumn is the time to tidy and make sure that none of your plants has to work harder than they need to through the winter months. All plant energies should be going down into the roots, rather than supporting spindly stems, that would really benefit from a good pruning. So, tidy the borders by digging up the annuals and prune the roses.
Net the pond to prevent fallen leaves from blocking pumps or filters.
Regularly rake up fallen leaves (add to the compost heap), once the leaves have fallen, deciduous trees can be moved.
Plant evergreens and your spring bulbs before covering bare soil with a good mulch, this will help to reduce weeds and keep the garden looking tidy.
Autumn lawn care
After the rigours of the summer months and weekly lawn mowing, you can be forgiven for thinking that there is not much to do for our patches of grass. It is true there won't be much for you to do throughout the winter months, but in autumn it's a good idea to get it prepared.
Rake over the lawn to remove all the thatch, aerate it (by sticking a fork in at regular intervals) to reduce the compaction, brush it over to remove any worm casts and finally give it a good feed. In a way, this is making sure that your lawn has everything it needs for hibernation.
Winter protection
Autumn is about protecting the garden against the ravages of the cold winter months.
Wrap tender plants in fleece or lift them into a greenhouse before the first frosts.
Clean the greenhouse to maximise the amount of light available to any plants that over-winter inside and if possible, bubble wraps it to conserve any heat that is generated.
Check that the windows are all intact and that any water collection devices that feed off the guttering are all in good condition.
Maintain all of your garden equipment by ensuring that tools are sharpened and kept inside and that the lawnmower is serviced ready for the spring.
Other autumn garden tips:
Regularly clean any bird tables or birdbaths you have.
Take cuttings of any plants you already have you want new ones of.
Clear out gutters that are connected to water butts.
Spring gardening jobs
Longer days and warmer temperatures bring flowering trees and an abundance of growth. Spring has arrived and brings with it a multitude of gardening jobs to do.
Planting fruit, veg and flowers
Early spring brings with it seed trays and potting compost as we kick start the new growing season for vegetables.
Plant seeds inside (whether that's a greenhouse or on a window sill) until the threat of frost has passed.
Whether you are growing potatoes, broad beans, pumpkins, sunflowers or just some summer flowering bulbs, now is the time to start planting. Start a growing calendar to keep track of all your important dates for sowing, planting out and harvesting.
Spring garden clean up
Winter always leaves its marks and so spring is the time to clean up.
Fix and paint any fences or trellises before climbing plants begin their ascent.
Spray clean the patio or decking to get rid of any algae or fungi.
Unwrap the greenhouse from its bubble wrap quilt and on warm days leave the doors and vents open.
Allow tender plants the chance to breathe again, once the risk of frost has passed and removed their fleecy coats.
Spring lawn care
Prepare the lawn for the weekly mowing by getting rid of the Winter damage.
Rake thoroughly to remove any mosses and re-seed any patchy areas.
Lay turf to establish any new areas of lawn.
Give a good feed to boost root growth and strengthen the grass for the heavy usage through the Summer months.
Maintenance plan
Start good habits in the spring, and the summer months will be a lot easier to cope with. So, deal with weeds before they take hold, as the first shoots appear hoe regularly between plants to remove them. Gather water so that you have a supply available in the drier months.
Other spring gardening tips:
Start to keep an eye out for garden pests, treat straight away if you find any.
Take the netting of the pond.
Make sure young plants have the support they need to grow.
Whatever season we are in, there is always plenty to do in the garden, what are your tips for making sure autumn is a season of bountiful harvests and that spring is all about rebirth and rejuvenation? Let us know via our social media channels.