Patio Magic!® Ready To Use Spray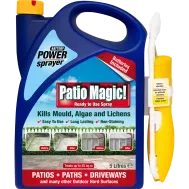 Patio Magic!® Ready To Use Spray
Patio Magic! Ready To Use Spray is ideal for outdoor paved areas, patios, paths, driveways and walls, greenhouse or conservatory glass, perspex and garden furniture. It requires no scrubbing, just spray and leave. It is a battery operated Power Sprayer applicator which guarantees long lasting protection.
HOW TO USE
Read the back of pack and all safety instructions before us.
Remove any large accumulations of mould or algae using a stiff brush. 
Remove any debris such as leaves, twigs, litter or weeds.
Ready to use, no preparation is required. 
For best results, apply when surface is completely dry.
Always ensure the container is stored and carried upright when not spraying.
 
SHAKE WELL BEFORE SPRAYING
1. Remove Power Sprayer from side clip. Unwrap plastic cover and dispose of safely. 
 Unwrap hose completely. Remove protective strip from battery compartment to activate batteries.
2. Insert red hose connector at end of hose into red receptor in the bottle cap  until it clicks. Raise the connector to vertical. This must remain up whilst spraying.
3. Flip open Power Sprayer until it locks into position. Twist nozzle at end of Power  Sprayer to select the wide spray setting.
4. Point Power Sprayer away from body. Ensure grey trigger lock is disengaged  before spraying.
5. Point spray head 50 cm from surface to be treated. Spray liberally onto contaminated surface. Refer to table below for the number of seconds required to treat an area of 1 square metre. Hold white trigger for continuous spray.
TreatmentApproximate number of seconds of spray required to treat 1m²Light growth12 Seconds Heavy growth29 second
6. After Use: Push hose connector down and squeeze the trigger to clear nozzle.
 Take care to avoid clearing the nozzle over plants that you want to keep.
 Twist nozzle to OFF position and engage trigger lock. Flip the wand closed and  store on the side clip without disconnecting the hose.
Visible results within 3 days depending on the severity of growth and weather conditions.
This pack treats up to 35m², depending on level of soiling.
 
Replacing the batteries:
Open battery compartment at the bottom of Power Sprayer, remove the used batteries and dispose of safely. 
Replace with four new AA batteries in the correct position as marked inside the battery compartment. 
Securely close battery compartment door. Never mix alkaline, carbon-zinc or rechargeable batteries.
Use biocides safely. Always read the label and product information before use.
RECYCLING & HANDY HINTS
Precautions
Children: Patio Magic is non-acidic and contains no bleach. But, as with any household cleaner, please take normal precautions and keep our products out of reach of children.
Pets: as a precaution, keep pets and wildlife off the treated surfaces until they are dry (if they accidentally walk or sit on the wet surfaces, then promptly rinse their paws or fur in clean water). 
Plants: do not splash or spray directly onto plants ; if you do this by mistake, then simply flush them with plenty of water.
Fish: do not allow any run-off into fish-tanks or ponds, or contact with any aquatic life.
Brintons Patio Magic is approved for use in Great Britain, Northern Ireland and the Republic of Ireland.
Please read all instructions and precautions on the product label carefully before use.
Health and Safety
Always read the pack label and product instructions carefully before use. For further information relating to product safety please review the product data safety sheet link below.