A complete guide to lawn and grass feeding
It's a fact that lawns benefit from regular feeding. Without extra nutrients, the grass soon uses up plant food reserves in the soil and then turns pale and thin.
Without food to develop side shoots and thickness, the lawn seed is also open to invasion by weed seeds and moss, that thrive in low nutrient conditions. On the other hand, a regular supply of supplementary food makes your lawn thick and green.
This photograph on the right shows the difference feeding your lawn can make. On the left section the lawn has been fed with a granular lawn food, on the right section nothing extra has been applied. As you can see, the fed section of lawn is much greener and healthier looking.
There a few types of lawn feed, so you may be a little confused about what to look out for when buying online.
But don't fret; below are the descriptions and properties of the types of lawn feeds, including the specific benefits of each.
Which lawn feed should I use?
Some lawn treatments just feed your garden lawn and are ideal if your lawn is weed and moss free, but others have added ingredients such as weed killers and/or moss killers. Furthermore, some are designed to use in the autumn to toughen up the grass ready for the winter and/or kill moss.
The reason some lawn feeds are better than others, is because they can release nitrogen and feed over several weeks rather than in one rush soon after application.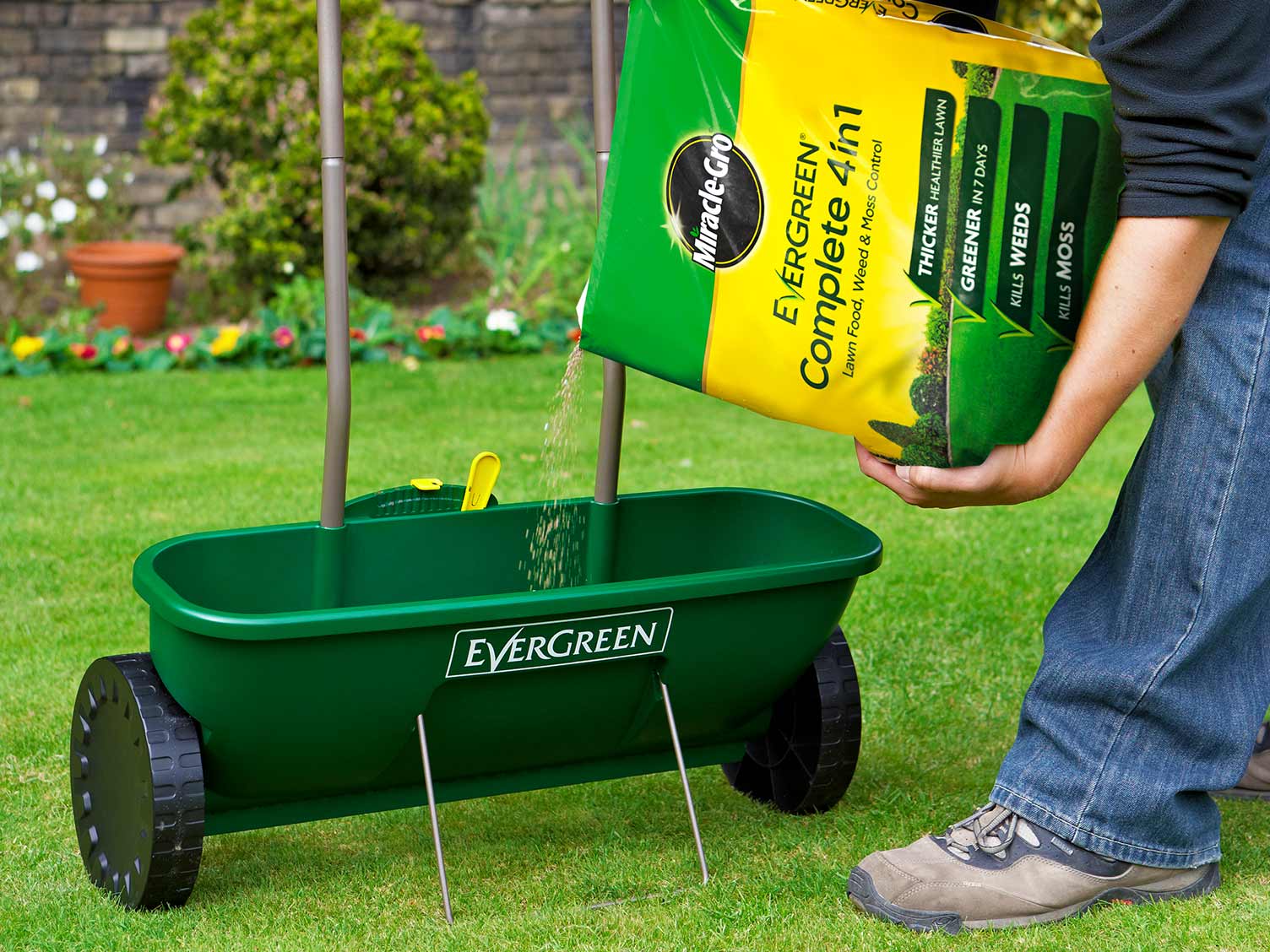 The best lawn feed (or fertiliser) to use is one that provides both protection from weeds while systematically feeding your lawn. Ideally, lawn feed should be applied between April and September with Miracle-Gro EverGreen Complete 4 in 1 providing year-round feed when applied no more than twice a year.
Spring and summer lawn feeding
For spring feeding, use a product containing feed, weed killers and moss control. This will quickly help the grass to start growing again and control any weeds that are present, plus kill off the moss that might have invaded the lawn over the winter.
Once the weeds and moss are under control later in the spring, move over to just a lawn feed to keep the grass looking thick and green. Liquid lawn feeds via a hose end feeder are ideal for using in late spring into summer as they water the lawn as well in dry periods.
If the weather turns very hot, then the garden grass stops growing and will not use any feed. In addition to this, the lawn will start to get 'stressed' during prolonged dry spells, making them more susceptible to damage by lawn fertilisers. This will result in you having to take extra care of your garden lawn from that point on.
During these conditions stop feeding your lawn, wait until it has rained to let the water soak in for a few days, then start feeding again. Feed throughout the summer at 6-8 week intervals, weather permitting.
Autumn lawn feeding
Your lawn needs another type of feed come the autumn, which will keep the grass growing at a slow rate and not so lush, but still green. Also it prepares your lawn for the winter, by building up the roots and health of the grass to withstand the cold.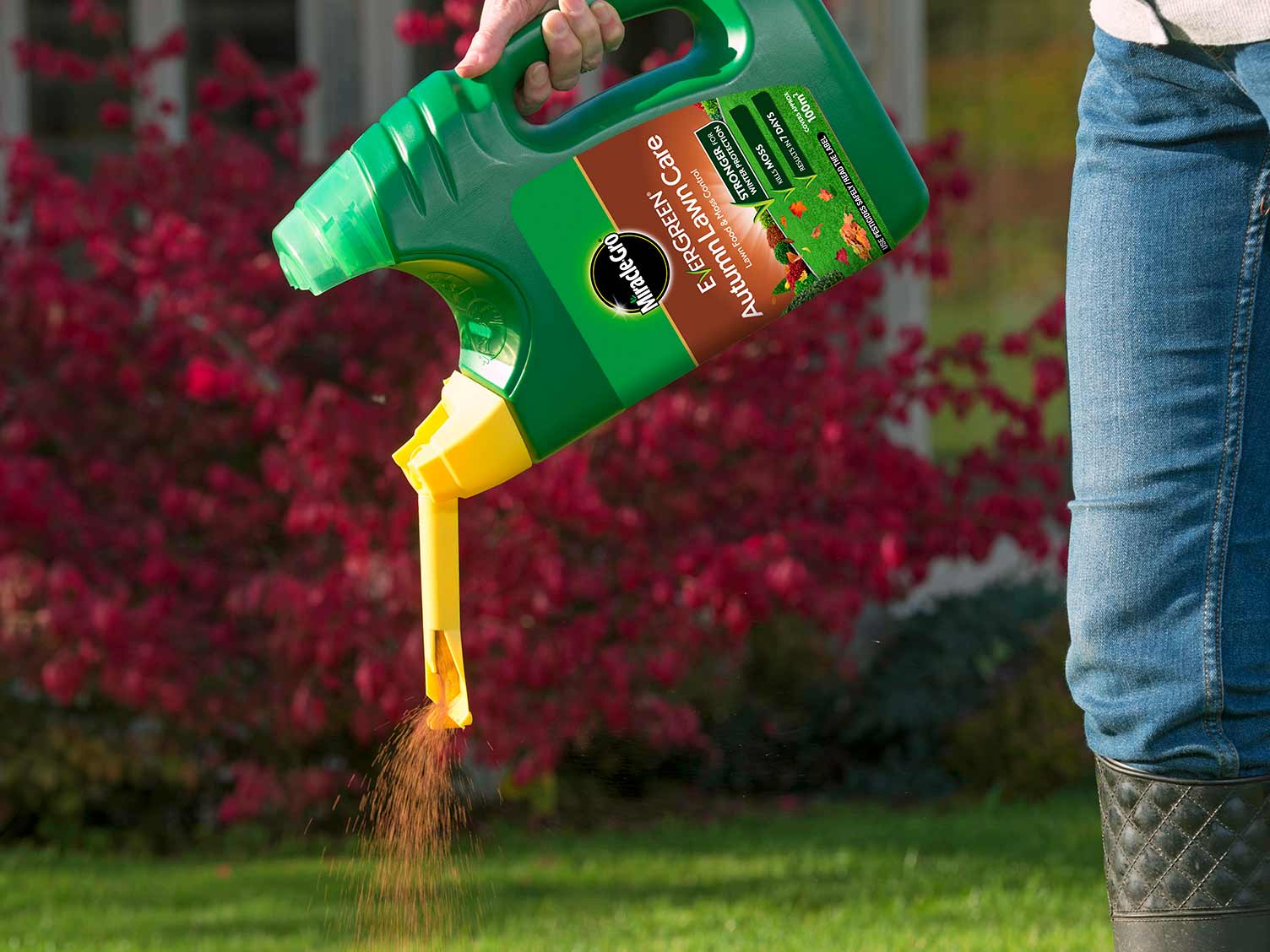 Additionally, some have moss control added for any moss present. It's important to feed with a specific autumn lawn food such as Miracle-Gro EverGreen Autumn Lawn Care, to get the grass ready for the colder, wetter weather in winter and get the lawn ready for spring. Autumn lawn feeds will be low in nitrogen, as we don't want to encourage any top growth, which can be soft and easily burnt by frost.
Feeding in autumn helps encourage strong root growth, so your lawn will recover quickly from a harsh winter and put on lush green growth in spring. Autumn feeding is actually the most important feed and integral part of lawn care!
Whichever product you are using, always carefully read the label before use and apply according to the instructions.
To summarise, steps to take for lawn feeding include:
Prepare your lawn for feeding: scarify, rake and mow the lawn at least 3 days before the application of lawn feed or control products.
Apply lawn feed: depending on the time of year apply your lawn feed (for high maintenance lawns consider optional added weed and moss control product).
Maintenance: lightly water the feed in and repeat steps if necessary.
Check out our video tutorials for how to achieve a great looking lawn on our YouTube channel here.