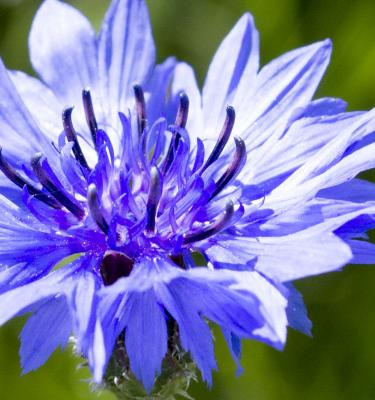 Cornflower (Centaurea cyanus)
Cornflowers are extremely colourful hardy annuals. They look great in beds and borders, especially when part of an annual bedding display or a cottage garden, flowering from late spring and summer into autumn.
Cornflowers are also commonly known as 'bachelor's buttons' – and more than a dozen other common names. They make excellent cut flowers and attract bees and butterflies and other pollinating and beneficial insects.
Although blue is the most common colour; white, red, pink and purple varieties are also available.
How to grow cornflowers
Cultivation
Cornflowers grow and flower best in sunny positions. They need a fertile soil enriched with lots of organic matter, which holds plenty of moisture in spring and summer, doesn't dry out or become waterlogged.
Cornflower varieties
Black Ball Rich chocolate shade, that look almost black.
Blue Diadem Large, deep blue double flowers.
Classic Fantastic Various shades of blue, with frosted white edges.
Jubilee Gem Large, deep blue double flowers.
Polka Dot Mix Shorter plants with flowers in a range of colours – white, pinks, blues and reds.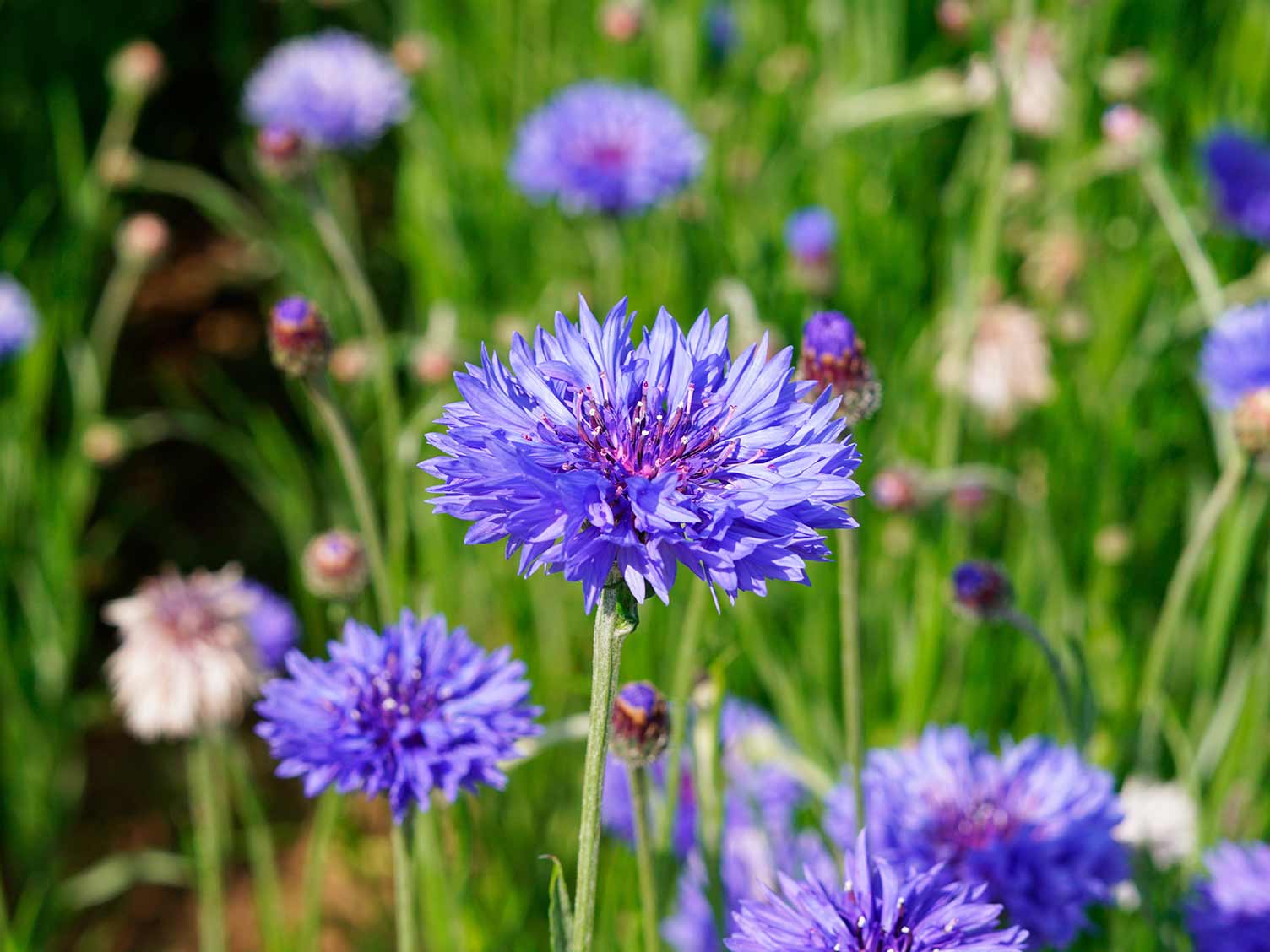 Sowing cornflowers
Sow seeds from March to May outdoors for flowers from June to September, or sow during August and September to flower slightly earlier the following year.
Sow seeds thinly in finely raked, moist soil where you want the plants to flower, at a depth of 13mm (½in) covering the seeds lightly with soil. Water the soil during dry periods.
Thin the seedlings in stages to 15-23cm (6-9in) apart when they're large enough to handle.
Planting cornflowers
You can buy young plants from garden centres, nurseries or mail order suppliers for planting in spring.
Dig over the planting area, incorporating lots of organic matter – such as compost or planting compost, especially if the soil is heavy clay or light, well-drained sandy soil. Dig a good sized hole big enough to easily accommodate the rootball.
Place the rootball in the planting hole and adjust the planting depth so that the crown of leaves is at soil level. Mix in more organic matter with the excavated soil and fill in the planting hole. Apply a general granular plant food over the soil around the plants and water in well.
Suggested planting locations and garden types
Flower borders and beds, patios, containers, city and courtyard gardens, cottage and informal gardens, cut flower garden.
How to care for cornflowers
Water plants whenever necessary to keep the soil or compost moist during spring and summer, as this will prolong flowering.
Remove any competing weeds while the plants are young and establishing.
Applying a balanced liquid plant food every couple of weeks in the growing season will also encourage more, bigger and better flowers.
Deadhead plants regularly to prolong their flowering period well into autumn.
Cornflowers are generally pest free.
| | |
| --- | --- |
| Flowering season(s) | Spring, Summer, Autumn |
| Foliage season(s) | Spring, Summer, Autumn |
| Sunlight | Full sun |
| Soil type | Chalky, Clay, Loamy, Sandy |
| Soil pH | Neutral |
| Soil moisture | Moist but well-drained |
| Ultimate height | Up to 75cm (30in) |
| Ultimate spread | Up to 30cm (12in) |
| Time to ultimate height | 3-4 months |