Why do I need to clean my paving and patios?
It seems obvious but regular cleaning of your paving and patios is essential to maintaining their condition and ensuring they last as long as possible. Moisture and bacteria can cause moss and algae build ups which, while making your garden look tired and unkempt, can also make surfaces very slippery. Cleaning off the moss before it gets out of hand can help to prevent accidents. This also applies to deck surfaces.
Also, if left to their own devices, weeds can find their way in between the paving slabs and in areas you wouldn't think were possible for them to grow. A regular clean will keep these at bay.
When should I clean my paving?
The longer you leave dirt and grime on paving, the harder it is to remove it. And like most gardening or outdoor jobs, regular maintenance is key.
You should ideally clean your garden patios and paving slabs on a dry day. This is so you can ensure that the cleaner or any chemicals you are using has time to fully take effect. But this doesn't mean you put off the job in the winter as this is when your paving and patios are going to get really dirty. Three or four times a year is normally enough.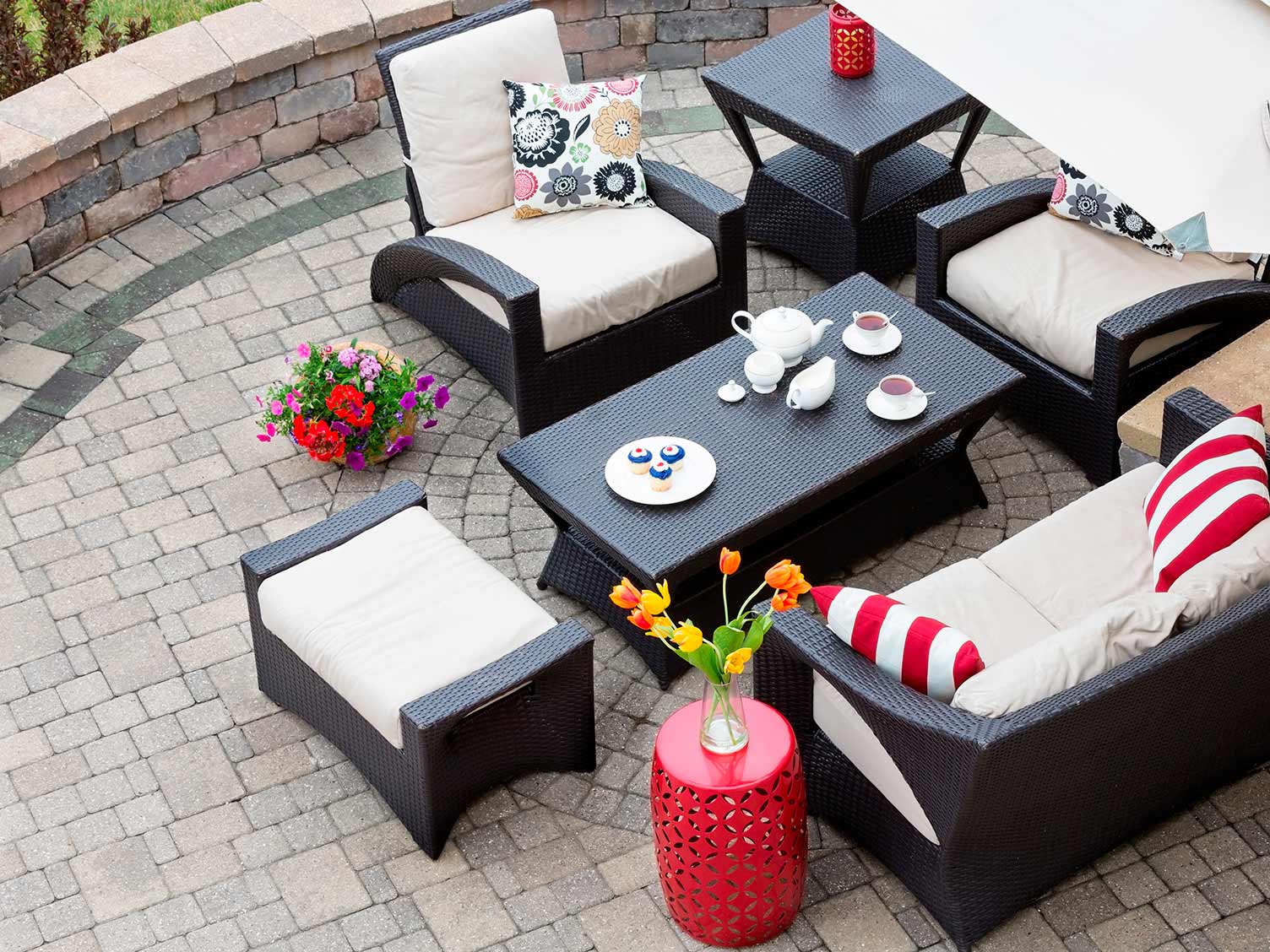 What tools do I need?
This kind of depends on the problem you are facing and how much the paving has previously been maintained.
If your patio is in fairly good condition and its part of a regular maintenance routine, a bucket of warm soapy water or patio cleaner that prevents and kills mould, and a stiff broom are probably enough.
If there is a little more work to be done, then a sharp tool or scrubbing brush will help to remove any weeds, moss and debris and a broom will sweep them away nicely. Most patio and paving cleaners will continue to work in the days after the product is washed away with a watering can or low-pressure garden hose.
Pressure washers
This is a method that many have adopted as a quick way of cleaning paving and patios but should be used with extreme caution. Pressure patio sprayers work by blasting the surface with water and aggravating the dirt that lies on the paving to remove it. They can be very effective and when used correctly can keep your paving looking as good as new.
What is the best way to clean my paving and patio?
Preparation is key whichever method you choose to clean your patio. Ensure that the surface is clear of any debris, this includes loose dirt, dust and weeds. Remove weeds with a brush or kill them with a weedkiller. You can use a weed-killing product that attacks the whole plant but you should wait the allocated time for the weeds to die off before cleaning and then sweeping the paving.
Using a patio cleaning product
This is a general guide and you should always follow the instructions on the product carefully.
Dilute the patio cleaning product with water as per the instructions.
Apply the cleaner – Most cleaners can be applied using a watering can, low-pressure sprayer or just a simple bucket.
Use a brush for hard to reach areas.
Wait – High-quality patio cleaner tends to carry on working gradually over time, with you seeing the effect two to four days after application.