Rhubarb (Rheum x hybridum)
Rhubarb is a reliable and easy crop to grow – producing lots of juicy rhubarb stems, or sticks, from just 1 plant for many years. You can more-or-less just let it get on with growing itself - providing a little care and attention is taken on siting, planting and early care.
---
How to grow rhubarb
Cultivation
Although rhubarb prefers a sunny spot, it will grow well in a lightly shaded position.
As rhubarb is a long-term crop, prepare the soil well before planting, to ensure good yields of tasty rhubarb sticks over several years. Dig over the soil to a good depth, adding lots of well-rotted manure or compost. Drainage is important, but lots of moisture is needed for a good crop – especially during dry summers. As the plants will remain in the ground for a number of years, remove all perennial weeds.
Rhubarb varieties
The following varieties all produce high yields of good quality sticks: Champagne Early, Stockbridge Arrow, Timperley Early, Victoria.
Livingstone is an autumn cropping variety and, once established, will crop from September to November, even December.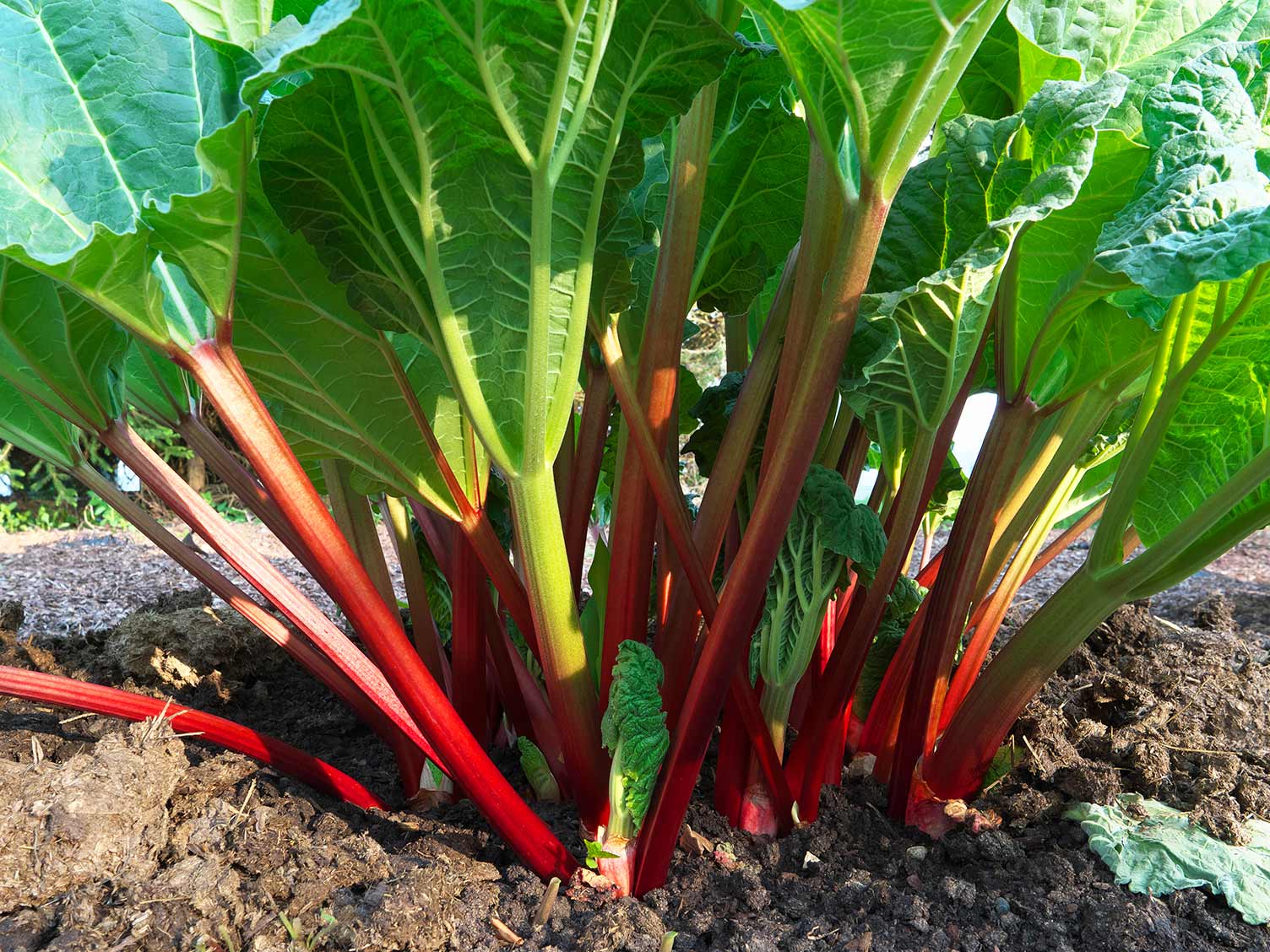 Planting rhubarb
Plant rhubarb crowns from autumn to spring. Plant the crown with the growing point at, or 2.5cm (1in) below, soil level. On wetter soils plant the bud just above the soil to prevent rotting. If you want more than 1 plant, space them 75-90cm (30-36in) apart.
You can even grow rhubarb in a large container of loam-based John Innes No 3 Compost, mixed with lots of well-rotted manure.
---
How to care for rhubarb
Rhubarb will benefit from a generous annual mulch with well-rotted organic matter in February. Always mulch around the crowns and developing buds, rather than over them. This will help reduce summer drought stress and ensure a longer picking season. Then apply a dressing of a general granular feed. Keep plants well watered during periods of dry weather in summer, and feed with a general feed after cropping has finished.
Remove any flowering shoots that may appear as soon as they appear.
Poor crops and thin sticks may mean that the crown has become overcrowded and needs dividing. Lift the crown from late autumn to late winter when dormant, using a garden fork to avoid damaging the thick roots. Then, using a spade, split the crown into sections, ensuring each has a healthy portion of thick root and at least 1 - but preferably 2 or more - strong buds. Crowns will probably need dividing every 5 to 6 years.
Harvesting
You should resist harvesting stems during the first year after planting - you want the plant to build up its strength for future crops. If you can't resist, and want a sneak preview of the taste, just pick one stem.
From the second year, you can pick stems from April to June, when again you should stop picking to give the plant time to build up its strength for next year.
Hold the stick close to the ground and then pull upwards with a twisting action. Don't harvest all stems in 1 go, instead leave at least 4 sticks at a time to carry on growing,
For a very early crop of the sweetest stems, you can force rhubarb. Lift a crown in November and leave it on the soil surface to be chilled. Then, after 2 weeks, either replant it or pot it up and bring into a cool room or greenhouse at 7-16°C (45-61°F). It is essential to totally exclude light using either rhubarb forcing pots, upturned buckets or dustbins.
Pests
Rhubarb may be susceptible to the following disease: Crown rot.
| | |
| --- | --- |
| Flowering season(s) | Summer |
| Foliage season(s) | Spring, Summer, Autumn |
| Sunlight | Partial shade, Full sun |
| Soil type | Clay, Loamy |
| Soil pH | Neutral |
| Soil moisture | Moist but well-drained |
| Ultimate height | Up to 90cm (3ft) |
| Ultimate spread | Up to 1.2m (4ft) |
| Time to ultimate height | 2-3 years |