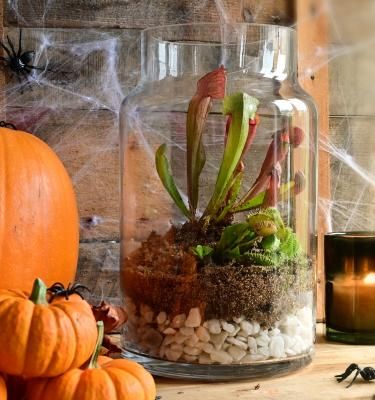 Spooky plants for Halloween
Spooky plants 👻
Get into the spirit of Halloween with frightful flowering and creepy carnivorous plants. As October arrives, there's a certain spook in the air, so embrace the night of tricks and treats with plants inside and outside of your home for Halloween.
Spooked out
Invite trick-or-treaters in by planting an array of gothic-looking plants to set the scene. The first is a plant that is hardy, but decorative. Physalis alkekengi (Chinese lantern) is a perennial that will come back year-after-year to put on a show. The creamy-yellow flowers bloom in summer, but the interest doesn't stop there. Come autumn, there are bright orange lantern shaped seed capsules that give the plant its common name. These can be cut off and dried for natural décor for the inside of your house over Halloween too. Growing in a containers is wise because these plants can spread. Position the plant in a spot with plenty of sun or partial shade.Contrast the bright seed capsules with the dark Ophiopogon planiscapus (black mondo) 'Nigrescens' which is an ornamental grass that helps to create that gothic finish. Growing up to 50cm in height and spread, it's perfect for small gardens and containers too. The leathery strappy leaves will grow best when positioned in well-drained soil in full sun or partial shade.
Carnivorous contenders
Unleash the kids' imaginations with these plants that feed on critters. A firm favourite is Sarracenia purpurea (common pitcher plant) which isn't your usual garden plant. The red and green colouring with purple-red veining gives them a spooky quality. When grown outdoors they will need a constantly moist soil. It's ideal to surround them with sphagnum moss in a container filled with acidic potting mix like Peat Free Premium Ericaceous Compost. When watering, use rainwater or distilled water as they won't tolerate alkaline water or soil. Rather than fertilising, this carnivorous plant gets its food by trapping flies and spiders.
The classic carnivorous plant is Dionaea muscipula (Venus fly trap) that is great as a houseplant. The stalks end in a trap which snaps closed when flies land on it. Indoors, position them in a brightly lit spot out of direct sunlight. Place them somewhere near a door or window so they are in the perfect spot to catch insects to eat.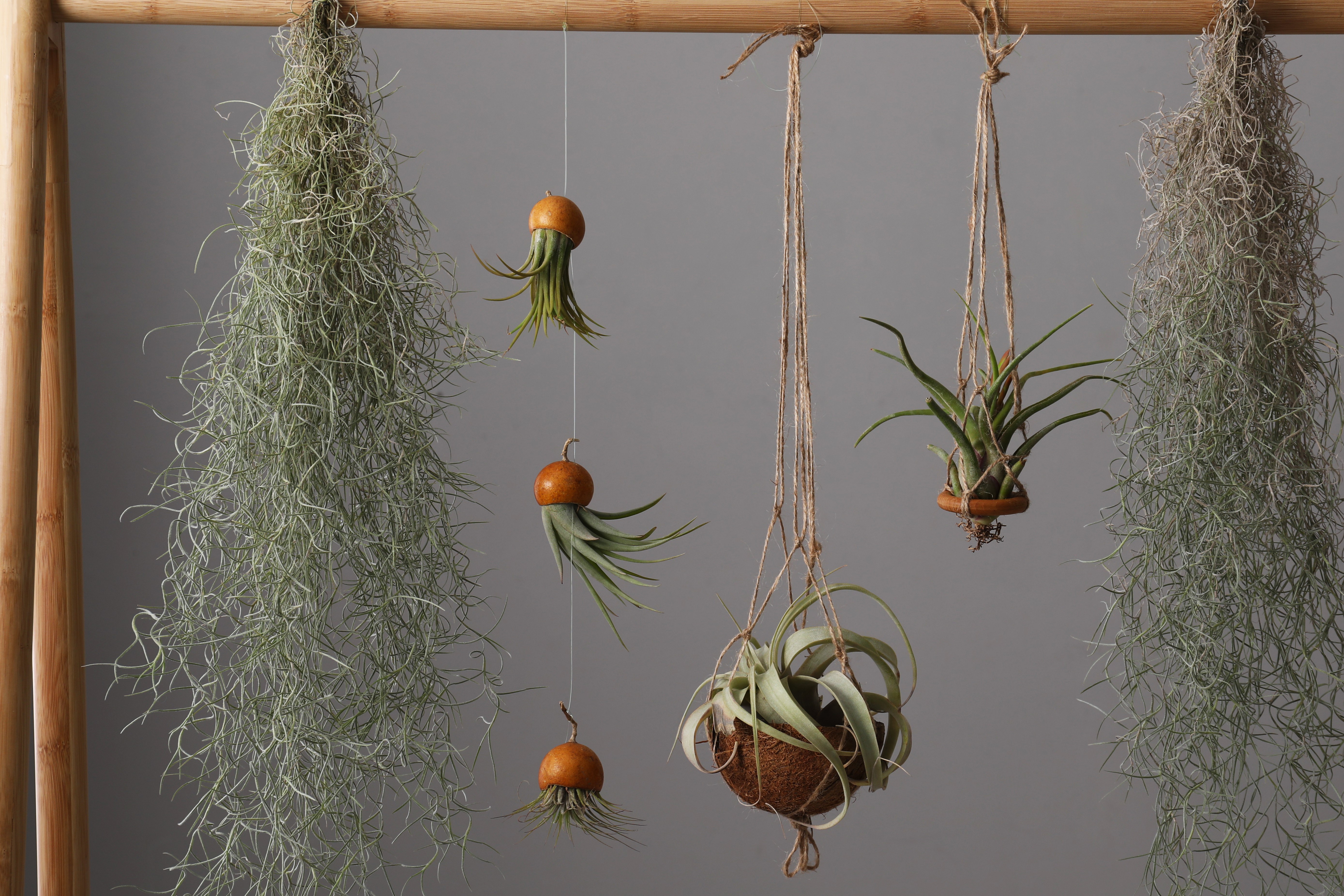 Halloween houseplants
For more of a spooktacular indoors, there are many plants to spruce up your Halloween party. What better way to create a cobweb-like feeling than draping Tillandsia usneoides (Spanish moss) around? This is an air plant, meaning it doesn't need soil to grow. Instead, it gets its nutrients from particles in the air. It needs high humidity, so misting regularly with rainwater will keep levels up.
Another air plant that will add to the eerie atmosphere is the hanging jellyfish. These are created by attaching air plants to sea urchin shells. This gives the illusion of jellyfish suspended in air as there is a thin clear line looped to the top to attach them to hooks. As with other air plants, misting a couple of times a week will keep these air plants happy. Keeping them in a bright but humid room such as the bathroom or kitchen is ideal.
Harvest for Halloween
Pumpkins automatically make us think of carving Jack o'lanterns for the porch, or using the flesh in delicious recipes like soups, curries, and pies. For a harvest at your fingertips, the seeds can be sown indoors in April and May for young plants to be planted out in May or June in a sunny but sheltered spot.
Pumpkins are thirsty and hungry plants. Therefore it's ideal to bury their plant pot next to them so when watering, the water from the pot will gradually soak into the soil to deliver water to the roots. Feed every 2 weeks with a liquid fertiliser that's high in potassium, like Levington® Tomorite Organic Concentrate.
The fruits will turn from green to orange between September and October. They will be ready for harvesting when the pumpkin sounds hollow, this is a great indicator of ripeness. The skin is often harder – press your finger against the skin and if it dents but doesn't puncture the fruit then the pumpkin is ready.
Create an eerie ambience using plants this Halloween. Whether you're throwing a spooky party or just want to transform your home into a monster house this autumn.