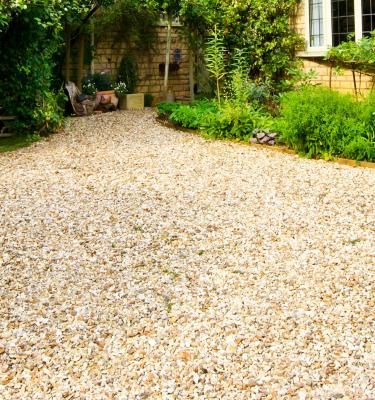 Taking care of your driveway
There's a huge part of our home glaring right at us which might need attention… It's often the first thing you see approaching the home. That's right – the driveway.
Many of us have one or are considering investing in re-doing theirs. With more cars on the road than ever – cars are taking over our gardens. However, with the right attention to the care, you can extend the longevity and appearance of your most forgotten about front garden detail. No driveway is completely maintenance-free (unfortunately). Read on for a guide on preserving the life and appearance of your driveway.
---
Driveway construction materials
Driveways can come in an endless variety of styles, colours and patterns; from gravel to shingle, to custom brick, and even sea-shell near the coast. More common choices are concrete and sandstone. Sand driveways while historical are coming back into fashion, as being more environmentally responsible is on the peak. Depending on the type you have had installed, the best ways to care for your driveway will vary – do your research and ask for all the information available from the person who installed your driveway. Whether you need a replacement driveway, an emergency repair or just a good deep clean – care for yours when it matters to really get the most from your driveway for longer.
---
Taking care of your driveway
When looking to build a driveway the main factors to consider are appearance, ease of maintenance and whether they will stand the test of time. Once you have decided on the right choice for your home you need to clean them periodically. Frequent sweeping prevents the build-up of detritus and is a great starting point.
For more intense cleaning and maintenance, take specialist care of your driveway in accordance with the material it is built from. For example, light coloured blocks can emphasise tyre marks, oil spills, and other less than ideal markings. When deciding on which material you wish to use, you must consider the ease to which they will be maintained if the overall appearance is to remain a high quality over time.
Specialist cleaning products are useful for maintaining your driveway. Always read the label, and be cautious of products containing a concentration of acid, which can unfavourably affect the appearance of concrete, clay and natural stone surfaces.
---
Unwanted greenery
As well as damage caused by cars, greenery can grow and fall on your driveway causing issues. In certain circumstances, if your driveway or patio are left in contact with wet leaves, staining can occur. Thus, this should be avoided wherever possible. As well as leaves, other unfavourable greenery such as weeds, algae and moss can cause problems. Specialist products are available to fight driveway problems. Alternatively, homemade remedies can be made from household items such as salt and vinegar, vinegar and dishwasher, or even simply water with detergent. Vinegar is highly acidic co can effectively kill unwanted weeds, however, be careful during application as products such as dishwasher detergent are a non-selective herbicide, so can cause damage to wanted plants as well. Ensure you only apply to the desired area. A simple solution of 1/2 tablespoons of dish-washing detergent and 2 cups of vinegar is an effective solution.
Remember, greenery can be a positive detail too. Invest today in fresh plants and make the changes your front garden has been crying out for and enjoy heading back to your house and welcoming visitors. While investing in a new driveway would also add value to your house if you plan on selling.
To achieve driveway greatness, keep in mind aesthetics, practicability, and maintenance. Whether you plan on sprucing up your existing driveway or installing a new one, care for yours regularly, and reap the benefits of a beautiful driveway that stands the test of time. Driveways can last for years with the correct maintenance. If you do absolutely nothing else but lightly sweep once every eight to ten weeks to remove any sign of debris, you will prolong the life and save yourself money and time in the future.