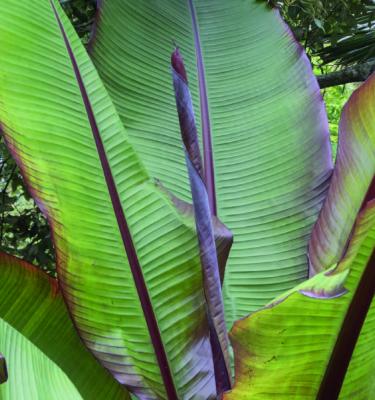 How to grow banana plants
With their exotic and enormous foliage, banana plants add a taste of the tropics to the garden. In the UK they rarely produce edible fruits, but as ornamental plants they are an easy way to add height and impress visitors. Read on to find out how to get the best from your banana plant, wherever you decide to grow it.
Types of banana plants to grow
Bananas in Britain are usually from the Ensete or Musa genera of plants. Both are important sources of food in their native countries, but are unlikely to produce edible fruit in the UK. This is because banana plants need a very long period of heat and sun to produce and ripen the fruits. Replicating the required warmth and light conditions requires expertise, attention and expense.
There are many varieties of banana which will thrive as ornamental plants in our gardens:
Ensete ventricosum 'Maurelii'. By far the most popular species of Ensete grown in our gardens. It is also known as the 'Abyssinian banana' and 'false banana'. Striking reddish-purple leaves and a thick trunk. This cultivar is not tolerant of frost and can grow to 5m (15') in height, so consider whether your garden is the right environment for this beautiful monster.
Musa is a more common banana plant grown in the United Kingdom, and there are over 70 different species to choose from. Each one has a different appeal:
Musa acuminata spp. Producing beautiful red-striped leaves, this plant grows to just 2m (6'), so is a great option for small gardens and pots. Best given indoor protection over winter.
Musa balbisiana. Also known as 'Thai black', the leaves of this variety turn a very dark green to black colour when exposed to plenty of sunlight.
Musa basjoo. Also known as Musa japonica, or Japanese banana. Can grow to 5m (15') in height. Produces tiny fruit but are rarely edible. Very tolerant of frost, and gives an evergreen interest to a border.
Musa Iasciocarpa. A more common name for this variety is 'Chinese yellow banana'. A much smaller specimen than other varieties of Musa, growing to just 1.5m (5') in height, so perfect for small spaces.
Musa oriana. More suited to indoors than outside, Musa oriana is an ideal houseplant for a room that receives lots of sunlight.
Musa velutina. Perfect for a greenhouse or conservatory, this variety needs consistently warm temperatures of above 16°C (60°F), but is worth it for the bright pink ornamental fruits.
Musa x paradisiaca 'Rajapuri'. A mid-height banana cultivar growing to just over 2 metres (8') in height. This cultivar can tolerate light winds better than other varieties, and if any banana plant will produce edible fruit in the UK, it is the paradisiaca.
Musa x paradisiaca 'Orinoco'. This cultivar is frost sensitive, and only able to tolerate cold temperatures as low as -1°C. It is a large plant which can grow to 4m (13') in height.
All of these banana plants produce large, oval leaves. The stalks of these leaves are actually what make up the stem of the plant, giving the trunk an attractive, rough texture.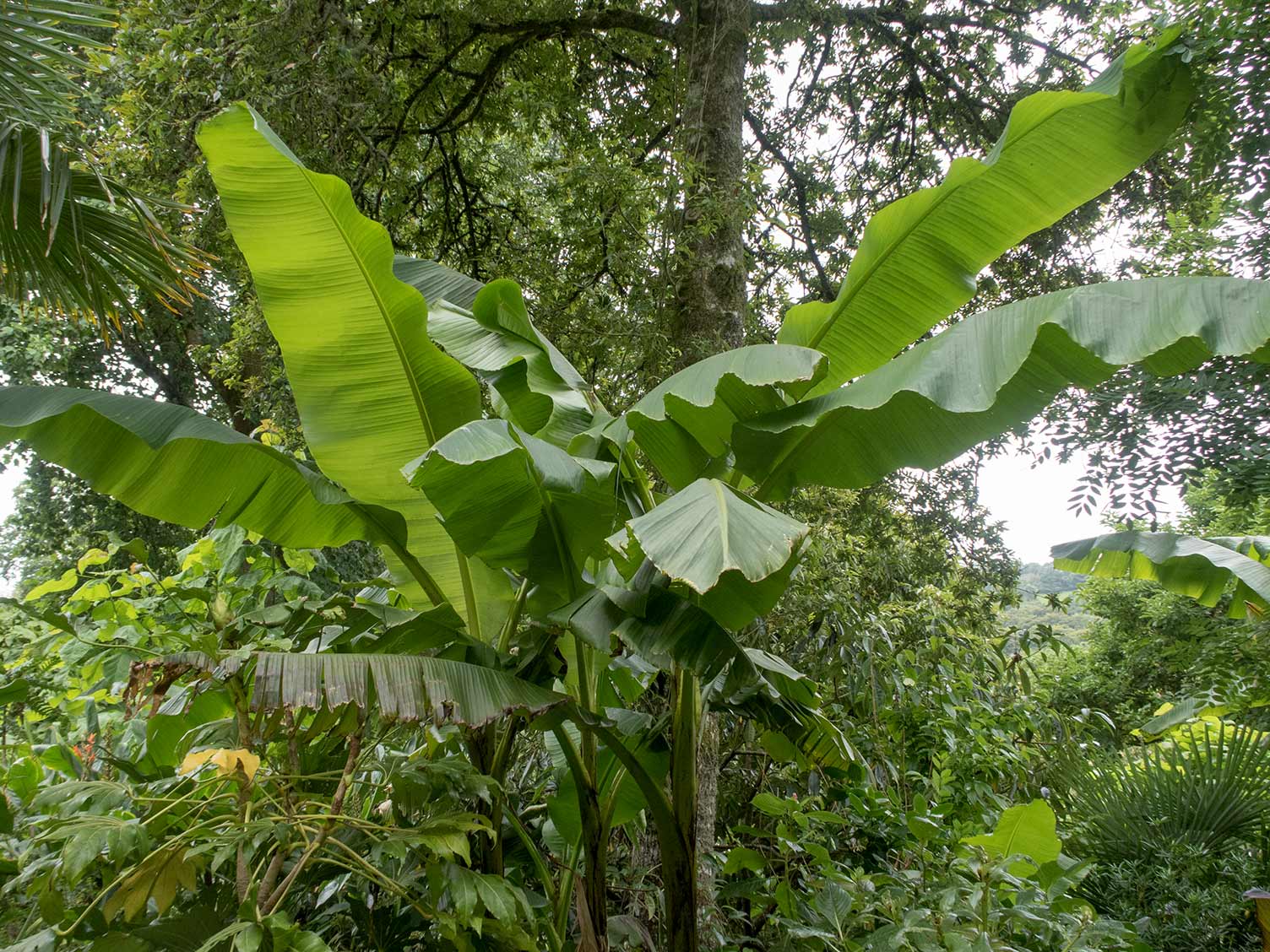 What you'll need to grow banana plants
April is the perfect time to start the banana plant growing process, as they can establish themselves in the forthcoming summer months.
To grow a banana plant successfully in the garden, you will need:
A newly purchased plant is the quickest way to add instant impact to the garden. Dig a hole large enough to accommodate the root of the banana plant, position in the ground and backfill with the soil. Water in, and add the mulch to help conserve the moisture.
An alternative to buying a plant, is to ask a neighbour or friend for a cutting from an existing Musa plant. This is best done in the spring, and is simply a matter of lifting the plant and removing a small offset or sucker from the base of the main plant. Ensete species are best grown from purchased seed, as the plants do not produce suckers. In both of these cases, put the cutting or seeds in a small tray or pot first, so that they can establish before being moved outside.
To grow a banana plant indoors, you will need:
A plant, cutting, or germinated seed
A warm, very light room
Suitable compost, such as Levington® Peat Free John Innes No.3
Grit
A pot with a diameter only slightly wider than the stem
As for outdoor grown plants, except that the growing medium must be prepared first. Mix the grit into the compost, aiming for about 70% compost to 30% grit. This will provide the banana plant with ideal drainage conditions.
Where to plant and grow your banana plant
Banana plants are a bold addition to the garden, and can become an eye-catching centrepiece to a border. Some types of banana plant can grow to 4 metres or taller in a garden in the United Kingdom, so make sure there is space for it to grow.
Banana plants are native to India, South-east Asia and Northern Australia. Anything we can do to replicate the tropical environment will help the plant to grow well. With that in mind, position them where they will:
Be protected from wind
Be protected from severe frosts
Have access to moist, well-drained soil
Receive lots of sunlight
Many varieties are frost tolerant, but prolonged sub-zero temperatures will challenge even the hardiest of banana plants. If growing indoors, water them consistently and adequately, as this is often a problem for houseplants generally where central heating can make conditions a little tricky.
You can have the best of both worlds by growing the plant outside in a pot from mid-spring through to the autumn, moving the pot indoors for shelter throughout the winter in a greenhouse or conservatory.
Caring and nurturing for your banana plant
Banana plants are perennials, as long as they are well cared for. New shoots will appear in mid-spring (around April). This is the time to move and reacquaint the plant with the outdoors, if it has been sheltered inside over the winter. If moving into garden soil, add a compost mulch around the plant stem to feed and help retain moisture. If keeping the plant in a pot, move to a slightly larger container if needed.
Feed the plant with a general purpose liquid feed fortnightly in the spring and summer. For the best chance of fruits, use a potassium-rich fertiliser when the plant is in flower. If the plant is to produce flowers, they should appear in July and August.
Water well in the spring and summer, but do not water in the winter, unless the soil is very dry. For outdoor grown plants, in early winter move any dead or dying foliage and either wrap or add a ring of chicken wire and fill with straw. This will provide some protection from very cold weather.
Although it is very unlikely that edible fruit will be produced on a homegrown banana, to have any chance you will need to consistently provide a minimum temperature of 15°C (59°F), and ideally 25-30°C (77-86°F), for about 18 months. This is how long it would take to grow an edible banana in the UK.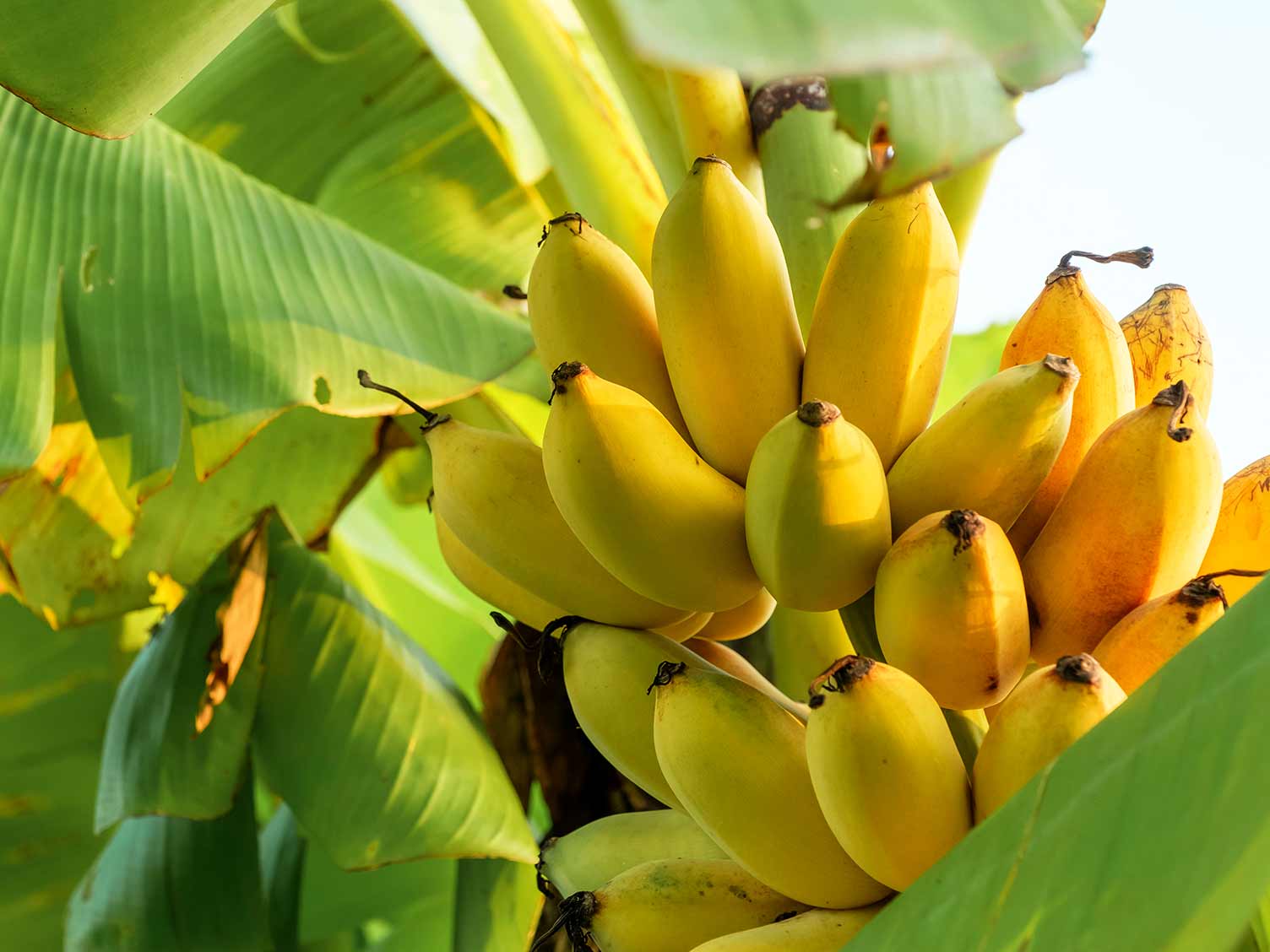 Common pests and diseases with banana plants
Wind and cold temperatures are the two main threats to a banana plant. Leaves are easily torn in wind, and although this does not harm the plant, it does not look so attractive as an entire, paddle-shaped leaf.
Banana plants are sensitive to water levels, so look out for brown edged leaves which may suggest inadequate moisture.
The main pests which can affect bananas are more of a problem on indoor plants, although they can appear outside too…
Aphids
Aphids are mostly a problem in the spring and summer, and particularly affecting new growth, where the aphids will enjoy sucking sap from the lush green foliage and flower heads, leaving a sticky 'honeydew' or sooty marks. Squash by hand, encourage predators such as ladybirds, or treat with a suitable pesticide.
Mealybugs
Mealybugs suck sap from the plant, appearing as small white clumps and leaving a sticky or sooty residue on leaves.
Red spider mite
Red spider mites are another sap-sucking pest, active from spring through to autumn. Usually create a very noticeable thick web on the leaf, damaging and weakening them, and if left untreated, eventually killing the plant.
BugClear™ Fruit & Veg Ultra will treat all of the above pests.
Key features of banana plants
| | |
| --- | --- |
| Botanical Name | Musa spp. |
| Plant Type | Herbaceous perennial |
| Family | Musaceae |
| Light Exposure | Full sun |
| Soil pH | Neutral to slightly acidic |
| Flowering Time | July to August |
| Flower Colour | White or pink |
| Native Area | South East Asia |