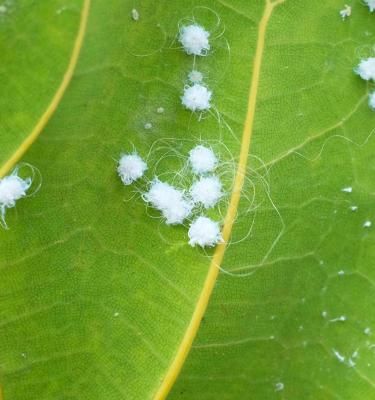 What are woolly aphids?
The appearance of white cottony fluff on a plant can be a worrying sight. Eriosomatinae, to use their scientific name, are a troublesome sap-sucking insect that are often mistaken for other pests and diseases.
Woolly aphids are most commonly found on apple and crabapple trees, but are also a pest of pears, ash, hawthorn, alder, elm, oak, Cotoneaster and Pyracantha. They particularly like congregating in small cracks in a tree and pruned branches where they can nestle into the nooks and crannies of the bark.
Woolly aphids are unlikely to attack houseplants or other plants, such as citrus, which are usually grown indoors in the UK. If you have clusters of white on a houseplant, it is more likely to be mealy bug or scale insects.
The white growth of the woolly aphid has a similarly soft and velvety appearance to many fungal diseases. But, it's the irregular clumps of waxy white wool on established plants that are the giveaway that it isn't a fungal disease. The lumpy, fluffy white shapes are a coating which the woolly aphids produce to protect themselves.
Woolly aphids usually materialise during a plant's most active growing months, from April through to October, peaking during the summer.
Like any aphid, woolly aphids are unwelcome in the garden and can damage plants in large numbers. The key is to to identify them correctly, treat them appropriately, and to try to prevent them from returning.
How to identify woolly aphids?
Woolly aphids produce lumps of white waxy fuzz on branches, buds or on leaves. This cottonwool-like substance is much more likely to be noticed before the aphids themselves. It distinguishes them from the many other types of aphid which may attack plants.
Woolly aphids are unremarkable green-blue insects of anything from 1mm - 7mm long, and can easily be confused with other aphids, so look out for the tell-tale clumps of white fluff to confirm their presence.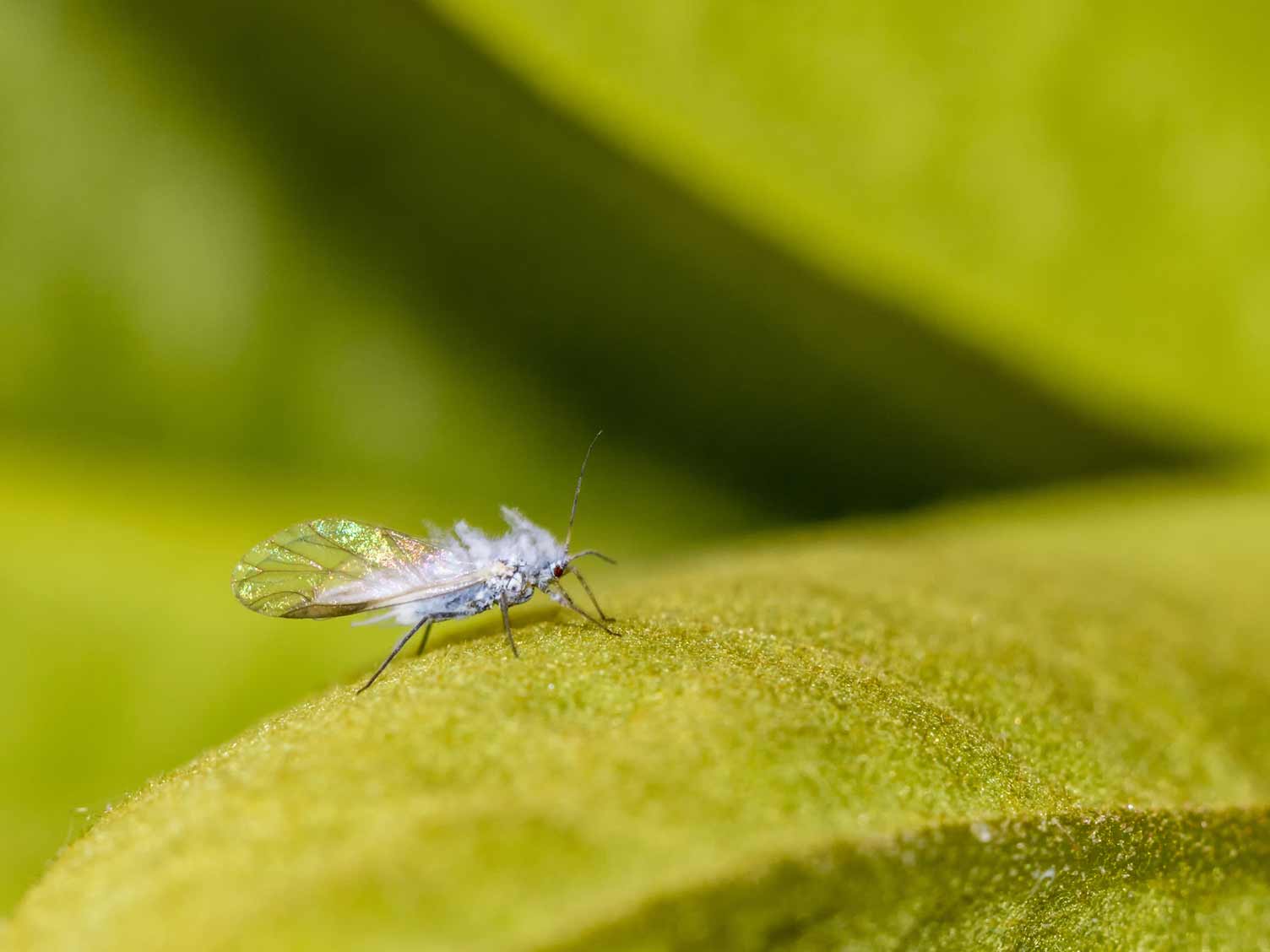 Woolly aphids symptoms and damage
Clumps of white fluffy or waxy growth are the key symptom of a woolly aphid infestation. Woolly aphids can cause small, lumpy growths to form on the bark, called 'galls'.
You may also notice the same symptoms and damage that is caused by other aphids too, such as:
Tiny white flecks on lower parts of plants and soil (these are discarded aphid skins).
Honeydew (a sticky substance on the leaf and stem surfaces).
Sooty mould - a fungal black powdery coating which accumulates on any nearby surface.
Slow-growing and distressed plants, as aphids suck sap from them.
Yellowing foliage and branch dieback.
Mishapen leaves and damaged fresh growth.
Woolly aphids control and treatment
Non-chemical control of woolly aphids is usually the best option, as the white coating that they produce protects them from the effects of many of the typical biological and chemical treatments that we might use.
Remove woolly aphids, honeydew and sooty mould by hand, squashing the aphids as you go. A strong spray of water combined with a scrub from a stiff brush is an organic and wildlife friendly way to remove them and their symptoms.
Woolly aphids in small numbers should be tolerated as far as possible. However, keep an eye on the infestation as they can soon get out of control, and although they will not kill your tree, they can cause other disease that will harm your tree. Woolly aphids are not harmful to humans, and insecticides are likely to harm beneficial insects which we need to predate the woolly aphids. However, if populations are intolerable, use BugClear™ Fruit & Veg Ultra weekly until under control.
As woolly aphids often focus their attack on large shrubs and trees, it is difficult to apply non-organic treatment, as the whole plant needs to be treated. Of course, as flying insects they can also freely fly from plant to plant, laying eggs at their new location. For woolly aphids, prevention is far easier than cure.
Woolly aphids are vectors for other pests and diseases, in particular powdery mildew. They spread diseases and fungi, so if you are treating another pest or disease, check that the original  culprit isn't woolly aphid.
How to prevent woolly aphids
​If the affected plant is in a container, isolate it, as woolly aphids will happily spread to another host plant to continue their work.
Encourage earwigs, hoverflies, lacewings and ladybirds to the garden, which will eat woolly aphids. Special habitats can be made and bought, and you can also plant flowers which produce lots of nectar to bring them in to the garden too.
Keep plants as healthy as possible, feeding them to give them continuous access to the right nutrients. Try 2 in 1 Nourish & Protect Rose, Shrubs & Ornamental Ready to Use Plant Food, and ensure appropriate levels of moisture. Remove parts of the plant which have been coated in honeydew or sooty mould, to maximise the amount of sunlight that can reach the plant, improving its ability to grow well despite any attacks by woolly or other aphids.