Levington® Tomorite® Giant Planter With Seaweed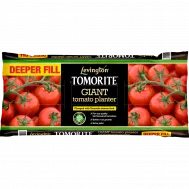 Levington® Tomorite® Giant Planter With Seaweed
Levington Tomorite Giant Planter With Seaweed is perfect for fruit and vegetable gardening. It ois enriched with Tomorite Plant Food with added seaweed for full
flavoured tomatoes and is a deeper thicker planter for optimum root growth. 
HOW TO USE
Give the bag a good Shake, this will help to evenly distribute the compost, and make sure any compacted lumps are broken down.

Cut along the dotted lines of the panels you want to use, if you are only planting two plants, use the end panels.

Delay planting tomatoes until the first flowers open.

Make sure that you add in support canes and tie in the stems.
Watering:
After planting, water in using about 6 litres and then water as necessary to keep the bag moist. This planter requires less frequent watering than smaller grow bags.
Feeding:
We recommend feeding 20ml of Tomorite in 4.5 litres of water. Use 4.5 litres of diluted Levington Tomorite for most crops, use once a week for heavy feeders such as tomatoes under glass.
WHERE TO USE
For use indoors or out, in greenhouses, on balconies etc.
CAUTIONS
Use in a well ventilated place and avoid breathing in dust. Always wear gloves when gardening and then wash your hands after use.
Always read the label and product information before use.
RECYCLING & HANDY HINTS
DID YOU KNOW THAT YOU'RE PART OF ONE OF THE WORLD'S LARGEST RECYCLING EFFORTS?
Each year, Evergreen Miracle-Gro resuses thousands of tonnes of material from gardens and forests in many of our compost mixes, to help you grow plants that enhance your environment and make the World more beautiful.
 
GROWING TIPS
Avoid piercing the bottom of the planter, as this will stop the nutrients from being washed straight out, but be careful of over watering and flooding the planter.
Train plants to fan out, this will help them to soak up as much sunlight as possible and a good air flow to pass through.
Keep an eye out for signs of pests, make sure you treat them straight away by using a edible crop friendly pesticide.  Make sure you read the label before you purchase, as not all pesticides  can be used on edible crops.
Health and Safety
Always read the pack label and product instructions carefully before use. For further information relating to product safety please review the product data safety sheet link below.