Miracle-Gro® 2 in 1 Nourish & Protect Rose, Shrubs & Ornamental Ready To Use Plant Food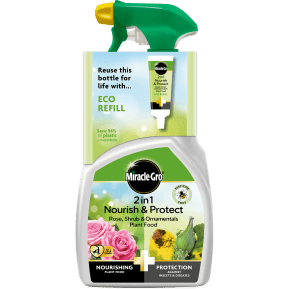 Miracle-Gro® 2 in 1 Nourish & Protect Rose, Shrubs & Ornamental Ready To Use Plant Food
New Miracle-Gro® 2 in 1 Nourish & Protect Rose, Shrubs & Ornamental Ready To Use Plant Food feeds roses, shrubs and ornamentals with all the nutrients they need and simultaneously it protects them against garden pests and diseases.
How to use
SHAKE WELL BEFORE USE.
To open the spray, twist nozzle to spray position. 1/4 turn right for the wide spray.
Spray thoroughly, to wet upper and lower surfaces of leaves. Turn nozzle to "Stop" position after use.
---
Where to use
Outdoor plants such as roses, shrubs and other ornamental plants. Protects from aphids, mealybugs, red spider mites, black spot, powdery mildew and rust.
---
When to use
From early spring to late summer, apply every 2 weeks directly on the leaves. The frequency of application is key to achieve optimal plant protection and resistance to pests and diseases.
Spray in calm conditions, avoiding bright sunlight, drought and frosts.
---
Coverage area
Plants with 1m height and 50cm length and width: you can treat 3 plants with a 800ml sprayer, to apply it until run-off.
Plants with 75cm height and 30cm length and width: you can treat 8 plants with a 800ml sprayer, to apply it until run-off.
---
Cautions
Wash hands after use and wash splashes from skin.
We recommend using gloves when gardening.
Store out of direct sunlight, in a cool dry place between 5°C and 35°C out of reach of children.
Contains reaction mass of 5-chloro-2-methyl- 2H-isothiazol-3-one and 2-methyl-2H-isothazol-3-one (3:1).
May produce an allergic reaction.
Always read the label and product information before use.
Health and Safety
Always read the pack label and product instructions carefully before use. For further information relating to product safety please review the product data safety sheet link below.