Miracle-Gro® Fish, Blood & Bone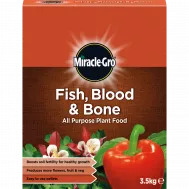 Miracle-Gro® Fish, Blood & Bone
Miracle-Gro Fish, Blood & Bone All Purpose Plant Food encourages strong and healthy growth. It is a slow release and long lasting feed, boosts soil fertility and produces more flowers, fruit and vegetables.
HOW TO USE
During soil preparation/planting time - sprinkle evenly over the soil and mix in well.  During dry weather, water well after sowing seeds and planting out.
During the growing season - sprinkle evenly over the soil around established plants. Gently work it into the soil surface with a hand fork or hoe without disturbing the plant roots and water in thoroughly.
Planting small plants and barerooted plants - sprinkle around plants after planting and slighlty work into the soil.
Planting bigger plants/shrubs/trees - mix with soil from planting hole with planting compost and use as planting mixture.
WHERE TO USE
Sprinkle directly into the soil.
HOW OFTEN TO APPLY
Apply every 6-8 weeks during the growing season.
FERTILISER ANALYSIS
NPK 5-3-5.
CAUTIONS
Always wear gloves when gardening.
Always read the label and product information before use.
RECYCLING & HANDY HINTS
DID YOU KNOW THAT YOU'RE PART OF ONE OF THE WORLD'S LARGEST RECYCLING EFFORTS?
Each year Evergreen Miracle-Gro® resuses thousands of tonnes of material from gardens and forests in many of our compost mixes, to help you grow plants that enhance your environment and make the world more beautiful.
Health and Safety
Always read the pack label and product instructions carefully before use. For further information relating to product safety please review the product data safety sheet link below.