As its name suggests, Christmas cacti are fabulous houseplants for brightening up the home in winter, as they flower from November to January – and usually during the Christmas period.
How to grow Christmas cacti
Cultivation
Christmas cacti need a brightly lit position, but out of strong, direct sunlight. They can be moved outside to a warm, sunny patio in summer – but make sure you bring them back indoors before the weather turns cold in early autumn. This will help promote new flower buds. And keep an eye out for slugs!
Christmas cactus varieties
Named varieties are available from cacti nurseries. Most garden centres usually just offer them by flower colour – red, pink, purple and white.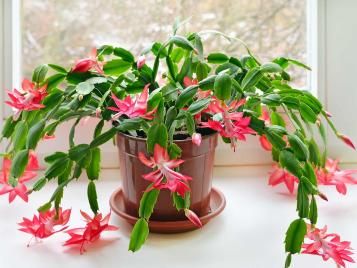 Planting Christmas cactus
Christmas cacti need a well-drained compost, so either use a compost specifically recommended for cacti and succulents or use a multi-purpose compost with added John Innes plus some added grit.
As the plants can grow quite wide, it is better to grow them in a wide, rather than deep, pot to give them stability and prevent them falling over.
Suggested planting locations and garden types
Houseplant, indoor plant, summer patio plant.
How to care for Christmas cacti
Water moderately when plants are in growth in summer and when flowering, but more sparingly at other times. Avoid overwatering as this can cause the flower buds to drop.
Christmas cacti don't like a dry atmosphere, so place the pot on a tray of pebbles or hydroleca and keep this moist.
After flowering has finished, let the plant rest, so stop feeding and reduce the watering so that the compost does not completely dry out. You should also keep the plants cooler, at around 12-15°C (55-60F°).
Then, when new growth appears in March/April, either repot – but only if they have outgrown their pot and into the next size pot – or topdress with fresh compost and start watering.
Keep plants moist during their main growing period, from April to September, and feed regularly with a high potash houseplant liquid feed. Try to maintain a temperature of 18-21°C (65-70°F).
Once the flower buds start to form, make sure you move the plant as little as possible or the buds may drop.
Christmas cacti problems
Christmas cacti are pretty much problem free, if cared for correctly. But the following can be common.
Flower bud drop This is usually cause by widely fluctuating temperatures – hot in the day, cold at night – but overwatering is another common cause.
Non-flowering As the flower buds are produced in autumn, this is usually caused by 'non-autumnal' conditions – temperatures not dropping low enough and/or day length not shortening, which could be due to keeping the plant near an artificial light source.
| | |
| --- | --- |
| Flowering season(s) | Autumn, Winter |
| Foliage season(s) | Spring, Summer, Autumn, Winter |
| Sunlight | Partial shade |
| Soil type | Loamy |
| Soil pH | Neutral |
| Soil moisture | Well-drained |
| Ultimate height | Up to 60cm (2ft) |
| Ultimate spread | Up to 60cm (2ft) |
| Time to ultimate height | 3-4 years |