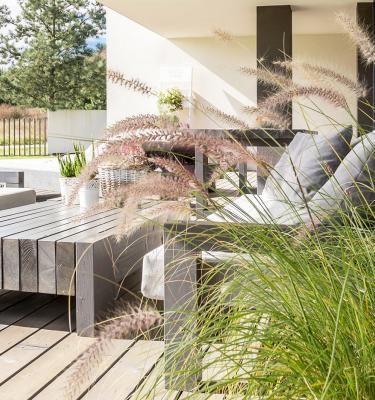 One of the best ways to create an amazing place to relax or entertain guests in your garden is to build a deck. There are hundreds of decking options available to you, so how do you know what decking is right for you? Here are a range of options what is available and some fantastic decking ideas to help get you started. If you are just here to be inspired you can skip straight to the amazing decks.
---
What Level Of Decking Works For Your Garden?

Ground Level Decking
The most common level of decking is of course ground level as it is the least complex to build and least expensive. That doesn't mean it isn't a great addition to your garden and a different way to go for garden entertaining as opposed to a patio.
Raised Decking
This is a great option if you have a sloped or split-level landscape in your garden. It can potentially give you amazing views of your garden and the nature around it, however, it is likely you will need to get planning permission for this so please check before you pick up your tools! Of course, the elevation comes at a cost and you might expect to pay several thousands more for the luxury.
Multi-level Decking
Decking on multiple levels is the first choice for most people but can cost a large sum to have to privilege. This style of decking has the ability to completely transform a garden into a perfect place to host, entertain or relax on a summer day. A brilliant idea for this decking is to have different purposed for different levels; perhaps comfortable seating on one level and a barbeque or hot tub on another. If you are planning on having the latter of those items make sure your decking is supported well enough to carry the heavyweight.
---
Square Or Round Decking?
Square Decking
This is a little more simple and cost-effective to install than round decking, but if done well can look just as spectacular. To get the best-looking result from a square deck you should always have some form of railing or balustrade to give it a finishing touch.
Round Decking
If you have a little more room in the budget or perhaps you just have a more difficult shaped garden to work with, then rounded decking is for you. This can be particularly handy if you are constructing a deck around a pond for example.
---
Decking Ideas For Entertaining
Add Some Built-in Lights
Having lighting installed into your decking can make all the difference for evenings out on the deck. If you have steps included in your decking you can have small LEDs to highlight them which is great for both safety and pleasing the eye. You can also line the edging of your decking which can look fantastic up against railings or a low bearing wall. What's more, a wonderful decking idea to create a magical atmosphere is having lights overhanging your deck.
Keep Warm With Heat Lamps
Decking doesn't have to be only for the summer. Why not get yourself some overhanging heat lamps for your outdoor seating so you can enjoy cosy nights even when the temperature drops. This is the perfect option if you love spending time outdoors or having guests over to entertain all year round.
All-weather Decking Shade And Shelter
Let's face it, the weather is never guaranteed in this country. It doesn't matter if it is the middle of summer or not, you could find yourself planning a lovely day on the deck only to get drenched. If you don't mind this you might go for something that just adds to the aesthetics of the garden like a pergola or arbour. However if you are looking to weatherproof it then a gazebo could be a better choice. The best thing about gazebos is that you can house lighting, heating and comfortable seats there.
Garden Deck Seating
You shouldn't settle for plain wooden seating with your garden deck. Enjoying your decking properly requires an extra level of comfort, which means cushions and sofas are the way to go. Think about the contours of your deck and see if you can fit in a corner sofa or some rounded seating that opens up space for a more social dynamic. Bear in mind that this type of decking furniture will need to be well maintained in order to be enjoyed for the long term.
Charismatic Decking Planters
Without a bit of greenery or colour, your deck could be left looking quite plain. Planters are the perfect way to add something extra with costing much or taking too much upkeep. Try to place heavy planters over joists and supports if possible as over time they will take their toll on the support posts of the deck.
A Hot Tub For Entertaining
Now this garden decking idea might be on the luxury side, and you will have to take a lot of precaution over the support underneath the tub, but this is the ultimate party piece for any deck. Be aware that these can be costly to run and may require a lot of maintenance, but you can help reduce the latter by keeping it under cover when not in use.
---
Inspirational Decks To Help You Start
A Rooftop Paradise
There is no better way to get the best views from your deck than to put it on the roof. Why not build a bar overlooking the edge so you can sit with a nice drink at the end of a long day and enjoy the scenery.
Poolside Decking Oasis
Decking is the perfect surrounding to the poolside. Using a good quality hardwood deck will give your swimming pool that year-round holiday vibe.
Semi-indoor Dining Deck
Decking doesn't have to be used outside. A great decking idea to create a feeling of being indoors whilst enjoying a relaxing outdoor breeze.
An Idea For Decking Away From The House
You can create a little getaway spot at the end of your garden using decking. Be sure to build a garden path to get to your decking so you can enjoy it all year round.
The Perfect Summer Party Deck
By using some well-placed lighting and an open plan, you can create the perfect atmosphere for some early evening parties.
An Adventurous Garden Path Using Softwood Decking
Decking doesn't have to be restricted to one part of the garden. Why not create a high-quality pathway through your garden to connect with different areas.
Is there something amazing that you have added to your deck that we haven't mentioned? We want to know what garden decking ideas that you have. Let us know @LoveTheGarden.