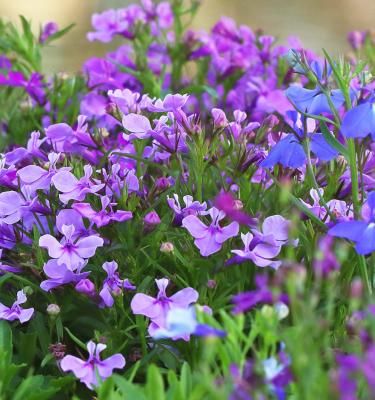 Lobelia, cardinal flower (lobelia)
Lobelias are probably best known for the annual summer bedding plant, indispensable for edging borders and for brightening up containers and hanging baskets. But there are also some gorgeous herbaceous perennial lobelias too.
Lobelia erinus is the annual, producing masses of flowers throughout the summer and well into autumn until the first severe frosts. There are two types: the upright, bushy varieties and those that have longer, trailing stems, making them perfect for hanging baskets and the edges of containers.
The best known perennial lobelia is Lobelia cardinalis, commonly called cardinal flower or bog sage, which produces tall spikes of scarlet red flowers in summer and autumn. An equally delightful species is, Lobelia tupa, which produces dark, bright red flowers on tall spikes at the same time.
How to grow lobelia
Cultivation
Bedding lobelia
Annual bedding lobelias will grow in both full sun or partial shade. A lightly shaded position, or one out of strong, direct sunshine, will ensure plants go on flowering profusely for a long time – especially during very hot summers.
They need a good, fertile, reliably moist soil, that doesn't dry out in summer. So dig in lots of bulky organic matter, such as compost, to improve the moisture holding – especially on free-draining soils.
Perennial lobelia
Lobelia cardinalis can be grown in sun or, preferably, partial shade. It needs a good, fertile soil that remains moist during summer, and doesn't dry out.
Lobelia tupa needs a sheltered position in full sun and a good, fertile, well-drained soil.
Lobelia varieties
Bedding lobelia
Cambridge Blue Compact lobelia with clear sky blue flowers.
Crystal Palace Compact lobelia with deep blue flowers.
Colour Cascade Trailing lobelia with flowers in shades of blue, purple, red and white.
Mrs Clibran Improved Bushy, trailing lobelia with bright blue, white-eyed flowers.
Sapphire Compact lobelia with violet-blue flowers with a white eye.
White Cascade Trailing lobelia with ice white flowers.
Perennial lobelia
Lobelia cardinalis Bees' FlameBeetroot-red foliage. Bright scarlet flowers.
Lobelia cardinalis Black TrufflePurple-black foliage with purple-red highlights. Scarlet red flowers in summer.
Lobelia cardinalis Queen Victoria Deep maroon foliage. Bright scarlet flowers in summer and autumn.
Lobelia tupa Dark, bright red flowers in summer and autumn.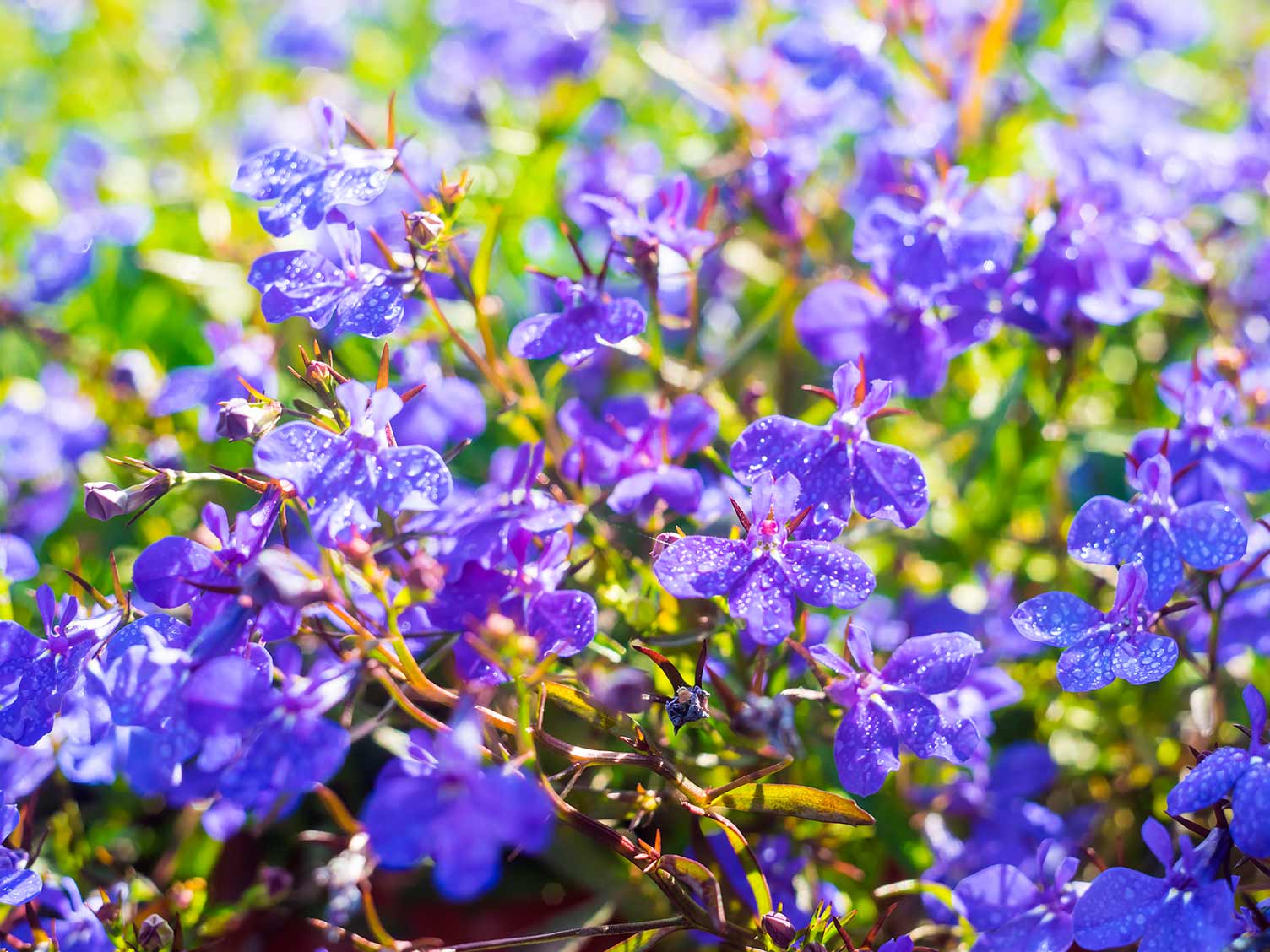 Sowing lobelia
Bedding lobelia
Sow lobelia seeds from late winter until mid-spring in trays or pots of a good seed sowing compost. Place in a propagator at a temperature of 18-24C (65-75F) or seal it inside a polythene bag and keep somewhere warm.
When seedlings are large enough to handle, transplant into cell trays or small pots in clumps of up to 6 seedlings and grow on in cooler conditions. When well grown and all risk of frost has passed, harden off the young plants by acclimatising them to outdoor conditions for 7 to 10 days.
Lobelia tupa
Sow seeds in February or March, pots in pots or seed trays at a temperature of 21-25C (70-75F). Germination can take up to 1 month.
When seedlings are large enough to handle, transplant individually into 7.5-9cm (3-3.5in) pots. Gradually harden off the plants before planting out after all fear of frost.
Planting lobelia
Bedding lobelia
Bedding plants should be planted out at the end of May or early June, after the fear of any frosts. If you have a greenhouse or other protected growing area, you can plant up containers and hanging baskets earlier for the plants to grow on and so flower earlier, before putting outside in early summer.
Plant out at a distance of 10-15cm (4-6in) apart.
Perennial lobelia
Perennial lobelia plants can be planted at any time of year – providing the soil isn't frozen solid or waterlogged – although they'll establish quicker in autumn or early spring.
Dig over the planting area, incorporating lots of organic matter such as compost, leafmould or well-rotted manure. This is particularly important for Lobelia cardinalisas it needs a moist/wet soil. Dig a good sized hole big enough to easily accommodate the rootball.
Place the rootball in the planting hole and adjust the planting depth so that it is planted at the same depth as it was originally growing and the top of the rootball is level with the soil surface.
Mix in more organic matter with the excavated soil and fill in the planting hole. Water in well, apply a granular general feed over the soil around the plant and add a 5-7.5cm (2-3in) deep mulch of well-rotted garden compost or bark chippings around the root area.
Suggested planting locations and garden types
Flower borders and beds, patios, containers, city and courtyard gardens, cottage and informal gardens, bog gardens.
How to care for lobelia
Bedding lobelia
Water plants whenever necessary to keep the soil or compost moist as this will prolong flowering.
Feed with a balanced liquid plant food every 2 weeks during spring and early summer and then switch to a high potash one every two weeks from then on.
Deadhead and cut back plants after flowering.
Perennial lobelia
Water Lobelia cardinalis plants whenever necessary to keep the soil or compost moist or damp.
Feed with a general granular plant food each spring.
Cut back old flower stems after flowering and the old foliage in autumn. Lobelia tupa may need some winter protection. Apply a mulch of bark chips or straw in autumn to protect the crown.
Lobelia cardinalis is a short-lived perennial, so divide it every 2 years in spring to maintain its vigour.
| | |
| --- | --- |
| Flowering season(s) | Summer, Autumn |
| Foliage season(s) | Spring, Summer, Autumn, Winter |
| Sunlight | Partial shade, Full sun |
| Soil type | Chalky, Clay, Loamy, Sandy |
| Soil pH | Neutral |
| Soil moisture | Moist but well-drained, Poorly drained |
| Ultimate height | Up to 1.5m (5ft) depending on variety |
| Ultimate spread | Up to 60cm (2ft) depending on variety |
| Time to ultimate height | 4-6 months |