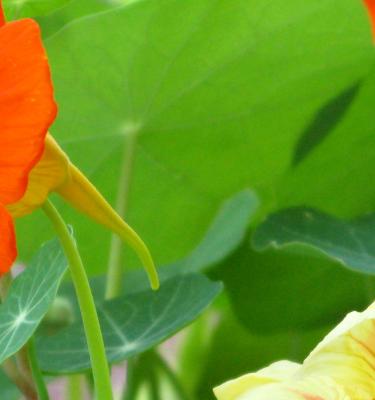 Nasturtiums are extremely versatile summer-flowering plants. Perfect for brightening up borders and growing in containers and hanging baskets. Trailing and climbing varieties can be used to adorn fences and walls, for growing up obelisks and arches and even through other plants.
---
Nasturtiums have a long flowering period through summer until the first severe frosts of autumn.
Nasturtiums are either annuals or perennials and can be low-growing bushy plants, trailing or even climbing. The perennial varieties are mostly winter/cold hardy, whereas the annuals have to be grown each year from seed. As well as being highly ornamental, nasturtium flowers and leaves are edible and give a crisp, peppery taste to salads, not to mention great colour. The seedpods look very similar to capers and taste similar too. They are often called poor man's capers.
---
How to grow nasturtiums
Cultivation
Nasturtiums need to be grown in a position with full sun. They grow best in reasonably well-drained, poor soil. If the soil is too rich, too much foliage will be produced at the expense of flowers and may grow above the flowers hiding them from view.
Nasturtium varieties
Annual nasturtiums
Alaska Flowers: come in a range of colours from yellow to red - the variegated leaves are marbled in green and white.
Empress of India: deep crimson flowers against dark foliage.
Firebird: a trailing nasturtium with red and orange flowers set off by variegated foliage.
Tom Thumb: dwarf, compact plants producing single flowers in a wide range of colours.
Whirlybird: low mounds covered in semi-double flowers in a wide range of colours.
Perennial nasturtiums
Tropaeolum majus: 'Hermine Grashoff' A trailing perennial with double orange-scarlet flowers.
Tropaeolum speciosum: The flame nasturtium or flame flower is a climbing plant, useful for scrambling through other plants. Vermillion red flowers set off by attractive dark green foliage. It prefers a cool, sheltered position and an acid soil.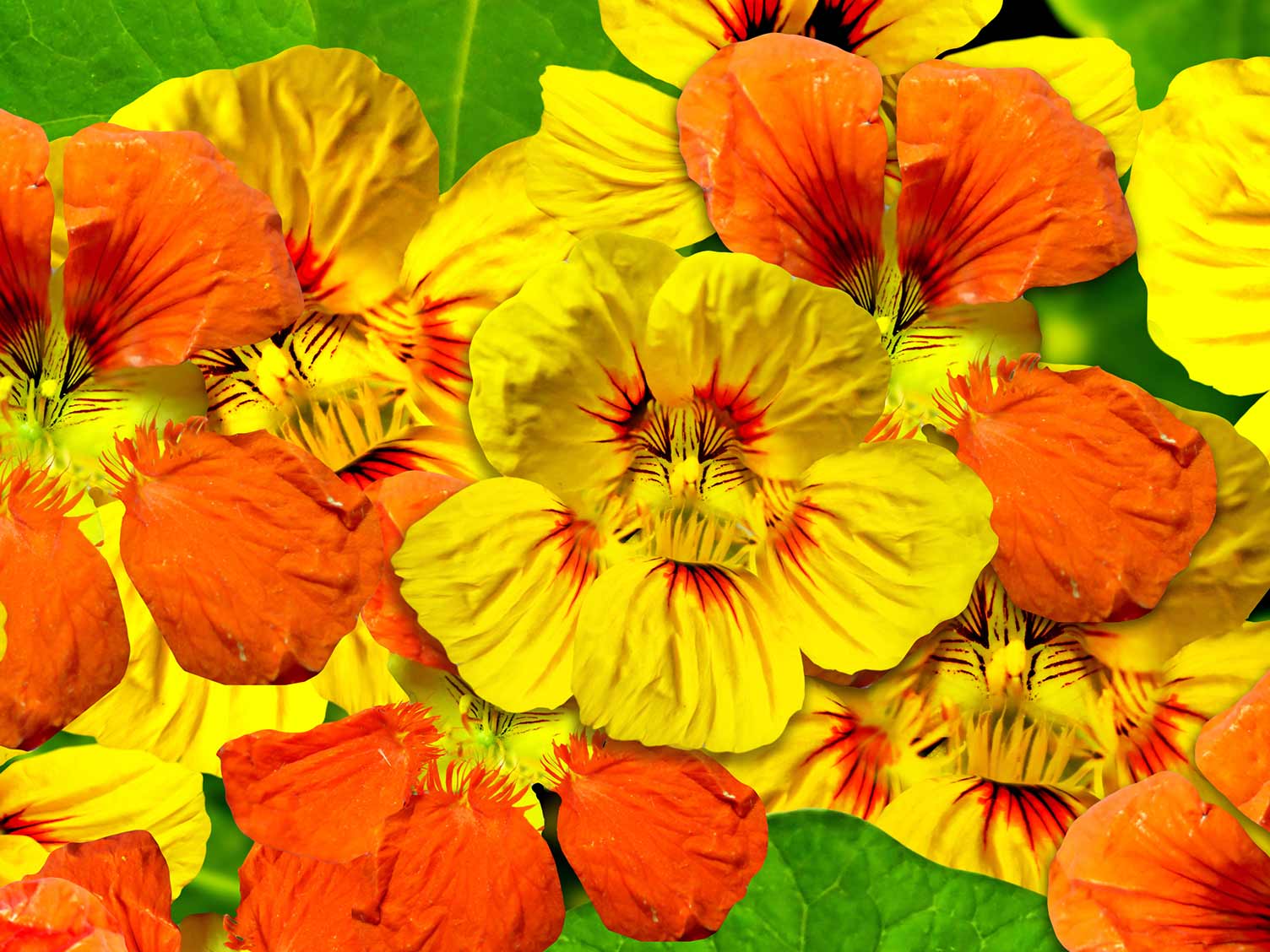 Sowing nasturtiums
You can sow seeds thinly outdoors where you want the plants to flower from March to May. Prepare the soil with added compost or other soil improver and rake to a fine tilth before sowing. Thin out to 15-30cm (6-12in) apart when large enough to handle.
For earlier summer flowering, sow 2 or 3 seeds in a 7.5-10cm (3-4in) pot of good seed compost and germinate at 20-27°C (68-80°F) in early spring. Grow on the young plants at 10°C (50°F). Gradually harden off the plants before planting out after all fear of frost in late May or early June.
Planting nasturtiums
Young annual nasturtium plants may be available from garden centres and nurseries in late spring and early summer for immediate planting out.
Most varieties of perennial nasturtiums don't set seed, so you will have to buy young plants, which should be planted in spring. Dig over the planting area and if the soil is heavy clay incorporate some organic matter such as compost or leafmould. Dig a good sized hole big enough to easily accommodate the rootball.
Place the rootball in the planting hole and adjust the planting depth so the crown is at soil level, then use excavated soil to fill in the planting hole. Apply a granular potash feed over the soil around the plants and water in well.
Suggested planting locations and garden types
Flower borders and beds, patios, veg borders, containers, city and courtyard gardens, cottage and informal gardens.
How to care for nasturtiums
Water plants regularly until they are fully established and water plants whenever necessary during summer to keep the soil or compost moist as this will prolong flowering.
Feed with a high potash liquid plant food every 2-3 weeks in summer.
Deadhead and cut back plants after flowering.
Cut back the old flower stems of perennial nasturtiums after flowering and the old foliage in autumn. Plants kept outside may need some winter protection so apply a mulch of bark chips or straw in autumn to protect the crown.
| | |
| --- | --- |
| Flowering season(s) | Summer, Autumn |
| Foliage season(s) | Spring, Summer, Autumn |
| Sunlight | Full sun |
| Soil type | Chalky, Clay, Loamy, Sandy |
| Soil pH | Neutral |
| Soil moisture | Moist but well-drained |
| Ultimate height | Up to 30cm (12in) depending on variety |
| Ultimate spread | Up to 20cm (8in) depending on variety |
| Time to ultimate height | 3-4 months |