Miracle-Gro® Pot Shots All Purpose 6 Month Plant Food Cones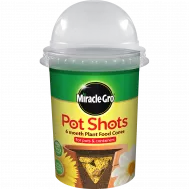 Miracle-Gro® Pot Shots All Purpose 6 Month Plant Food Cones
Miracle-Gro Pot Shots All Purpose 6 Month Plant Food Cones are ideal for plants in hanging baskets, pots or containers. Hey are ergonomically designed to easily push into the soil and be available where the plants need it and feeds plants for up to 6 months.
HOW TO USE
Push the cones 5-10cm away from the plant and 5cm deep into the compost.

For small plants and sensitive plants: impatiens, begonia, gerbera, pansies use 1 cone per plant.

For medium size plants use 1-2 cones per plant.

For large sized plants use 2-3 cones per plant.

 
WHERE TO USE
Ideal for plants in hanging baskets, pots or containers.
HOW OFTEN TO APPLY
One application feeds plants for up to 6 months.
FERTILISER ANALYSIS
NPK 14-9-11 + 2mg micronutrients with 6 months release.
CAUTIONS
Always wear gloves when gardening.
Always read the label and product information before use.
RECYCLING & HANDY HINTS
Useful tips:
Water regularly according to the plant's needs.

Wash hands after use.

Reseal pack after use and store in a dry place to preserve the best product quality.

After 6 months you may find the granules still present.  Don't worry - they have worked! The plant food has been released slowly from the granules, leaving behind the coating.
Miracle-Gro® Pots Shots have eco-friendly packaging as they can be resued as a container for growing your own herbs for example!  Just pierce holes on the marked areas at the bottom of the pot and your growing container is ready to use.
Health and Safety
Always read the pack label and product instructions carefully before use. For further information relating to product safety please review the product data safety sheet link below.