Pristine paving
Our patios are a social hub through the sunny seasons, but in the winter, they don't need to be abandoned. Instead, give your patio a bit of TLC to maintain it, because, as with most other gardening jobs, regular maintenance is best. The longer dirt, algae or debris is left on your patio, the harder it will be to remove.
So this winter, take out the hard work out by using Patio Magic! for that bit of patio preening. This handy solution simply needs diluting with water using the advice on the packaging. All that's left to do is add it to a garden sprayer or watering can and apply the solution to a dry surface. Then leave it to dry, whilst it works its magic, without the need for lots of scrubbing and brushing.
Once it's dried, the job's done, no need to rinse or wash away. For any harder to reach areas, you can use a long-handled brush to get into any hidden nooks.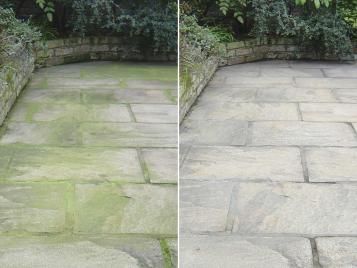 What's more, this patio cleaner can also be used on other hard surfaces. For example, stone water features and benches can also benefit from a freshen up, to make the surfaces spotless. You can get results in as little as 2 days, so your surfaces will be clear of mould, algae, and lichens. With a sparkling clean patio your space will be ready to turn into a winter wonderland with potted plants galore.
Containers of colour
Embellish your gleaming patio with plants that fit your garden style. You can create containers full of winter interest using shrubs and plenty of evergreens to keep the structure throughout the chillier months. The golden tones of Carex oshimensis (Japanese sedge) 'Evergold', will add to the festive feel of your patio, complemented by the dark leaves and bright berries of Gaultheria procumbens (checkerberry).
Surround your patio with plants that will bring warmth and cosy colour such as Nandina domestica (heavenly bamboo) 'Fire Power'. This evergreen is adorned with yellow-green leaves in spring and summer which turn a fiery orange and red through autumn and winter. Or bring some height to your patio by growing plants up the exterior of your house, fences, or trellises.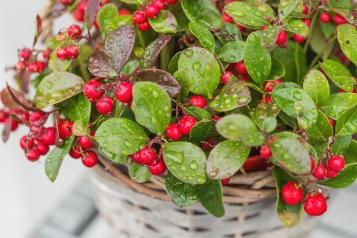 Trachelospermum jasminoides (star jasmine) is a perfect evergreen for this, with their beautifully fragranced flowers that will add a new dimension to your seating space in summer. In winter, the climber will add warmer colour as the oval leaves turn from a green shade to deep red.
Add some character to your containers by using statement pots that will complement the autumnal hues of the plants. Plant up your containers using Miracle-Gro Peat Free Premium Moisture Control Compost which has Waterlock technology, meaning it absorbs up to 25% more water than ordinary compost, as well as Smart Release Feeding for up to 6 months. This will be sure to give your container plants a great head start.
Lights up
Adding light will bring ambience to the space and as winter nights arrive earlier, you can really add something special to your design using lightning. Whether you want something a little more festive with lights that are shaped like icicles or an option that can be left up all year round, there's sure to be some striking light to suit your spot.
Hang twinkling fairy lights from fences, pergolas, or gazebos to add some soft colour around the patio. Alternatively, for a statement piece, you could opt for an old-fashioned lantern style, or a free-standing lamp and there are many solar powered outdoor lights that will add plenty of character to your space. It can look striking if the lights cast shadows onto your trees. For a cosy light, candles will add warmth to the atmosphere and their flickering will enhance the wintery feeling of the night.
When choosing your lighting, bear in mind that bright lighting is more likely to disturb nocturnal pollinators, birds, and frogs. Therefore, warmer hues like yellow, amber and oranges will add some pleasant colouring whilst being better for wildlife too. Turning your lights off when they are not in use is another way of minimising the impact of outdoor lighting to wildlife.
Use these tips to clean your patio this winter, so you can use it to it's full potential all year round. With care through the winter you can prepare the patio, then when spring arrives your patio can complement your plants that are bursting with life.